"Harry Potter" Studio Tour Event: Feathers and Flight
Always seeking to best themselves, the Warner Bros. Studio's latest feature is a real treat to behold. Established in time for the British Easter holidays, Feathers and Flight takes you behind the scenes on the series' delights, and once again, MuggleNet was given the opportunity to take a look around.
The Great Hall, the tour's grand beginning, has been decked out with a cracking Hogwarts breakfast, laden with toast, jugs of orange juice, and boxes of Cheeri Owls, and ready for the morning owl post. Across the hall, hovering above a Ravenclaw costume, is one of the brooms ridden by the twins during their spectacular escape from the Umbridge regime in the Order of the Phoenix.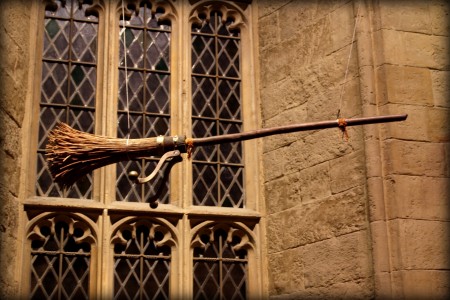 Further into Soundstage J is a small feature on Rita Skeeter and her Quick Quotes Quill. Perched on a notepad, the details of this animatronic device are explained in a fabulously dated video – judging by Matt Lewis and Tom Felton's chosen hairstyles! However, it does detail the three-week building process for the device and demonstrate how it was controlled, which is quite similar to that behind a remote control car.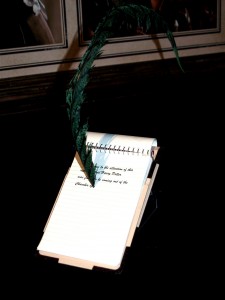 The rest of the sound stage is largely unchanged. However such is the magic of this exhibition, that you are never quite sure if certain items are genuinely new or you simply missed them last time. I, for one, am convinced that I have never seen the Inquisitorial Squad badge on Draco Malfoy's costume before or the intriguing bird skull necklace on the Bellatrix mannequin.
Outside in the backlot, Feathers and Flight truly comes alive as you are introduced to some of the film's animal actors. Once again, a handsome white owl is perched atop the Privet Drive sign, ready for selfies with Hedwig! Sandwiched in-between Privet Drive and the Potter's Godric's Hollow cottage, are a series of flying demos. Taking place every half an hour, they are worth any time spent waiting.
First up is a large eagle owl, one of the two used in the films. Sixteen years of age and 2kg in weight, the owl did its best to demonstrate its movie training. The trick, taking a letter in its beak and delivering to the trainer a few feet away, can take up to six months to teach and a week to forget. This dimwittedness is in stark comparison to the next featured performer, a raven. These lethal-looking birds can learn the same tricks as an owl in just a week. The raven present appeared to be closer in behavior to a dog than any bird we had previously witnessed. It fetched sticks when thrown for it and even jumped a few inches in the air when commanded. To finish up the session up, a charming little tawny owl was brought out, dozing gracefully on its trainer's arm.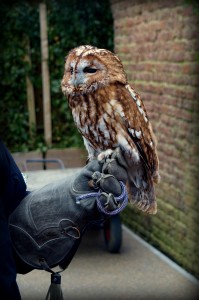 Moving into sound stage K, Potter featherologist, Val Jones, and her team are on hand to demonstrate the feather-making process. Using real goose feathers, each feather is dyed (yellow for Fawkes, grey for Buckbeak, etc.) before the details are individually painted by handed. The feathers are then trimmed to the appropriate size and sewn onto a stretching fabric, giving the illusion of a living animal once placed on the animatronic substitute. Given this detailed approach, the creation of these models for the Harry Potter films was a lengthy process: the owls took around a month, three Buckbeaks took 8 weeks, whilst three Fawkes took the best part of five months. They were a spectacular sight when complete. But all too soon, it is time to leave, although not before stocking up on Peppermint Toads from the shop.
Feathers and Flight is a brilliant addition to the existing exhibition and will be appreciated by new and previous attendees alike. It is also a thrilling reminder of just how much care and attention went into making these films, instilling yet more enthusiasm for what is in store with the Fantastic Beasts films.
Feathers and Flight continues until April 27th, 2014 whilst Wand Week will run from May 23rd to June 2nd.
Want more posts like this one? MuggleNet is 99% volunteer-run, and we need your help. With your monthly pledge of $1, you can interact with creators, suggest ideas for future posts, and enter exclusive swag giveaways!
Support us on Patreon