Harry Potter: The Exhibition – Edmonton, Canada
The Exhibition was hosted at the Telus World of Science Center in Edmonton, Canada, from November 23, 2013, to March 9, 2014. This was its sixth North American stop and tenth stop overall.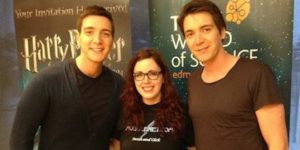 Harry Potter: The Exhibition is an event not to be missed by any Potter fans. This is coming from a skeptic. Sure, I wanted to see the props, but how great could it really be? What would there be for a fan who already knew so much about the series? The tour at the TELUS World of Science started out with a sorting ceremony. A few lucky fans chosen from the group are asked to sit on a stool and try on the hat that sees all that is in your head. Of course, I was sorted into Slytherin. There was never any doubt! Once you have received your house, you're led into a dark room, with movie posters from all eight movies hung. A video starts, and while it had the potential to be cheesy, instead of eye-rolling,
it induces shivers down my spine. Within a few seconds of the video ending, a door opens and a prefect ushers you through, and the tour begins.
We were given audio guides, and as I said, I was skeptical. I worried that I would be distracted if I listened, and what could it really tell me that I didn't already know? Instead, I became addicted. Although there were some that were already common knowledge, there [were] many interesting facts about the props, how they were made, and their inspiration behind them. I particularly loved hearing about the costumes and how their iconic clothing came to be. Instead of being distracting, the audio tracks were short enough that you could listen while taking in a display and still have time to admire all the intricate detailing that the props held. Soon, it became a search for the plaque cards that held the corresponding numbers to the audio guides.
One of my favorite parts of the exhibition was when you entered the Forbidden Forest area. In an effort to submerge you in the whole experience, the atmosphere of this area is set by what I know is a scented fog machine. It smells damp and earthy, and combined with lighting and sound effects, it truly felt like you were entering a forest. The detailing on the Death Eater costumes is truly to be admired. On one of Lucius Malfoy's ensembles, you can see snakes everywhere, but done so subtly, you almost can't see them at all. Snake embroidering on one garment, snakeskin on another. The Death Eater masks were simply breathtaking.
Of all the classrooms, the Potions room is the one to see, if you can only see one. There were countless jars filled with various ingredients; from dried products and suspicious liquids to what appears to be an entire lizard, there were a million things to see, and I could have spent significantly more time gazing at the infamous robes of Severus Snape.
When you enter the final room of the exhibition, you're greeted by educational decrees. Without giving too much away, spend some time reading these. Even the small print; heck, especially the small print.
The Great Hall contained even more costumes, Weasley merchandise, and fake food that looked so realistic and delicious it made my stomach growl. Here you find fan-favorite, Dobby, peering out from a set of robes.
Being in the gift shop was extremely disappointing, for one reason: the tour was done. Standing looking at the wands and other merchandise, I kept remarking how I wish I would go back and live there. I mean, there's already a bed in the dormitory. No one will mind, right?
There was an interview to get to though, so I pulled myself away and went to meet and interview the Phelps twins. On the way to the interview, we were shown one of the giant chess pieces from Harry Potter and the Philosopher's Stone. It was explained that there wasn't enough space in the actual exhibit, and so a few larger items were placed in different locations. In addition to the chess piece in the lobby of the TELUS World of Science, the knight Ron rode in Philosopher's Stone is located just past security in the Edmonton International Airport, and the Ford Anglia is at Kingsway Mall, where you can also purchase tickets to the Exhibition.
James and Oliver Phelps were funny and charming. They remarked about how cold Edmonton was, and we all felt their pain since -23 C is hard for locals, let alone those who aren't used to it! They answered all questions that we had, and even signed our guidebooks and a picture before posing for our own pictures with them. They are in town for the opening weekend, and I was very grateful they could divulge the time to entertain our questions.
Harry Potter: The Exhibition was an incredible and magical experience. I expect to go multiple times throughout its run. Tickets range in price from $20-27 based on age, and for that price, it's a must-see. The exhibit opens to the public on Saturday, November 23, 2013, and runs until March 9, 2014.
Want more posts like this one? MuggleNet is 99% volunteer-run, and we need your help. With your monthly pledge of $1, you can interact with creators, suggest ideas for future posts, and enter exclusive swag giveaways!
Support us on Patreon