Potter DIY: Felix Felicis Necklace
We could all use some Liquid Luck from time to time. We unfortunately cannot tell you how to brew Felix Felicis, but with this DIY it can look as if you own a vial of it. By walking through the steps carefully, you can create a necklace that can double as a cute Christmas tree ornament if you attach a hook or a smaller chain loop to the top instead of hanging it on a necklace. For this simple DIY, you can find all of your materials on eBay and at a craft store.
What You'll Need:
Glass teardrop vials
Gold or yellow seed beads
Label (provided below)
Color printer
Decoupage glue
Disposable foam sponge brush
Needle-nose pliers
Silver chain
Four-leaf clover charm (optional)
Directions:
Step 1: Fill glass vial with seed beads. On eBay they are very cheap, plus come with the cork and loop that attach to the chain. Any gold or yellow seed beads from your local craft store will work. Get the smallest size you can, though, since these only fit about eight beads in them.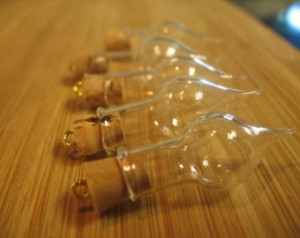 Step 2: Print out the label provided below. You may have to use your printer layout option to adjust the size of the printout to make sure it's small enough for whatever size vial you have.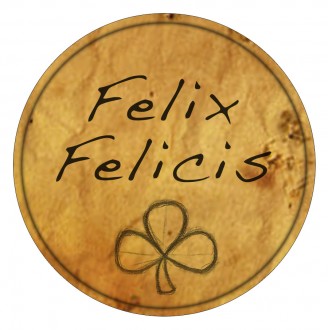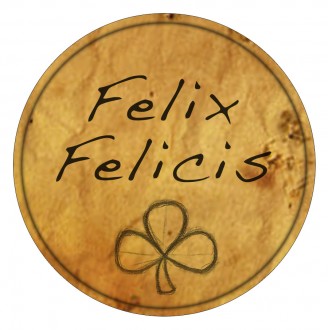 Step 3: Cut the printed label out, and paste it on to the glass vial using decoupage glue. Put a little glue on the back of the label, and place it on the glass, and then brush over it to make sure all the wrinkles are smoothed out, and it's sealed. The glue will dry clear. If you wish to clean it up, take a tissue with a little water, and wipe the glass around the label.
TIP: Use Royal Coat Decoupage Finish and a disposable foam sponge brush to spread the glue.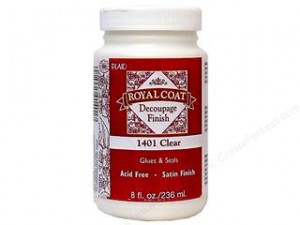 Step 4: Craft stores sell chains that are easy to take apart, so take your needle nosed pliers, and adjust the length for a necklace or an ornament. Attach your chain to the eyelet on the cork.
Optional Step: Add the four-leaf clover (eBay) to the eyelet on the cork or chain.
Wasn't that easy? Check out our other projects on our main Potter DIY page!