Seven magical reasons to join us at Expo Patronum!
Are you a Muggle still trying to decide if you should attend Expo Patronum? Not sure what kind of experience you'll have or what to do in London while you're there? We've come up with seven magical reasons why you should pack your trunk and climb aboard the Knight Bus or get your fireplace connected to the Floo Network for this exciting new event!
1. Adventure and sightseeing: While the Expo will only last one day, most attendees will be in the area for a longer period of time to make the most of their trip. That means time to explore London and visit some filming sites before or after the Expo! Visit Oxford or Lacock Abbey, where scenes from the films were shot. The IQA has the Quidditch World Cup going on that same weekend in Oxford, so you can check out a live Quidditch match! Hop the train to the WB Studios Tour, and see the brand new expansion featuring the original Hogwarts Express car used during filming and a recreation of Platform 9 ¾! If you don't want to travel but still want to take in all the city has to offer, there are a ton of things to do. Check out our staff blogs from their last trip to London and see what trouble you can get up to in central London!
2. Once in a Lifetime experience: You only get one shot at the very first MuggleNet Live! event. Don't you want to be present for the first event, where the excitement of such an intimate gathering of Harry Potter fans, MuggleNet staff, and actors and crew from the films will be a magical experience? This inaugural event will launch a new chapter in the Harry Potter fandom – focusing on getting the fans up-close and personal with the actors, hearing first-hand what it was like to film the series, and having an experience like no fan has had before. Just announced as well – some of the animal actors from the films will also be in attendance with head animal trainer Julie Tottman!
3. Proceeds to fund J.K. Rowling's Lumos Foundation: In addition to the experience of meeting your favorite film stars and attending interesting and entertaining panels, the proceeds from Expo Patronum will benefit those in need. MuggleNet has chosen to donate funds to Lumos, a charity created by Jo that is dedicated to helping institutionalized children reunite with their families by providing health care, education, and social services meant to bring families back together. Your attendance at Expo Patronum will help further Jo's mission to end the institutionalization of eight million children across the world. Feels pretty good, right?
Not only will attending help Lumos, but it will also help MuggleNet bring you, the fans, more in the coming years! This means giveaways, coverage of special events like Universal's Celebration of Harry Potter in Diagon Alley, and other awesome perks! The staff at MuggleNet works for free (think house-elves, only cuter and wearing more than just a pillowcase or tea cozy!) because they love the world of Harry Potter. No one at MuggleNet profits personally from the Expo. All funds that do not go to Lumos will go directly back to running the No. 1 Harry Potter fan site so that the fans can continue to enjoy the fandom and have amazing opportunities like the Advent calendar contests, swag from HP merchants, and trips to Diagon Alley.
4. Meet some of the amazingly talented actors who brought Harry's world to life: We've already announced a bevy of actors who will be making the Expo extra special, from the hilarious Jessie Cave to the always entertaining Jon Campling to one of our favorite stars, Warwick Davis. All of our guests will be appearing at various panels throughout the day, as well as signing autographs and taking photos with fans. We've hired a very experienced and world-renowned photographer, Erik Meijer, to capture these special moments for you, so these won't be some run-of-the-mill photos. We also encourage you to bring your own camera – you won't want to forget one minute of this Expo, so get those cameras ready! Also, you will have opportunities to mingle and interact with the cast and crew of Harry Potter outside of the panels, autograph sessions, and photo booth sessions.
5. Meet our MuggleNet staff in person: We have to admit: We love meeting fans. This might be because we are fans ourselves! No one can geek out better than we can, right? We had an amazing time at Leaky last year, meeting attendees and taking photos for our MN ConQuest. We got to know you better, and we want to do it all over again, only bigger and better! Since this is our first live event, nearly anything goes – we want to see you Pottering, check out your wand skills (you'll have a chance to improve them with wand choreographer Paul Harris, from the films!), find out which House you identify most with, and most of all, help shape the future of this wonderful fandom by getting closer as a fan community.
6. It's our first LIVE event: MuggleNet is STILL the No. 1 site for all things Harry Potter – don't miss your chance to join us as a new chapter of Harry's universe begins! Help us show those involved with Fantastic Beasts that we have been here from the beginning, and we will ALWAYS be here. Your participation could further fuel the fire of the powers that be, showing them that we want more and will continue to support the HP franchise. A successful event means that we will have more opportunities to bring events like this to other parts of the world. We chose London because this is where it all began, but that doesn't mean that the Expo will always stay in London. Who knows what the future holds?
7. International magical cooperation – meet foreign wizards and witches (and perhaps some Muggles, too) and make friends! With Fantastic Beasts on the horizon and new generations being introduced to Harry Potter, the fandom will only continue to grow. Come mingle with the Muggles who share your passion and adoration for the Boy Who Lived and the world Jo created. Honestly, you can't go wrong attending MuggleNet Live! 2015: Expo Patronum!
In case you missed the latest guest announcements or you have questions about how the Expo will work (panels, autographs, photos, meeting your favorite actors, etc.), check out our video call with MuggleNet management Kat and Keith and senior staff member Claire, along with our very special Expo Patronum guest, Warwick Davis!
There is still time to get registered to take part in our first MuggleNet Live! event, so don't delay!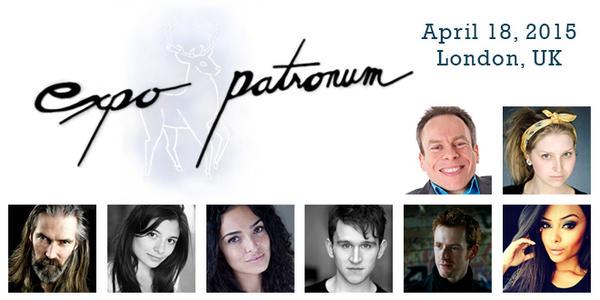 If you have questions, check out our FAQ, send us an email or a tweet!