MuggleNet Review: Warner Bros. Studio Tour London Hogwarts Express
Who's ready to hop aboard the Hogwarts Express when it arrives at Warner Bros. Studio Tour London – The Making of Harry Potter later this month?
Today, MuggleNet was invited to a preview of the new Platform 9 3/4 expansion, with a very special guest in attendance: Mark Williams (Arthur Weasley) himself!
We were previously given a sneak preview of the feature. That was only a month ago, and then, the site was still covered in scaffolding and new paint. Today, it was quite different, and you might have been forgiven for thinking that you had wandered into King's Cross itself.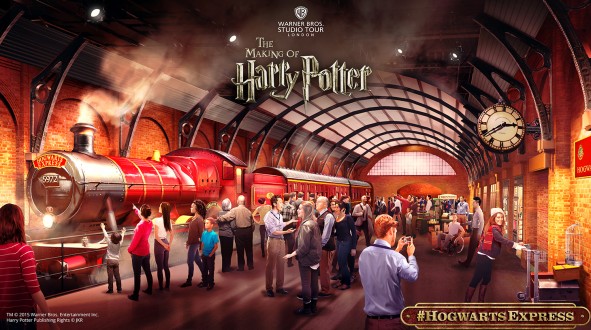 As we rounded the corner, we saw the train itself waiting at the platform, ready to bear us away to Hogwarts, steam billowing out around it. At one end, a facade depicts the bustling station of King's Cross, giving the illusion that the station continues on. The famous clock stands at 11 a.m., ready for the train to depart, full of eager Hogwarts students.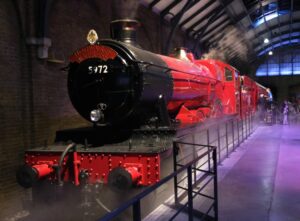 The engine itself is the original one used in the films and prior to appearing in the films, served as a real, working train. The new feature was worked on by designer Stuart Craig, construction manager Paul Hayes, set decorator Rosie Goodwin, and special effects supervisor John Richardson.
Along the walls are trolleys and trunks, halfway through the wall, ready for visitors to pose with for pictures. Throughout the area, there are trolleys and trunks belonging to Hogwarts students, waiting to be loaded onto the train.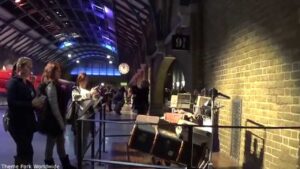 Behind the train itself is a carriage that is open to visitors. The carriage was originally used in the first film, and it is easy to believe that you have just boarded the train for Hogwarts. We were able to explore the narrow carriage, and some of the compartments were laid out as they were in some of the films – from Harry Potter and the Prisoner of Azkaban to the epilogue in Harry Potter and the Deathly Hallows – Part 2. There are several opportunities for pictures here as well. Outside the carriage is a row of open booths, as used in filming, which reveals how the green screen technology worked, particularly for those Dementor scenes in Prisoner of Azkaban.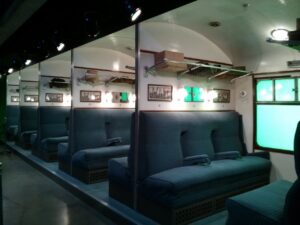 There is also a railway shop, which offers Hogwarts Express goodies for you to take home – as well as a trolley stacked up with sweets, as you would expect.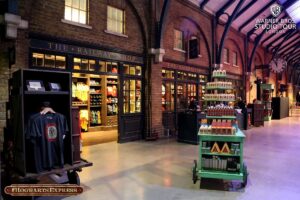 The structure itself is impressive, and it certainly feels like a real platform. As you can see from the pictures, it's a huge space. It's hard to believe that it was all constructed over the last few months. As always, the amount of detail and care that went into creating this new section of the tour is overwhelming. Of course, it was very quiet, with only a few people wandering about, which will be different when it opens, no doubt making it feel like the train is just about to leave.
We were amazed at the amount of work and preparation that had gone into the feature, and we can't wait for it to open to the public so that you can all enjoy it too. It's definitely a very exciting addition to the tour – and something that you'll just have to go back and see! The feature opens to the public on March 19 and is included in normal ticket prices.
MuggleNet also got a chance to chat with Williams. In the interview, we asked Williams about being back at the studios and his Harry Potter memories, as well as what he's up to now.
Thanks again to Warner Bros. Studio Tour London for inviting MuggleNet along today.
Are you looking forward to the new feature opening this month? Have you already got your tickets to go? Let us know in the comments!
Did you know that MuggleNet is 99% volunteer-run? With your monthly pledge of $5, you can provide monetary support to our volunteers while becoming eligible for exclusive swag giveaways!