Rum Butterbeer Cookies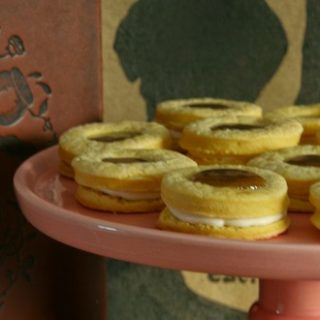 Rum Butterbeer Cookies
Renee
These vegan sandwich cookies are sweet and buttery with a rich butterscotch filling and light butterscotch sauce.
Ingredients
Cookies
1

cup

non-dairy margarine

1/2

cup

custard powder

1

cup

powdered sugar

2 1/4

cups

all-purpose flour

1/2

tsp.

baking powder

1

pinch

salt

1/4

tsp.

ginger

ground

1/4

tsp.

cinnamon

1/8

tsp.

nutmeg

ground

1/2

cup

pumpkin

mashed

1/3

cup

non-dairy milk

unsweetened

1/2

tsp.

vanilla extract

1/2

tsp.

rum extract
Filling
1/4

cup

non-dairy margarine

softened

1 1/3

cup

powdered sugar

2-3

drops

butterscotch flavor

1/4

tsp.

rum extract

1

tsp.

non-dairy milk

unsweetened
Butterscotch Sauce
4

Tbsp.

non-dairy margarine

1

cup

brown sugar

dark, packed

3/4

cups

non-dairy milk

1

Tbsp.

vanilla extract

1

tsp.

salt
Instructions
Cookies
Cream together non-dairy margarine, custard powder, and powdered sugar until light and fluffy in bowl of stand mixer.

Add in flour, salt, baking powder, and spices. Use stand mixer to beat together.

In a blender, combine pumpkin, non-dairy milk, and extracts. Add to the dough and beat until well combined.

Cover with plastic wrap and refrigerate for at least an hour, or overnight.

Line two baking sheets with parchment paper. Generously dust a flat surface with powdered sugar.

Unwrap cookie dough and lay out onto powdered sugar.

Roll out, being careful not to let it stick or crack, to about a 1/4 inch thick. Use desired cookie cutters. Cut a small hole from middle of half of cookies.

Bake for 8–10 minutes, or until cookies have just started to brown on the bottom.

Transfer cookies to wire racks to cool.
Filling
Using a hand or stand mixer, beat margarine until lighter in color.

Slowly add powdered sugar, butterscotch flavor, rum extract, and non-dairy milk.

Increase speed to high once most of the sugar has been incorporated. Beat on high until soft, light, and fluffy.
Butterscotch Sauce
Before you begin, make sure you have everything ready to go. Making butterscotch is a fast process that cannot wait for hunting around for ingredients.

In a heavy-bottomed saucepan, melt non-dairy stick margarine over low to medium heat. Just before it is melted, add dark brown sugar at once and stir with a wooden spoon until the sugar is uniformly wet.

Stir infrequently until mixture goes from looking grainy to molten lava. Make sure to scrap corners of the pot, and watch closely to notice how the mixture changes. It will take about 3–5 minutes.

Right before you add the non-dairy milk, the caramelizing brown sugar will begin to look and feel more like liquid and less like thick, wet sand.

Add all the non-dairy milk at once and replace your spoon with a whisk. Lower heat a little and whisk cream into mixture. When liquid is uniform, turn heat back to medium and whisk every few minutes for a total of 10 minutes.

Turn heat off and let rest for a minute or two before transferring into a heatproof storage vessel. A stainless steel or glass bowl works best. Allow butterscotch to cool to room temperature.

When butterscotch liquid is room temperature, take a small taste. It's important to know what cooked brown sugar and non-dairy stick margarine tastes like, and what happens when transforming that flat sweetness into real butterscotch flavor. Whisk in half the salt and vanilla extract. Taste again. Add more salt and vanilla extract until the marvelous taste of real butterscotch is achieved.
Assembly
Pipe butterscotch filling in a circle around outside of bottom layer of cookie. (Bottom layers are the cookies without holes.)

Place the top on (cookies with holes).

Pipe enough butterscotch sauce to fill the hole. Allow to set for a few minutes and serve.
Notes
The butterscotch recipe was adapted from Simply Recipes.
This cookie dough is a little wet but should come together into a disc shape fairly easily.
For Americans, custard powder is similar to instant pudding mix, and using vanilla mix should work in this recipe.
Pay special attention to the milk substitutes used throughout the recipe since some may be too watery for certain steps.