Peanut Butter Chocolate Frogs by Tina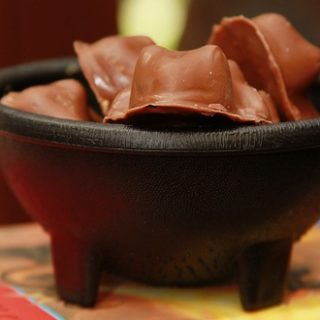 Peanut Butter Chocolate Frogs by Tina
Tina
Using chocolate bark and creamy peanut butter, the filling for these frog-molded bites are reminiscent of biting into a warm Ghirardelli square. If peanut butter isn't your style, then there's a broad range of alternative fillings, including marshmallow, fudge, and thick caramel, depending on how heavy or light you prefer your chocolate.
Ingredients
1

package

chocolate

1/2

cup

peanut butter

creamy

3

Tbsp.

brown sugar

4

Tbsp.

water
Instructions
In a bowl, mix sugar and peanut butter. Add water.

Microwave for about 30 seconds. Then stir well.

It should be slightly runny. Set aside while you prepare molds.

Melt chocolate according to package instructions.

Place a couple of spoonfuls into frog mold. Using a brush that you have reserved for food use only, work the chocolate into the mold.

Place into the refrigerator for about 10 minutes.

Remove molds from the refrigerator. Fill to nearly the top with peanut butter filling.

Reserve a small bit of room to cover the peanut butter mixture with chocolate.

Place in refrigerator again. Allow to chill completely before removing your frogs onto a serving plate.