Getting Fit with the Hogwarts Running Club
There's a running club for Potterheads just like us! But prepare yourselves because it's going to get addicting.
Recently, this MuggleNet staff member discovered an awesome Facebook running club for Harry Potter fans called the Hogwarts Running Club. The club allows anyone to run Potter-themed races at the time and place of their choosing so that they can have fun while getting fit. Proceeds are used to support amazing charities, you earn sweet, geekilicious medals for your efforts, and you get to celebrate the magic that is being a Harry Potter fan while staying in shape! What could be better??
I just finished my first race with the club, and it couldn't have gone better! Here's a little insight into how my journey with the club got started:
Mom telling me I should start taking better care of my health.
Source: SugarScape
Telling mom, "Nah, that's all right. I'm going to go read Harry Potter instead. PEACE."
Source: harrypotterreactions
… right after I check Facebook first just to, you know, make sure the world is still OKAY.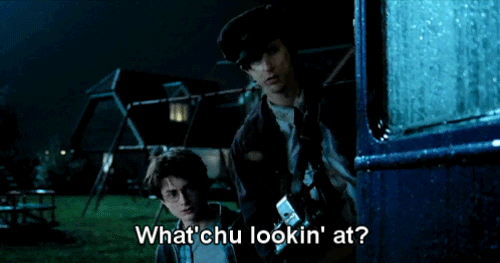 Source: giphy.com
Friends be spamming my newsfeed with Hogwarts Running Club posts, and I'm like, "Huh?"
Source: elitedaily.com
Wait, so it's a running club specifically for Harry Potter fans like ME??
Source: gifrific.com
And it's virtual? So you can like… do it whenever and wherever you want?
Source: whenscotusupheldobamacare

AND YOU EARN COOL POTTER MEDALS WHILE SUPPORTING AWESOME CHARITIES??!
Source: sugarscape



Source: teen.com

Signing up, running my first race, and chocolate frogs y'all, GETTING MY MEDAL IN THE MAIL!!!!!!
Source: gurl.com
The Hogwarts Running Club may just be one of the most amazing things to exist basically ever. It's right up there with Harry Potter, butterbeer, and Matthew Lewis canoodling puppies. Okay, maybe the puppies are slightly more important, but truly, this club is magical!
And the best part is, you don't have to be an experienced runner to join! Anyone can do it anywhere at any time before the registration deadline at their own pace. You can walk, you can run, and you can even split the longer distance races up over multiple days. Anything goes so long as you're up and moving and showing off your Harry Potter pride!
So join the fun! I can attest that this club is not one to be missed, and unlike the Slug Club, you don't need an invitation to get in on the action.
Photo by Sierra Davenport
Running before the Hogwarts Running Club.
Source: metro.co.uk

Running after the Hogwarts Running Club.
Source: rebloggy.com