Who Wore It Better: Nymphadora Tonks or Steven Tyler?
Greetings to all you lovely people, and welcome to the very first edition of Witch Weekly's "Who Wore It Better." Now, as draining as it is to talk about myself, I know the public interest in my recent ventures into journalism is at its peak, so I will indulge my readers. A few short months ago, I, Gilderoy Lockhart, was approached by Witch Weekly and asked to contribute this very article to their reputable magazine. The whole idea started while I was at a dear friend's birthday party. He is an author as well, but unfortunately, he is kept mostly behind the curtain as far as publicity goes. The reason for this lies in the ugly truth that he was not gifted with the looks and fashion sense that a rare few writers possess. Anyway, I was at this dear friend's party when I noticed both myself and another guest were wearing the same cloak. You can imagine my utter horror at the embarrassing situation! My nerves were quite eased, however, when Tracey Bunknap (A junior editor for Witch Weekly and a lovely young lady) pointed out that although it was the same cloak, the difference in the way it was modeled made the similarity almost unrecognizable. She praised me for my elegance of stature and said that my award-winning smile clearly set off the cloak in a way that the other man could never hope to achieve. After this, I began to point out other guests who were wearing similar clothing and explained to Tracey how some people just have that ability to carry off everything with more style and finesse than others do. She was enthralled by my commentary and practically begged me to write a fashion column for the magazine. Her superiors at Witch Weekly clamored at the idea, and I was assured that the magazine was pivotal in the success of my career, so here we are.
I'm sure you are all familiar with the "Who Wore It Better" concept, so I won't bore you with the details. This column, as with everything I write, will be completely original, though. I will be comparing a popular member of the magical community to a Muggle celebrity and deciding who succeeded in wearing a certain fashion look better. Let's take a look at our first pairing, shall we?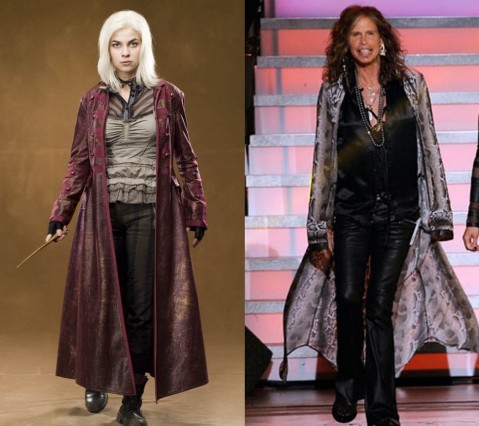 Pictured above are the Auror Nymphadora Tonks (left) and Muggle rock star Steven Tyler (right). They both appear to be going for a sort of bathrobe-trying-to-be-a-coat look. While Tyler does counter the dark palette of his ensemble with a nice choice of jewelry, there is something to be desired in the area of his hair. I will have to remember to send him some of my hair care products to help tame that mess. As for Tonks, this photograph was taken during her prime years as an Auror, fighting You Know Who. Unfortunately, I was a bit indisposed during this important period in our history, but I'm sure I played a large role in the eventual downfall of the Dark Lord. After all, you do know that I was Harry Potter's teacher, don't you? That's what they tell me, so it all makes sense that the boy was such a success. He clearly had the best mentor for the situation. I only regret that I had to abandon my deep interest in his studies due to my memory decline. Anyway, Tonks seems to have sleeker hair, so I do approve of that. While the fabric of Tonks's coat is a bit reminiscent of drapery, I do prefer it to the not-at-all convincing fake snakeskin of Tyler's coat. In conclusion, I wore it best. Just because I don't remember if I ever wore something similar doesn't mean I didn't at one point in time. When performing any sort of analysis one must always consult the facts, and the facts in this particular case say that Gilderoy Lockhart can make any apparel look presentable.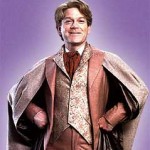 Gilderoy Lockhart
Order of Merlin (Third Class)
Honorary Member of the Dark Force Defense League
Five-Time Winner of Witch Weekly's Most Charming Smile Award
Check out all of our "Who Wore It Better?" posts.
Did you know that MuggleNet is 99% volunteer-run? With your monthly pledge of $5, you can provide monetary support to our volunteers while becoming eligible for exclusive swag giveaways!