UPDATED: Pre-Order "Harry Potter: The Artifact Vault" Now, Out in 2016
Hot on the heels of the release of The Character Vault from HarperCollins at the end of October is the announcement of another book in the same series. Previous releases include Magical Places from the Films, released last May, and The Creature Vault, released a year ago.
Harry Potter: The Artifact Vault, also published by Harper Collins, is due to be released on June 14, 2016. The book will be written by the same author of The Character Vault, Jody Revenson, and promises to be just as full of fascinating information and pictures.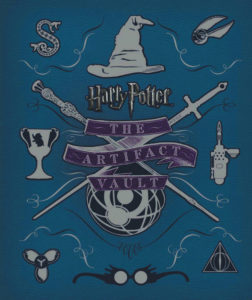 While no more information is currently available about the book, we imagine that it will contain plenty of brilliant information, pictures, and concept art of the artifacts from the series, such as the Sorting Hat, Time-Turners, and much more! Hopefully we'll learn more information about the book soon.
—
UPDATE:
A summary of the book is available below:
Throughout the making of the eight Harry Potter movies, designers and craftspeople were tasked with creating fabulous chocolate-fantasy feasts, flying brooms, enchanted maps, and much more, in addition to numerous magical items necessary in a wizard's everyday life—for example, newspapers with moving photos, vicious textbooks, and Howlers. Harry Potter: The Artifact Vault chronicles the work of the graphics department in creating vibrant and imaginative labels for potions bottles, brooms, and candy; the creation of Quidditch Quaffles, Bludgers, and Golden Snitches, lovingly crafted by the prop making team; and the stunning inventiveness used by the entire crew to create a rich, bewitched filmic universe. Accompanying the captivating text are never-before-seen art and design concepts, unit photography, and other filmmaking secrets from the Warner Bros. archive. This striking full-color compendium includes two exclusive bonus inserts—Gilderoy Lockhart's classroom questionnaire and a Weasleys' Wizard Wheezes catalog—as well as many more surprises.
It sounds like there's plenty to interest all fans of Harry Potter in this book, and we can't wait to get a copy next year.
—
You can pre-order The Artifact Vault here.
While you're waiting for the release, make sure you get your copy of The Character Vault. Find out more about what to expect from the book here.
Are you looking forward to the release of The Artifact Vault? Have you pre-ordered it already? Let us know in the comments!