Role Call: Did Someone Say Vogue?
This week has been a busy one for the cast of Harry Potter! The first season of David Tennant's new series, Jessica Jones, was released on Netflix, Domhnall Gleeson decided to channel his inner Naomi, while director Alfonso Cuarón shot a fashion film. All of that and more in this week's Role Call as we take a look at what your favorite cast members are up to these days!
The Offical London Theatre recently reported that Harry Melling (Dudley Dursley) will return to the London stage to lead the cast of the eccentric Broadway comedy, Hand to God. The production follows in the same footsteps as Avenue Q, which entertained audiences in 2006 with X-rated puppetry, reminiscent of that in Sesame Street. Melling will star as two characters in the upcoming production, Jason and Tyrone. Jason is your average citizen from a small town in Texas, while Tyrone is a seemingly opposite puppet who, for lack of better words, is evil come to life. The production is set to hit the West End's Vaudeville Theatre on February 5 of next year and we are excited to see what Melling brings to the stage as these two different characters.
For those of you who missed the premiere of David Tennant's (Barty Crouch, Jr.) new series, Jessica Jones, on November 20, let's see if we can convince you to watch. The title sequence was released November 19, giving fans a glimpse of the new Netflix series one day before it aired, which you can watch here:
If that's not enough for you, check out the trailer for the show which we posted last week or the Jessica Jones Twitter page to see clips of the show, which feature Tennant bringing to life the show's ruthless villain, Kilgrave. If you haven't checked out the series yet, go add it to your Netflix queue right now and watch it (right after you finish reading this post of course)!
Speaking of comic book heroes… David Thewlis (Professor Remus Lupin) has joined the cast of the Warner Bros. film Wonder Woman, according to Entertainment Weekly. No word yet on whom he is set to play in the movie that is set to debut in June of 2017, but we're kind of excited to see the first image from the film, even if he's not featured. Gal Gadot, the film's star, released this photo via her Twitter account:
Almost 75 years in the making… #WonderWoman is underway. pic.twitter.com/jCa0qRzuW8

— Gal Gadot (@GalGadot) November 21, 2015
Back in April, we told you that Ralph Fiennes (Lord Voldemort) was set to lead the cast of The Master Builder at the Old Vic Theatre in London, but we didn't know much about the production at that time. BroadwayWorld.com recently gave us some new information about the play, which will feature Fiennes in the role as Solness:
Halvard Solness, a master architect, has spent his lifetime building the tallest spires in the land. But when Hilde, a radiant country girl, descends unexpectedly into his world, age is confronted by youth, and a series of revelations builds to a vertiginous climax.
We can also now report that in addition to the production happening in London from January 23 through March 16, 2016, the play is now set for a run on Broadway next fall! Will Fiennes reprise his role stateside? No word yet on that score, but we'll be sure to keep you updated as information becomes available. In the mean time, you can learn more about the London production here.
Fans of Alfonso Cuarón (director of PoA) will be pleased to see that his musical genius is up and running once again. Directing a 90-second fashion film for a boutique jewelry brand, Cuarón has enlisted the help of the same crew that he worked with during Harry Potter and the Prisoner of Azkaban. Cuarón sort of stumbled into this new role as a fashion film director while dining with his partner, Sheherazade Goldsmith, and Laura Bailey of Loquet London, saying,
Laura and Sheherazade and I were talking over dinner about the bracelets, and I had this idea for a song—Steve Reich's clapping music immediately came to mind—and I saw their eyes light up, and they sort of went off together and came back and said, 'Right, well, you're the only one who can do this.'
Luckily, the idea became a beautiful reality. This minute and a half video marks the debut of Loquet's charm bracelets while also featuring the young daughters of Goldsmith and Cuarón. Overall, the video is truly magical and everyone who was a part of the project, including Cuarón, had only positive things to say about the experience. Check out the video below:
Variety has reported that the distribution rights to Viceroy's House, starring Sir Michael Gambon (Albus Dumbledore), were recently acquired by several distributors during the American Film Market. This hopefully means we can expect an international release of the film soon, as it is currently listed as in post-production.
Radio Times has reported that Gambon has been cast in one of four HG Wells stories being recreated for television, forming a series titled The Nightmare World of HG Wells. Airing on Sky Arts in January 2016, the anthology of stories will include The Late Mr. Elvesham, The Purple Pileus, The Moth and Devotee of Art. Gambon will feature in The Late Mr. Elvesham as a charismatic old man who aids a young student to come into great wealth. The short film will coincide with the 150th anniversary of HG Wells' birth.
Obviously he has no plans on taking it easy this year, as it was also revealed that Gambon has now joined the cast of The Death and Life of John F. Donovan. The film will be directed by Xavier Dolan, whose most recent credits include Adele's much-loved "Hello" music video. Dolan, who admired Gambon's work as Dumbledore in the Harry Potter films, actually has a Dumbledore quote tattooed on his right arm … talk about dedication! We are very excited to see Gambon in all of these roles and will keep you updated on the news surrounding them.
We recently posted information on Gary Oldman's (Sirius Black) newest film, Criminal, set to be released on April 15, 2016 in the US and January 29, 2016 in the UK. You can see Oldman front and center in the recently revealed movie poster below: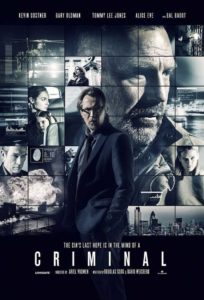 Jack Thorne, the playwright for Harry Potter and The Cursed Child, recently wrote a piece for the Huffington Post. In the piece, he discusses his work on Cast Offs, This is England, and The Last Panthers television series, which we posted about a few weeks ago. In his article, Thorne discusses the challenge of bringing The Last Panthers to life for audiences. The series is a European crime thriller that follows a British loss adjuster charged with recovering stolen diamonds. The series stars Sir John Hurt (Garrick Olivander) and Samantha Morton. Morton recently joined the wizarding universe as one of the actors set to star in the upcoming Fantastic Beasts and Where to Find Them, helmed by previous HP director David Yates.
While writing the script for the series, Thorne ran into some obstacles surrounding the cross-cultural and multi-lingual story. He learned the most about these differences simply by talking with the actors who portrayed multi-cultural characters about their experiences growing up in those areas of the world.
It is a story where we've tried to be really ambitious with what we're saying about the world, and it is a war cry of sorts, or a cry of anguish, for what Europe has become where organised crime is more organised than policing and where big business is frequently cutting corners and making alliances with the criminals in order to affect profitability.
You can watch the trailer for The Last Panthers below and tune in to Sky Atlantic on Friday nights at 9 p.m. to see Thorne's words come to life:
Variety recently confirmed that Sir Kenneth Branagh (Professor Gilderoy Lockhart) will star as Hercule Poirot and direct Fox's reboot of Murder on the Orient Express. The story comes from Agatha Christie's 1934 novel which revolves around an unexplained murder aboard the Orient Express, which detective Poirot attempts to solve. The novel has previously been adapted for film and television, but we are excited to see what Branagh brings to this iconic role.
On November 18, Helena Bonham Carter (Bellatrix Lestrange) attended the annual Save The Children Winter Gala. Leading the stars on the red carpet, Bonham Carter dressed in a black, floor-length gown with eccentric touches reminiscent to Alice in Wonderland, which just so happened to be the evening's theme.
Alice Through the Looking Glass, in which Helena reprises her role as Iracebeth, breaks into theaters May 27, 2016.
Did you know that the Potter cast had a male model in their midst? Posing in the December 2015 edition of Vogue, Domhnall Gleeson (Bill Weasley) made his modeling debut alongside Victoria Secret supermodel Gigi Hadid. The photos are absolutely gorgeous and picturesque thanks to famed fashion photographer Mario Testino, who has captured on film some of the most iconic faces of fashion, including Princess Diana and Kate Moss. Gleeson looks like a natural with his new modeling partner under the Portugal sunlight and we hope to see him take on more modeling roles in the future! Just take a look at him below!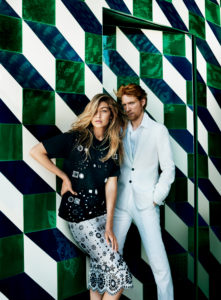 Domhnall's father, actor Brendan Gleeson (Alastor Moody), has recently been cast in Ben Affleck's new movie Live By Night. Brendan will portray the father of Ben Affleck and Sienna Miller's characters in the film, set during the prohibition era of the United States. Until then, Brendan can next be seen in the upcoming film Assassin's Creed as well as In the Heart Of The Sea, which also stars Frank Dillane (teenage Tom Riddle).

Premiering on ABC January 3, the second season of Galavant will grace our televisions. The show, whose first season tickled the funny bones of viewers and put a song in their hearts, stars Luke Youngblood (Lee Jordan) as Sid, Galavant's trusty squire. We don't know much about what the second season holds yet, but if it is anything like the first season, we can expect hilarity, music, and romance. Take a look at the recently released promo for the new season here:
That's it for this week's Casting News! What do you think about all of these new films? How much are you enjoying looking at Domhnall Gleeson's beautiful face? Let us know what you think!