Five Times "Harry Potter" Alumni Surprised Us
We've all had those moments. Those instances where someone you thought you knew did something you never saw coming, leaving you questioning if you ever really knew them at all. This is no different for the celebs we follow. Our entire lives have been news stories about how this actress did this unthinkable thing or that actor has this secret life. Obviously, these little surprises are not all bad. Even our beloved Harry Potter alumni like to keep us on our toes with their unexpected hijinks. Today, we would like to spotlight five of those times a Harry Potter alumnus has taken us by surprise.
1. Josh Herdman: Cage Fighter?
Recently, we were made aware of the extracurricular activities of our very own Gregory Goyle. Though he made it clear he has not given up on acting, Herdman has decided to add "MMA Cage Fighter" to his résumé. It seems that Goyle finally found a healthy outlet for all that (not so) pent-up anger! Not only is this surprising in and of itself, but can I also get an amen for the tattooed jock-hunkiness happening here? Ladies?
2. Tom Felton Bringing Down the House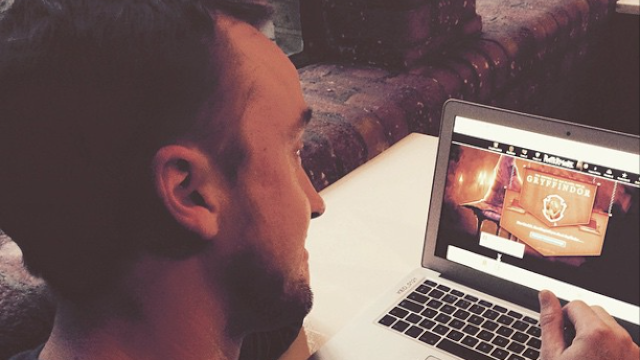 Many of us were confused when we took the new Pottermore Sorting quiz and ended up in a whole different House than before. Had our entire Potter lives been a lie?? (Mine wasn't. Slytherin through and through!) However, no one was more dismayed than Slytherin idol Draco Malfoy. Turns out, when he finally caved in and joined Pottermore, he was Sorted into his rival House, Gryffindor. Felton's, "Oh, bollocks!" pretty much sums up how the rest of us snakes feel on the subject.
3. Matthew Lewis All Grown Up
There's a whole other kind of magic in the air when it comes to the younger Potter alumni. We all remember how most of them started out as sort of awkward cutie-patooties whom we just wanted to pinch the cheeks right off of. Puberty hit the kids of Potter well, but none more so than lanky, chubby-cheeked, and somewhat goofy Neville Longbottom. When Lewis dropped this photoshoot bomb on us, it turned our worlds upside down. Even JKR wasn't prepared to see Mr. Longbottom all grown up and made sure to add a little friendly, motherly chastising to the tidal wave of reactions.
4. J.K. Rowling Finally Giving Us More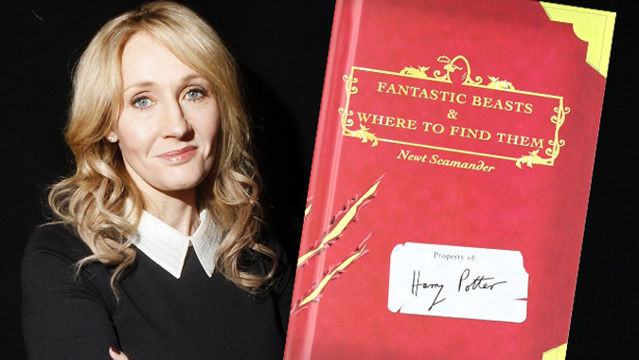 Admit it. You've either been secretly pining for more wizarding world or like me, you've been very loud, obnoxious, and public about your need for more. For years, Potterheads were resigned to the fact that the end was the end and that's all there was to it. And then Rowling completely pulled the rug out from under us when the Fantastic Beasts movie was announced. The kids of Harry Potter aren't the only alumni that surprise us when we're least expecting it! Now we have a whole new world and brand new characters to fall in love with! Thank you, queen!
5. Rupert Grint Buying an Ice Cream Truck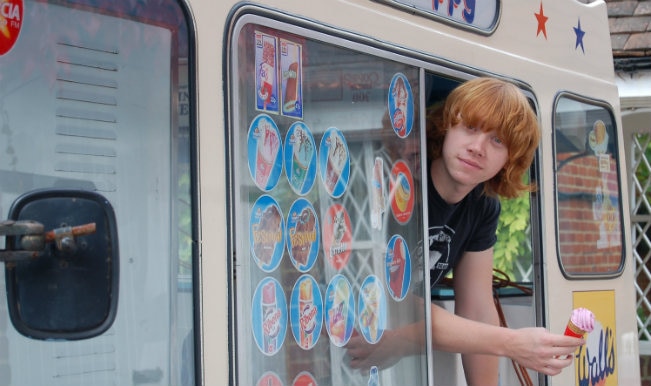 Being a child actor can be tough. The lack of privacy, the crazy schedules, not being able to do "normal" kid things… it all can take its toll on young actors, but one question that every one of them have to eventually answer is, "What am I going to buy with all my money?" So many child actors misuse their money (if they aren't already being taken advantage of by managers!) and flush their careers—and too often, their lives—down the toilet by the time they are legal adults. Not Rupert, though! What was one of the first things our favorite ginger bought? An honest-to-Merlin ice cream truck! Now how adorable was that?! Not only did he buy the truck just to drive around, but he also gives out free ice cream after one "oops" moment with a group of money-laden kids and an ice cream truck void of any sugary goodness. Lesson learned, Weasley?
It's always nice to know these guys will forever keep us on our toes. Have any Harry Potter stars said or done something that completely shocked you? We want to know in the comments below!