Harry and the Chocolate Factory
When I was younger, my two favorite authors were J.K. Rowling and Roald Dahl. Fortunately, most of their books were adapted into pretty decent movies as well. Charlie and the Chocolate Factory might not stick to the book precisely, but I still loved the imagery and fantasized about visiting the factory regularly as a child. Recently, I wondered what these two stories would be like as a crossover. We have done many crossovers here at MuggleNet, such as The Wizard of Oz and The Hunger Games, as well as a slew of "Christmas Crossovers" last December; now, we will see what it would've been like if Harry had found a golden ticket in one of his Chocolate Frogs.
1. Harry as Charlie Bucket
Naturally, of course, Harry would take the role of Charlie Bucket. Both Harry and Charlie come from less-than-pleasant home environments but come to find true happiness throughout their stories. The two also happen to have rebellious streaks, as we see briefly when Charlie drinks the Fizzy Lifting Drinks.
2. Dudley as Augustus Gloop
To keep it short, these two kids are both incredibly spoiled. The scene in the first movie where Dudley falls into the snake enclosure and gets stuck is pretty reminiscent of when Augustus falls into the chocolate river and gets stuck in the tunnel because he just couldn't control himself.
3. Hagrid as Grandpa Joe
Hagrid is the one who leads Harry into the magical world, just as Grandpa Joe leads Charlie to follow his dreams. The first glimpse we have of Hagrid is when he gifts Harry a birthday cake while Grandpa Joe gives Charlie a chocolate bar as a birthday gift. Coincidence? We think not. Hagrid and Grandpa Joe both act as rays of hope and encouragement in the lives of the young boys.
4. Dumbledore as Willy Wonka
Here we have the makers of magic. Revered by all for their unique ways, these two are both hard to read through their mysterious charm. They can have tempers at times but always come back to the love of their trade and the love for the protagonist.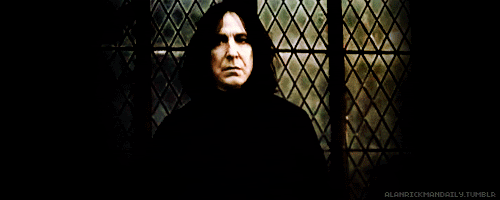 5. Snape as Wilkinson
If you can't recall, Wilkinson is the man who came to all of the golden ticket winners in Willy Wonka pretending to be Slugworth, the arch-candy-enemy of Wonka. This one's pretty simple: Everyone believes them to be the bad guys, when actually they are working as spies.
Honorable mentions:
1. Voldemort as Slugworth
This is plausible but doesn't fit in very well because we do not actually see Slugworth in the movie.
2. Ron as Augustus
Ron definitely eats like Augustus! However, that's about the only thing they have in common.
3. Aunt Marge as Violet
While Aunt Marge certainly gets just as round as Violet, it appears as though she is blown up with air and not blueberry juice.

What other crossovers would you like to see? Let us know in the comments!