Hagrid's Chocolate-Covered Promise
No matter how many times I read or watch Harry Potter and the Sorcerer's Stone, I'm always struck by how Harry reacts to Rubeus Hagrid's simple homemade gift of a chocolate cake. The entire symbolism of the cake is so important to me. It is so meaningful, that to get the full meaning of what a cake means, I had to make a version of Hagrid's cake while writing this. While there are many versions of this famous birthday cake, I'm making the "unofficial" version from The Unofficial Harry Potter Cookbook by Dinah Buchholz.
This is a very important scene for me, no matter if it's from the book or the movie. It is the first time that someone shows Harry that he is wanted, that he is important, and that he should be cared for. It really matters that Harry's first birthday present is a homemade chocolate cake. A cake – especially a homemade cake – is a very special gift to receive. It means that someone cares enough to create this for you, with their own two hands, and in a world full of bakeries that are full of textbook-perfect cakes, something touches my sweet Hufflepuff soul whenever I am given a homemade cake. A homemade cake is an edible form of comfort. It's more than just a cake, it's a chocolate-covered promise of love.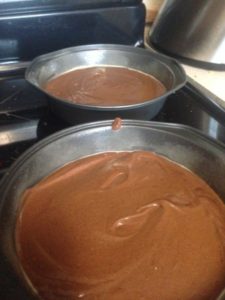 While I made this cake, I couldn't help but think that Hagrid would not have been able to make this in his small hut on the edge of the Hogwarts grounds without any modern appliances since it is a very complicated recipe. It calls for boiling water and instant coffee, melting chocolate in a microwave, and the use of a stand mixer or a hand beater in order to make the batter, glaze, and frosting. Yet, I can still see Hagrid doing his best to make this cake, even without magic. I can imagine him carefully choosing the flavor after observing students during dessert in the Great Hall and finally settling on chocolate. I can picture him making several different versions of the cake to get the recipe just right for that little boy whom he left on those Muggles' doorstep. I can imagine him proudly showing off the completed cake to his boarhound, Fang, before trying to keep Fang from devouring the decadent deliciousness.
Now, I will be honest right here and now, I am not a fan of making glazes. I can never get them right, no matter what I do! Same thing happened with this one. I must've added too much heavy cream or used the wrong bittersweet chocolate, because this is not working as a glaze. It's super liquidy until it's not, and then, it's hard to pour. But I have to admit, this glaze makes the frosting some of the most decadent frosting that I have ever eaten, and that's from multiple cakes and cupcakes. I would be more than happy to join Hagrid in eating an entire bowl of this stuff before realizing that he still has to frost Harry's cake and whoops… there's none left in the bowl!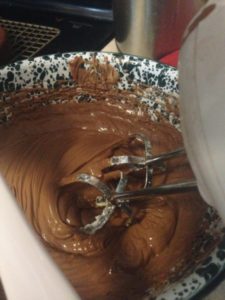 It is my personal opinion that the unofficial birthday cake recipe is much too complicated and the glaze isn't really needed on the cake itself. It's definitely a crucial part of the amazing frosting, but it doesn't really add anything to the cake as a whole. However, when I took my first bite, the flavors transported me to that rock in the middle of the sea with a giant of a man beaming at me as I ate the cake that he had made just for me, to tell me that he cared. This must have been what Harry felt like when he took his first bite. This unofficial cake is one of the most delicious cakes I have ever eaten, and as a southern girl who's attended more than my fair share of potlucks, I have eaten a lot of cakes. I highly recommend this the next time you need a cake to share. And as you share it with friends, family, and other Potterheads, remember the promise that you are delivering with the chocolate and sugar: love.