Fandom, Canon, and "Cursed Child": Two Reviewers Discuss the Polarizing Script
The script of Harry Potter and the Cursed Child has been out for just over a week, and fan reactions have ranged from delight to utter horror at what J.K. Rowling, Jack Thorne, and John Tiffany have unleashed upon the world. Today, two of MuggleNet's book reviewers, Jessica and Tracey, are in conversation about the experience of reading the script and how Cursed Child fits into both fandom and canon. Please note that while major spoilers are avoided, there are references to the content of the play. If you haven't read Cursed Child and want to remain entirely spoiler-free, proceed with caution.
***
What were your thoughts about Cursed Child before you started reading?
Jessica: I honestly had very low expectations. I hate – and I mean hate – the epilogue in Harry Potter and the Deathly Hallows. Even when I first read it at 16, I hated it. I actually usually skip it when I reread that book. I have always felt that it tied things up too neatly and that one of the great things about the ending of the book before that is that it left open so much possibility for Harry, Ron, and Hermione and what their lives would become. Something about it just rubs me the wrong way. So I had very low expectations for the play.
Tracey: Maybe I'm too naive. Although I didn't think the play would ever match the brilliance of the original seven novels, I was still curious and excited to learn the adventures of the next generation. While the epilogue was definitely not what I expected, I didn't mind it – it showed us that life goes on, despite everything that happens, and Harry finally got the family he's always wanted. After hearing all the positive reviews from the early preview performances, along with J.K. Rowling's support for the play, I had relatively high hopes for this extension of the Harry Potter story.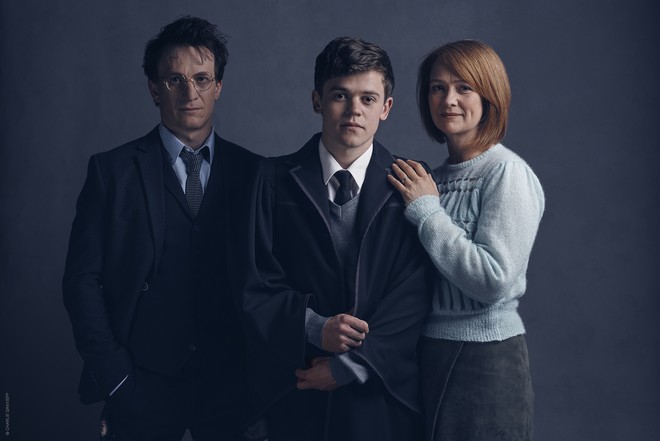 So… what did you think of it, overall? Did you enjoy reading it?
Jessica: I enjoyed it more than I thought I would, which I guess isn't saying much! All of the reviews of the play are excellent, and I think from a spectacle point of view, it would be amazing to see. It's just so… fan fiction-like, with the exception of it not being gay enough/at all. There are SO many pieces of this that seem drawn from fan fiction that I really couldn't believe it as I was reading it – and I don't even really read fan fiction, so if they are theories and tropes that I'm familiar with, that's really saying something. I was baffled by it, honestly. The reasons I liked it are the same reasons I like reading certain fan fictions: You see characters you love in new and unfamiliar circumstances, it's nostalgic, you delve into some sappy bits, and it's all a bit ridiculous. At the same time, those kinds of reading pleasures do not even compare to how great I think the original seven books are, both now and when I first read them.
As an aside, I think the critical acclaim the play has garnered so far is really interesting considering how fandom and fan fiction are viewed in society at large: as a silly pastime for nerds who spend too much of their energy obsessing over fictional characters and worlds. Obviously, none of us here at MuggleNet feels that way, but fan fiction in general is really kind of looked down upon in many literary circles. And then you've got this play, which coincidentally employs all of these Harry Potter popular fan fiction plot points and people who have never read fan fiction before think it's amazing. I think there's some really interesting commentary there that probably has something to do with the fact that fan fiction is primarily viewed as a pastime for women. But that's a whole other article…
In brief: There are things that I enjoyed about it, but it's nowhere close to how I feel about the rest of the series.
Tracey: I have no doubt that the production aspects of the play are brilliant, and I am extremely jealous happy for those who get to experience the story in its intended form. But I, like other Harry Potter fans who merely have access to the script book, can only see the story for what it is without being caught up in the theatrical embellishments.
I was shouting in my room while reading this book, but for all the wrong reasons. While I didn't hate the story, I certainly didn't enjoy it as much as the original books – the aspects I liked were simply overshadowed by the array of questionable moments in the plot. I did not expect the story to be so driven by the past, and for the most part, it seemed like the question of, "How many past characters can we put in here to make a reappearance?" For me, Harry's story was finished at the end of Deathly Hallows, and I wanted to read a story solely about the next generation. Why didn't we see more of Rose? And where was Hugo?
And then, of course, there was *that* plot point of a new character, which I won't get into here for brevity, and I'm sure some of us at MuggleNet will discuss it further in later posts.
Short answer: I have a hard time believing that J.K. Rowling gave this project her stamp of approval.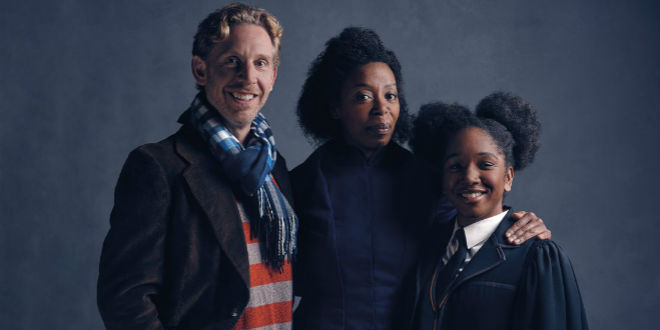 What's it like reading a Harry Potter story that's not written by J.K. Rowling?
Jessica: It's weird… you can definitely tell it's not her. Maybe my brain just wasn't able to conceive of an authorized Potter story that's not in her voice, but I wasn't expecting that, even though I should have been. Even in the new North American writings, which I have some serious issues with, it's still clearly Rowling's voice and style. In the play, the characters don't really sound like themselves, the sense of humor is slightly different, and it's all just a little off. Again, it's like reading fan fiction, but knowing that it's all approved and sanctioned by Rowling makes it feel weirder to me than fan fiction does.
Tracey: I've been thinking a lot over the past week about why I was disappointed overall, and the biggest thing for me was probably the fact that J.K. Rowling did not write it. I agree, there was very much a fan fiction vibe throughout the story, and I did not recognize some of my characters – Ron (whose advocacy of love potions is a tad creepy) essentially served as comic relief, Moaning Myrtle (who can somehow get drenched in water despite being a ghost) was just weird, and Snape… who on earth was that? And that's just touching the surface. I really missed J.K. Rowling's writing and the intricate descriptions and characterizations that make her books so great.
Do you think it's canon?
Jessica: This is a very biased opinion, but no! I think if I accepted that yes, this is definitely what happens to the trio later in life, it would drown out all the little things I liked about the play. I would have many of the same issues I have with the epilogue: It would be too neat, and too cutesy. I think if I thought of it as canon, rather than a possible interpretation inspired by the series, I would hate it. And I don't want to hate it. So no, I don't think of it as canon, even though that technically conflicts with my general opinion that Rowling sets the canon of the world and what she says goes.
Tracey: I have a different take on canon. In my mind, there's the book canon, "JKR's commentary" (through interviews, tweets, Pottermore, etc.) canon, movie canon, video game canon, and now stage play canon, and I think of them as separate worlds that all co-exist. So by this idea, the story is canon in the sense that it exists as another official entity as long as the author of the original works gives their consent (and yes, the incantation Flipendo would exist in two of them).
Jessica: Oh, I definitely agree with Tracey that there is more than one canon! In addition to all those isolated canons, which are important distinctions for discussion and study, I also believe there is an overarching "world canon." In my mind, that canon encompasses all others and I think is the one most often referred to by fans. In the canon of the wizarding world, what Rowling says goes, rather like George Lucas in Star Wars. Up until now, I've been pretty comfortable with accepting that, since Rowling is the creator of the series, whatever she says stands as part of that world canon. Cursed Child is forcing me to fudge my beliefs a bit.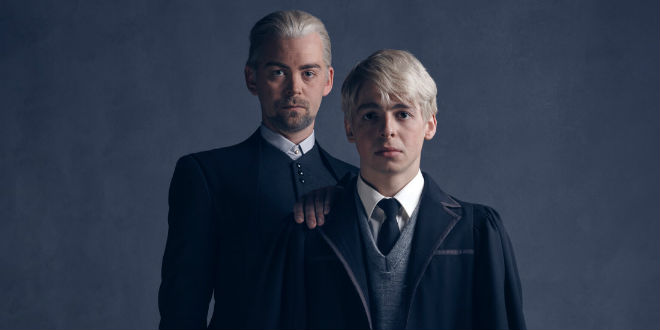 Any final thoughts?
Jessica: I know it's because it is a play, and that play already has quite a large cast, but so many characters are missing! Like, not even mentioned at all, which I find so strange! Ron runs the joke shop with George, right? And he doesn't even get a mention? Is Hagrid not at Hogwarts anymore? It's a little weird that certain characters get a full-on second chance to clarify their positions, and it's as if others never existed.
ALSO, I've never been the biggest Hermione/Ron fan, but one of my biggest pet peeves in general is how almost everyone in Rowling's world seems to marry 1) super young and 2) the person they started dating when they were like, 15. I know the wizarding community is small, but COME ON. Even in the alter-bizarro-world, Ron STILL ends up with some girl he went on a date with in the equivalent of 9th grade. Going along further, if Hermione – literally the BAMF-est – didn't end up with her maybe-not-good-enough-for-her-if-I'm-being-honest childhood crush, she's inevitably alone forever? I don't think so…
At the same time, I've been a bit floored by some of the negative reactions to the play. It's silly – if you take it at that, it's a fun read. Just… let it be silly so that you can enjoy it for what it is.
Tracey: J.K. Rowling once tweeted, "I am confident that when audiences see the play they will agree it was the only proper medium for the story #CursedChild," and I now understand why. However, living in New Zealand and thus being so far away from the rest of the world, I along with the majority of Harry Potter fans will most likely never be able to see this play live. And even if we do get an official video recording, it will not be the same experience intended by the creators, which is unfortunate.
A few days ago in my publishing class, I listened to a guest speaker from an independent children's bookshop, and naturally, the topic of Harry Potter was brought up. During the discussion, it was highlighted that the series had (and will continue to have) an unprecedented effect on reviving children's interest in reading. I do wonder whether the Cursed Child story itself is of secondary importance when the script book's remarkable sales figures show the importance of Harry Potter in advocating literacy and keeping bookstores alive. As long as people continue to read, maybe that's all that matters.