Photo, Character Sketch of Ezra Miller's Credence Released
While information about four central characters in the upcoming Fantastic Beasts and Where to Find Them film – Eddie Redmayne as Newt Scamander, Katherine Waterston as Tina Goldstein, Alison Sudol as Queen Goldstein, and Dan Fogler as Jacob Kowalski – has been slowly leaking out over the past few months, the mystery surrounding the character of another of the movie's stars, Ezra Miller, has remained intact. Today, we got our first good look at his character – Credence.
Here's the image, released today by Entertainment Weekly: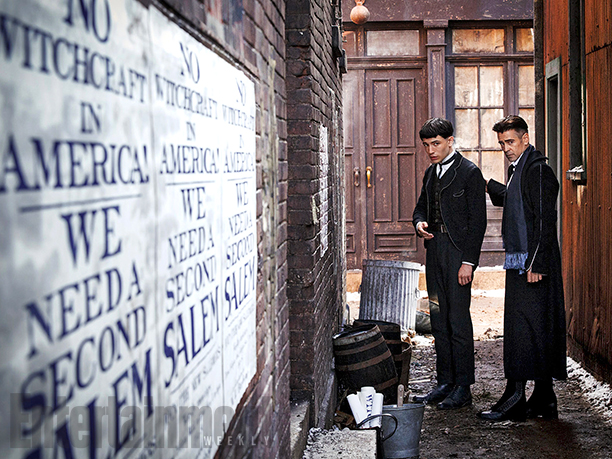 Credence appears with Colin Farrell's Graves at the entrance to a forbidding alley lined with anti-wizard propaganda. Perhaps even more exciting, we also learn just a little bit about his character.
Credence is the adopted middle child of Mary Lou Barebone (Samantha Morton). We're told that he "appears withdrawn, extremely shy and far more vulnerable than his two sisters. Credence is defenseless against the abuse that comes in response to the slightest infraction of Mary Lou's strict rules. But his loneliness also makes him susceptible to the manipulation of Percival Graves (Colin Farrell), who has taken a personal interest in Credence. Graves is a powerful guy, an [A]uror and the Director of Magical Security in the American wizarding government.
We previously glimpsed Credence in the bottom right of the newly released poster for the film. While Miller appeared at San Diego Comic-Con with fellow cast members last month, we still know very little about his character.
Any guesses on what role Credence will play as events unfold?