How to Plan a Hogwarts-Themed Date Night
One of the first questions my boyfriend asked me before we started dating was, "What the hell is Pigfarts?" So I've always known I was a little more of a Potterhead than he was. Recently, we celebrated our four-year dating anniversary (which conveniently fell during Romance Month in August), but because of hectic schedules and my chronic illnesses, it has been difficult to plan a celebration. However, I recently got the idea to plan a night in full of activities, which would also serve as a final hoorah before back-to-school.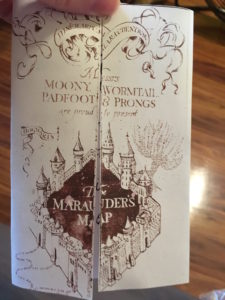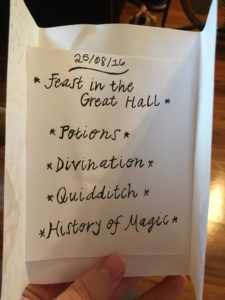 First, I crafted this Marauder's Map itinerary, made by simply printing a template online and using my own lovely calligraphy to fill the inside with the night's events. (Shockingly, I have had zero training in fancy handwriting. I know.)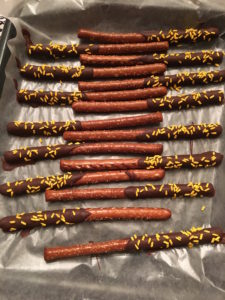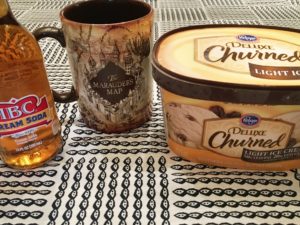 First on the list was the feast, which sadly was nothing more than some pasta and garlic toast because I am a lousy cook and a broke college student. Truly, I had an idea of what the feast would look like. My wallet and my energy levels thought otherwise. Regardless, I did get a bit crafty and made these pretzel wands with the Geeky Hostess lightning bolt sprinkles. I also came up with two-ingredient Butterbeer, which was simply cream soda and butter pecan ice cream. Since I can't have dairy, I have to go with my boyfriend's word that it was good. Or at least, good enough.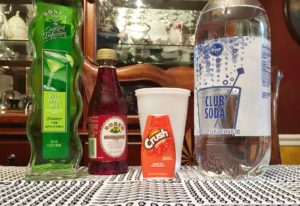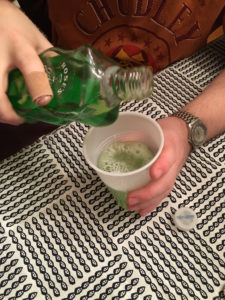 Next, we had Potions, which was just mixing odd flavors into club soda. This turned out to be a lot of fun, but not for our taste buds. The drinks fizzed and changed into interesting colors. Pictured above would be my boyfriend in his Chudley Cannons shirt, adding the green apple flavoring. The drinks tasted a lot like what I imagine Polyjuice Potion would be like, so… disgusting.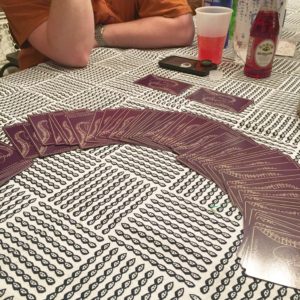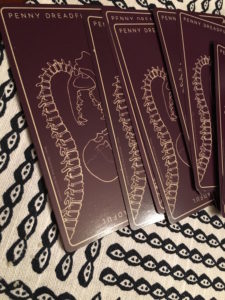 After our Potions lesson, we moved on to Divination. Since I knew very little about the art, I decided to use some Penny Dreadful tarot cards I bought on sale a month ago and had never used. I should've done my homework beforehand, because most of the reading involved me flipping through the instruction book and giving confused explanations. Apparently, the cards said that my boyfriend needed to get better sleep and stop being selfish. Truthfully, I think I just did a poor job of shuffling, and he did an even worse job of picking. The cards had great things to say about me, though, so we just can't be sure.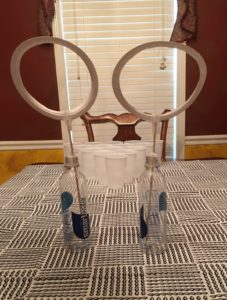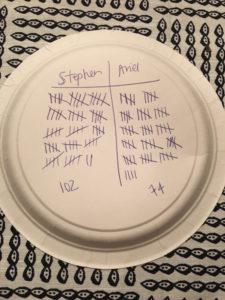 We quickly moved on to tabletop Quidditch, where everything was made up and the points didn't matter. As someone who has never played the alcoholic version to this game (or even the non-alcoholic one, to be honest), we pretty much just played it by ear. One point if you got the ping pong ball into a cup without going through a hoop and ten points if you did land in a cup through the hoop. The Golden Snitch of the game was getting three in a row through the hoop and into a cup, which Stephen did. We were neck and neck until that point, and by the time he got the thirty points, we got sick of doing the tick marks. Also, as stated before, I am a broke college student who clearly has no talent for arts and crafts as well as cooking.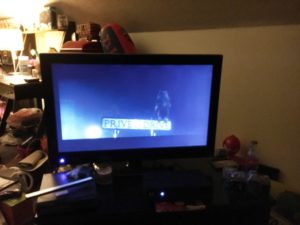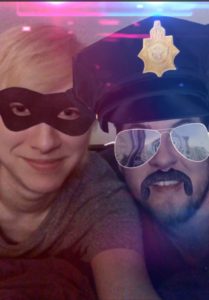 Lastly for the night, we went on to History of Magic, which meant watching Harry Potter and the Sorcerer's Stone for our millionth time. It mostly involved me reciting lines and giving off trivia, neither of which was something my boyfriend exactly asked for but got anyway. Then, as any couple would do, we played around with SnapChat filters and called the night a success.
So for anyone wishing to plan a Potter-themed date night for their loved one, it doesn't actually matter if you spend a lot of money or even get everything just right. Stepping away from the Muggle world, even if only for a few hours, is always nice. I mean, anything is better than Harry's first date with Cho, right?