"Fantastic Beasts" Set Visit Interview: Alison Sudol
Alison Sudol, who plays Queenie Goldstein, is clearly coming from wardrobe and make-up as she enters the room for our interview. Clothed in a fluffy white robe, she's traded her dark bob for a curly blonde wig that rests under a hairnet, and her open face has already been made up in the style of an elegant 1920s woman. As she sits, she reveals that she's wearing a corset, and we all wince just a little in sympathy.
Like Eddie Redmayne, she's brought her wand for us to view, and it's evident that the filmmakers are taking the edict of "the wand chooses the wizard" very carefully. Queenie's wand has a pearly nautilus-shell handle, white with iridescent colors glinting in the light; spiraling at the tip and straightening out as it leads out toward the opposite tip of the wand. The rest of the wand is dark brown, almost black, and I get the sense that this elegant yet simple design has a lot in common with Queenie herself.
Sudol is clearly thrilled to be here and speaks animatedly about how she came to be a part of Fantastic Beasts and Where to Find Them.
Press:
What was your moment of, "Oh my God, I am now part of this entire universe!" Did you have a realization, whether it was on set or beforehand?
Alison Sudol:
I mean, I think it's been a series of realizations because it's so enormous that it's hard to get your head around it in one go. I think first, just even auditioning for it was a huge thing. Just to have the opportunity to potentially be a part of this was huge. And then getting the role was massive, but it was just too much to take in. And then I think seeing the set, seeing New York for the first time was pretty incredible, and what was especially incredible was seeing photographs of the set from that week because you can't even take it in when you're looking at it. And then, when you see it caught on camera, it's like we're making this epic film. It's been pretty surreal.
Press:
What was the audition like for this film? Did you have to read from past Harry Potter scripts, or did you have to prepare your own material?
Alison Sudol:
Well, I wasn't actually even coming in to audition, initially. I came in for a general meeting, and then Fiona [Weir], who cast the film, said, "Actually, I'd like you to check something out." And I had no idea that it was connected to this world, even. She did mention Harry Potter, but I didn't understand at all because I was sort of jet lagged.
It was quite a long and in-depth process because there's just the character of Queenie alone, which took auditioning because I had to show that I could be her, and then there's many different colors to this role. And there's also the chemistry between the gang, and that was very important. So there [was] a lot of putting us in different situations and matching up different actors with each other.
Katherine [Waterston] and I got seated on a couch next to each other, and they were like, "Right, you're sisters. Go." And we were like, "Nice to meet you. Okay. [laughs] We're sisters now." And it was pretty incredible because when you have real chemistry with someone, you can really find those moments quite easily, and she and I delved into this sisterhood in about four seconds that made both of us cry, and I felt like I had a sister suddenly. It was a pretty meaningful moment. And yeah, then they also had me try on a lot of wigs.
Press:
I was wondering what your characters' dynamic is [in terms of Queenie and Tina's] relationship as sisters… you're the younger one – do you guys get along, or [is] Katherine as Tina more motherly and domineering? What's their relationship like?
Alison Sudol:
I think it's a really beautiful relationship. It's two sisters [who] have basically raised each other because their parents died when they were very young. So there's a mutual caring for each other. It's not like older sister-younger sister, because I think in some ways Tina is more grounded and an adult, but then Queenie has this deep empathy and such an unbelievable amount of perception about everybody but especially about Tina. So there's a real care and a warmth, and they occasionally are like [sisters] and bicker, but we didn't want it to be that kind of relationship because it's so much more about the love that they have for each other. And that's just present. It's not even trying to show it. It's just there.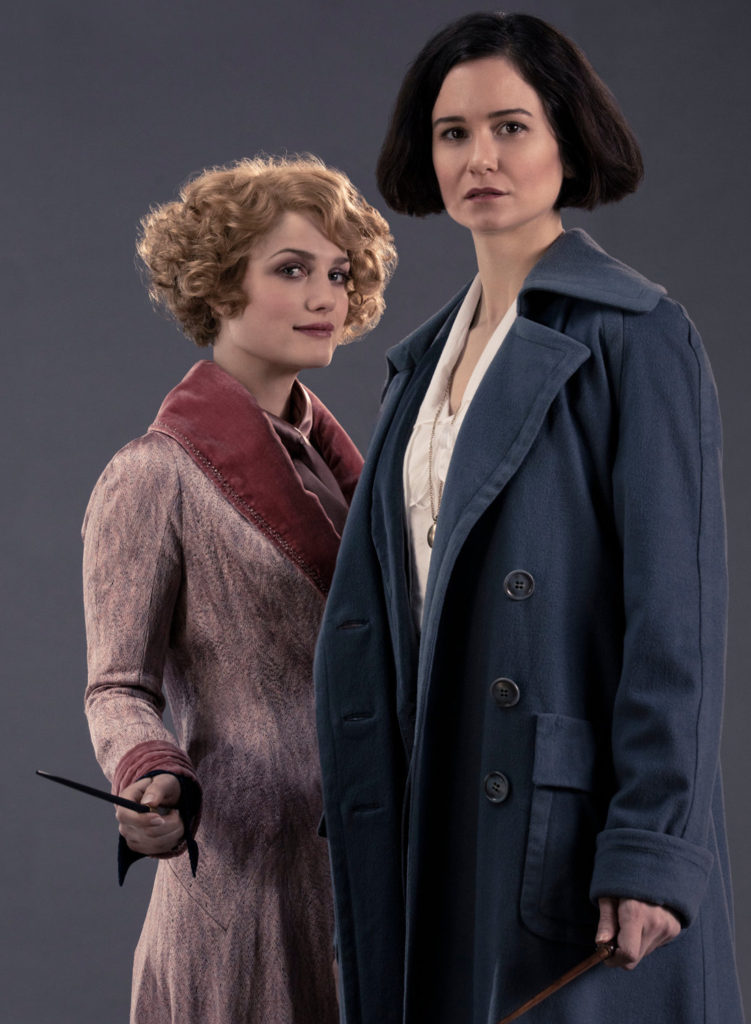 Press:
All the female characters for Harry Potter went on to become feminist icons and role models – like, Hermione is huge. So did that add any pressure, or was it something you were thinking about as you were taking on the next big female roles in the Harry Potter universe?
Alison Sudol:
Absolutely. It's something that Katherine and I care about very much. It's an opportunity to show different sides of these women and empower younger girls growing up. I've learned so much about being a girl from watching films.
I think what I love and what I find is also a great responsibility with Queenie is, she's incredibly feminine. And I grew up not seeing the strength in femininity. I grew up kind of feeling guilty about being a girl and wanting to just be like the boys and be treated the same. I didn't want to be different; I didn't think that beauty was something to be proud of. And what I love about Queenie is that she's incredibly smart, she's kind, she's beautiful, she has that pizzazz in femininity. She's completely unashamed about it and not vain at all. She's just a good, good human being.
I think as actresses it's part of our responsibility to show all different sides of a character and of women. There's not the fancy one and the serious one, but we're all very deeply layered human beings [who] happen to be women.
Press:
In the UK, in the Harry Potter world, if you are a witch or a wizard, your identity is easily traceable. You went to Hogwarts – it's a very small community. But it seems like from what we've glimpsed in America, it's a bit more dangerous to be magical. Could you speak a bit about how your character relates to the magical community and how that forms her identity in this new realm?
Alison Sudol:
Well, I think you're very right in that. There's more of an "us and them" mentality. And they're always intermingling, so it's this strange sense of living with people [whom] you're fascinated by but you're not really allowed to get close to, because otherwise it could just jeopardize everything. I think it's just a very different dynamic. And then there's an interesting dynamic between Queenie and well, all of us, really. And Jacob, who isn't magical. Because there's this fascination and a realization that humanity can access: Even though we may be a little bit different – we can cook dinner with our wands – there is still something very much in common between the two worlds.
Press:
Did you get to have any conversations with J.K Rowling about the character or the role?
Alison Sudol:
I actually only just met her the other day, which was a total honor. But [laughs] to be honest, I got a little bit flummoxed, and I wasn't able to ask her anything because I was so… I just was like, [gasps] [laughs] I don't know what to do! She was absolutely wonderful, and I sort of let the others ask questions and hoped to glean as much as I could, but I didn't want to attack her because I felt like if I started asking questions, they may not stop. I hope to get more intrepid.
Luckily, there was a lot on the page about Queenie, and I was also given a huge amount of freedom to create her as well. It was sort of like I was entrusted with this person, and then they said, it's okay. You know her. Go for it. Just go where you know she would go. And that's also been amazing to have that sort of free reign.
Press:
Is there any part of your character that you personally relate to?
Alison Sudol:
Oh, so much of her. I think she has a real joy to her. When I'm at my happiest and least self-conscious – which we all have days where that happens and days where it doesn't happen – I really can find adventures in anything. I just love having fun, because if you have the choice between not having fun and having fun, I'd much rather have fun. And with Queenie, I'm kind of required to be in that headspace. Because she's just so in love with this adventure that they're on. And I think I love people, and so does she. And there's a lot to her. I just try to scrape away the stuff that doesn't feel present or joyful or free because there's just a freedom with her. It's not all joy. Sometimes she's upset, sometimes she's angry, but she's 100 percent present.
Press:
We know what Newt's relationship is with the fantastic beasts. So what is Queenie's relationship like with these things? Clearly, she knows they exist because she lives in this world, but are there ones that she's particularly fond of or ones that she's terrified of, ones she finds repulsive?
Alison Sudol:
Well, there are not a lot of beasts in New York proper. It's not like we're out in the countryside where there'[re] animals anyway, so my choice was that she hasn't really seen most of these things before because it's a much more urban environment. It would be really hazardous to have these creatures out and about. So when she does come across them, there's this sense of wonderment, like a kid going to the zoo for the first time. It's pretty extraordinary, and they're fascinating. And occasionally a little bit… I wouldn't even say scary, but you're aware that they're wild.
Press:
Can you talk about Queenie's relationship with Jacob and Newt and what it's been like working with Dan [Fogler] and Eddie [Redmayne]?
Alison Sudol:
They're both such great people, and it's been so fun and lovely, and they're very supportive, both of them. And funny, too. We all laugh a lot on set. And as characters, Newt is this person who has a key to a different world. As does Jacob, really, and so they're quite interesting to Queenie. But Jacob, in particular: He's just such a kind, kind man, and because she's able to see into him like she does in everyone, she sees how kind and good he is through and through. It's a real lovely dynamic between the two of them that he can't hide from her, and he has nothing to hide because even when he says something that he doesn't mean to, it's still great.
Read the rest of our Set Visit coverage here.
This interview has been edited for clarity. Additional formatting provided by Catherine Lai.