"Fantastic Beasts" Set Visit Report – Part 2: The Magic Continues
We've got one more outside set to visit before heading inside for interviews, and we are led to the Central Park Zoo, where scenes of destruction abound. The set is a circular courtyard lined with black iron cages and a big habitat filled with water and an ice float in the center (perhaps for seals?). There are short, round brick towers on two sides – if you look at these images of historical Central Park Zoo, you've got a pretty good idea of what the set looks like.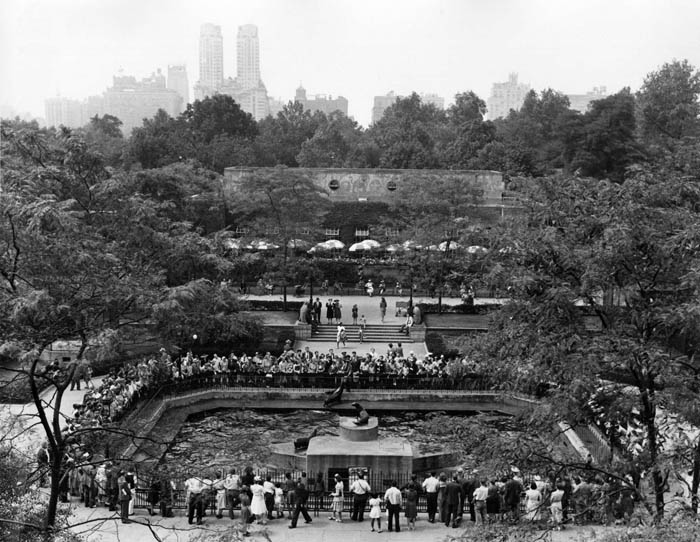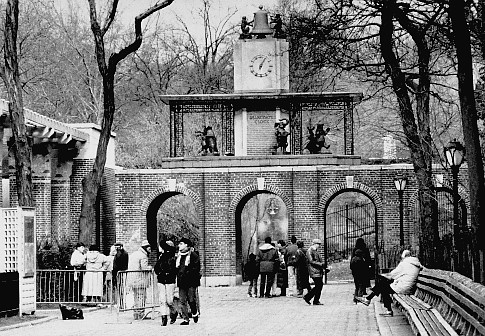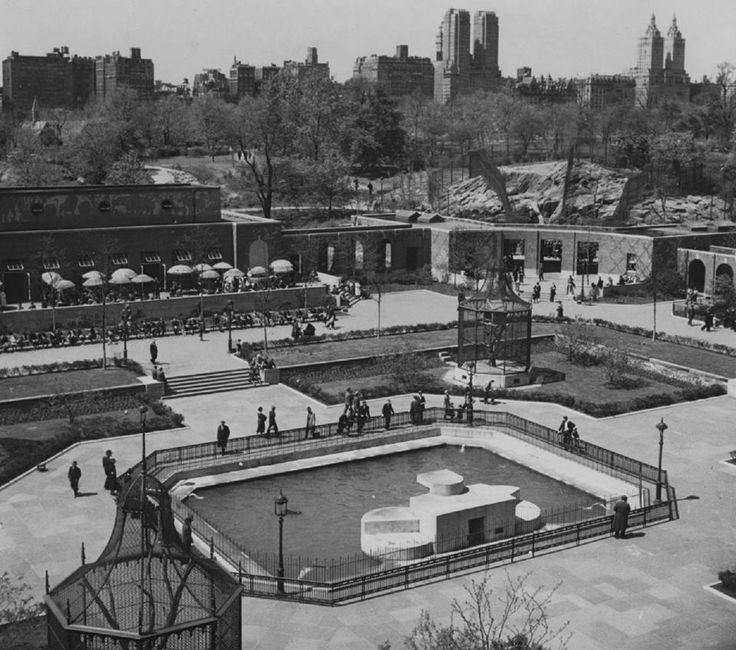 It's not an exact replica, but it's pretty close. As I walk around the courtyard, I can see that many of the animal cages – the ostrich, chimpanzee, porcupine, and kangaroo – are all burst open, with bent bars and hanging signs. One of the brick towers is crumbled, revealing a twisting stairway inside, and a building identified as the Snake House is an utter disaster, with a broken door and shattered glass and bricks lining the floor. From the sight of the Zoo, it seems like magical beasts might not be the only ones out of control.
All too soon, it's time to head inside, away from the outdoor sets. As we exit, our guide points back toward Leavesden's strikingly authentic New York cityscape, her finger crooked toward some weathered-looking apartment buildings. A clothesline laden with 1920s-era white undergarments is stretched out in the alley between the buildings. This is where they'll be filming later today, she tells us, and that – she points to a top-floor apartment with a huge hole in the back of it – is Jacob's apartment. Seems that Jacob might be in for a rough afternoon.
Since the set visit, we've seen this apartment in both trailers and promotional images for the film. In our interview with Dan Fogler later in the day, he shares some information about the events that transpire here.
We're led to a small board room in which we'll be conducting a few interviews, but before we begin, we have a few minutes to process the wealth of information that's covering the walls. There are two dozen rendered images of beasts we can expect to see (stay tuned for a full list!), and glimpses of the goblin band that performs inside the Blind Pig, a wizard speakeasy.
One wall is a wealth of information about potential villains, boasting three "Wanted" posters, one for Ernestia Abutor (a.k.a., "Red Panther"), one for Jeremius Wardcut ("Bearing Wand Most Menacing & Extremely Dangerous"), and one for Lancaster Pyke (a.k.a. "Magic Joe," wanted for "Embezzlement of Spells & No-Maj Murder"). All three are unsavory looking characters – they'd fit in well with a group of Death Eaters. Clearly, Newt's escaped menagerie isn't the only problem the American magical community is dealing with. The "Wanted" posters also bear a few more exciting tidbits: the American equivalent of Galleons, as reported by the rewards offered for these nefarious folk, are "Dragots," and the plural of "No-Maj" is spelled "No-Majes." (Although Pottermore seems to spell it "No-Majs," so perhaps this was only an early guess at what the plural would be.)
Unsurprisingly, there was also a great deal of concept art for the magical creatures of the film, so much that we felt it warranted its own post. Read all about them here.
The room is a treasure trove of tantalizing clues to the mystery of Fantastic Beasts, but after only a few minutes, it's time to delve into a treasure trove of another sort – the minds of the people working to bring Rowling's script to life. We first speak to David Heyman, the producer behind the Potter films – and now Fantastic Beasts – and next to Stuart Craig, the production designer for both franchises (links to interviews). An interview with David Yates, who directed the last four Potter films before landing his Beasts position, is quick to follow our conversation with Craig. After we talk to Yates, it's time for a quick lunch and a look around one of the most highly anticipated sets of all – MACUSA.
As we approach the sound stage that houses the set, I can't help but be a little amused at the distinctly British way we're told MACUSA is to be pronounced – with our bold and inelegant tongues, Americans would never read MACUSA as "ma-coo-sa," rather than the bright and blaring "mack-U-S-A." As we enter the set, we're told to walk softly since they're filming below us, and it's maddening to be so close to the action without being able to see or hear anything about it. We step into a large, echoing hall flanked by an inner ring of pillars topped with four golden phoenixes and an outer ring of pillars with statues of (presumably) notable American wizards sitting on top.
In the center of the ring of pillars is a large bronze statue depicting five figures, a centerpiece perhaps not unlike the Fountain of Magical Brethren that stood for so long in London's Ministry of Magic. This statue depicts four adult figures standing in a circle, each approximately six feet tall – an old woman and a young woman in puritan clothing, hair tucked up beneath bonnets; a middle-aged man with a short beard and shoulder-length hair, dressed in robes; and another young woman, clothed in a long, plain gown, her hair falling down her back and uncovered.
All four are barefoot and have their hands bound in rope. A figure of a little girl is looking up pleadingly and reaching her hands toward the woman whose hair is unbound, but there is no acknowledgement of the child's presence. The adult statues all appear to be looking off into the distance, filled with resignation. Is this the child's mother? Could the young girl be Modesty from the open auditions that took place in London in July of 2015? It seems certain that these witches and wizard are relics of the Salem Witch Trials, which we know from information previously released has cast a long shadow on American magic. This idea lends support to the theory that the young girl is, indeed, Modesty, whose name would fit perfectly in a 1690s Massachusetts town.
In April of 2016, Pottermore confirmed that this statue memorializes the Salem Witch Trials. I've included the image of the statue that was released at that time.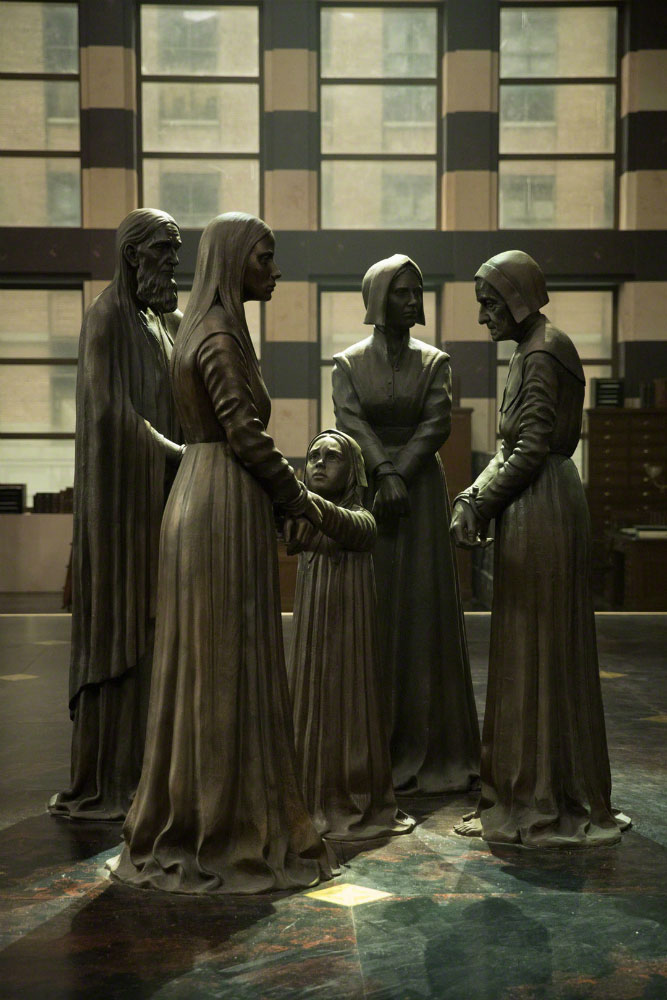 What we don't know is how Rowling's version of the Trials actually went down. We know from the Harry Potter novels that witches and wizards were able to use a Flame-Freezing Charm to avoid being harmed when burned at the stake, and it's not a stretch to imagine that magical evasion could be used to thwart other No-Maj attempts to punish magic-workers. But something traumatic happened to this community, and the fallout has been powerful and long-lasting. If the child depicted in the statue is Modesty, the fact that she's been cast (young actress Faith Wood-Blagrove won the role) suggests we will see flashback scenes in Fantastic Beasts. The dim lighting of the set only adds to its enigmatic majesty – at one point the lights go out entirely, and we're left breathing softly and straining our eyes for hints in the darkness.
Luckily, the lights soon come on again, and I'm drawn to the fringes of the hall, where several desks of MACUSA workers sit covered in paperwork. It's clear with a single glance that there's plenty of bureaucratic red-tape in this organization (I guess not even magic can change that facet of government). Most of the memos are concerned with the current risk of exposure for the magical community. Even the scattering of papers suggests the harried mood of the workers who sit at these desks: "Emergency Message: Magical Threat Level Has Reached Severe. Level 6 – Unexplained Activity," "International Confederation of Wizards: Emergency Meeting Called – High Risk of Exposure," "Notice of Contravention: Federal Bureau of Covert Diligence and No-Maj Obliviation." Doubtless Newt's beasts running wild across the city have a great deal to do with the panic being incited at MACUSA!
Before we have to go, I also spy signs of the remarkable devotion to world-building we've come to expect from the team that brought us the Potter films – a notice that there's been a leprechaun outbreak on Level 304, and a phone list that gives you the numbers for particular spell recordings. I can't help but smile as we walk quietly downstairs and back outside, on our way to the last set of the day. This film is going to be amazing.
Our final set is still under construction, despite the fact that we're told they'll be filming here tomorrow. It's none other than the City Hall Subway Station, out of service since 1945 and according to the production team, impossible to see in real life – not even Stuart Craig could get permission to visit the closed station and take photos. It may be closed now, but in 1926, it was in its prime. Take a look these images of the real station: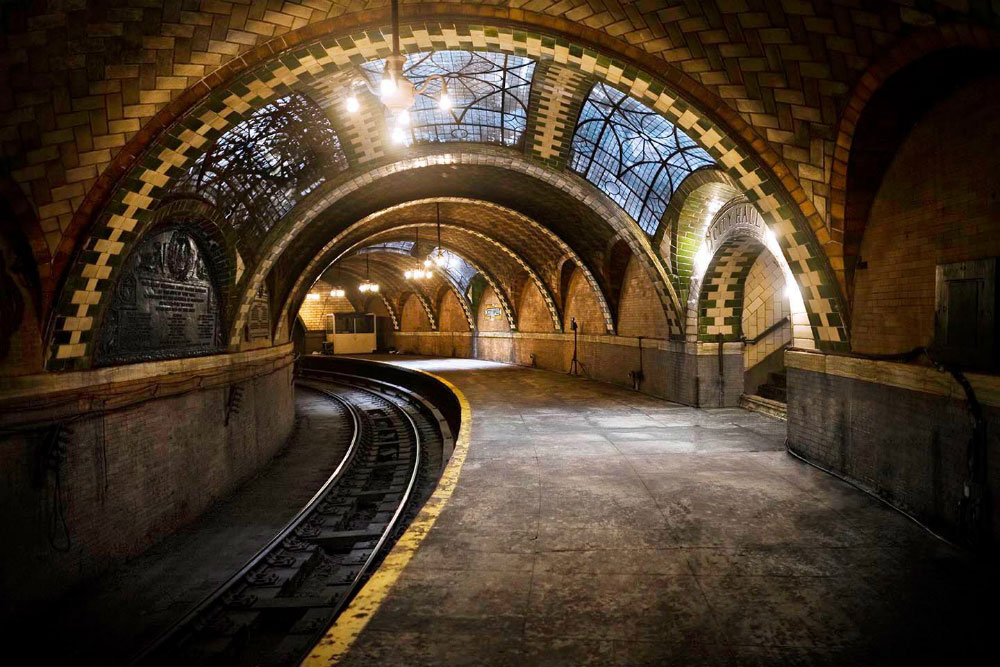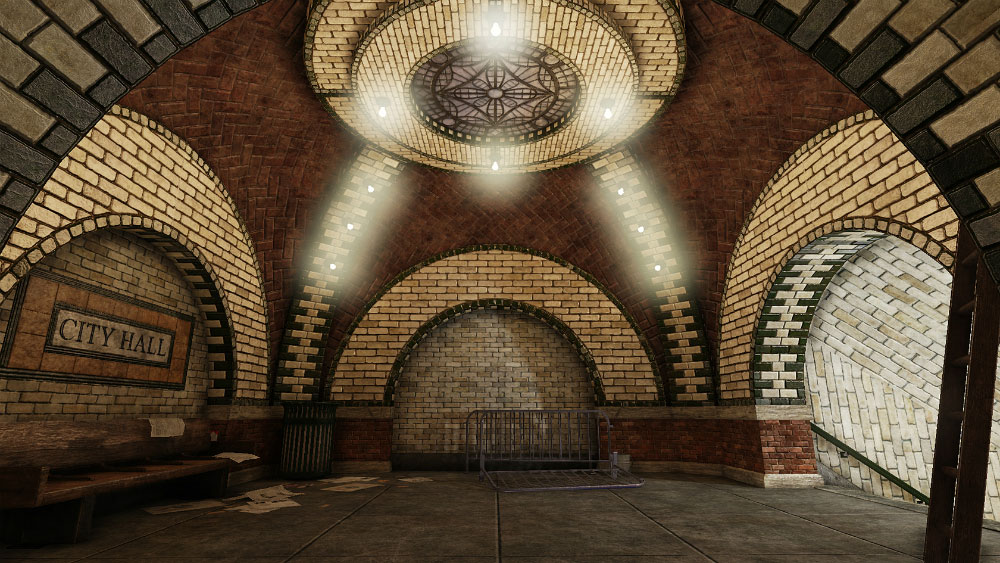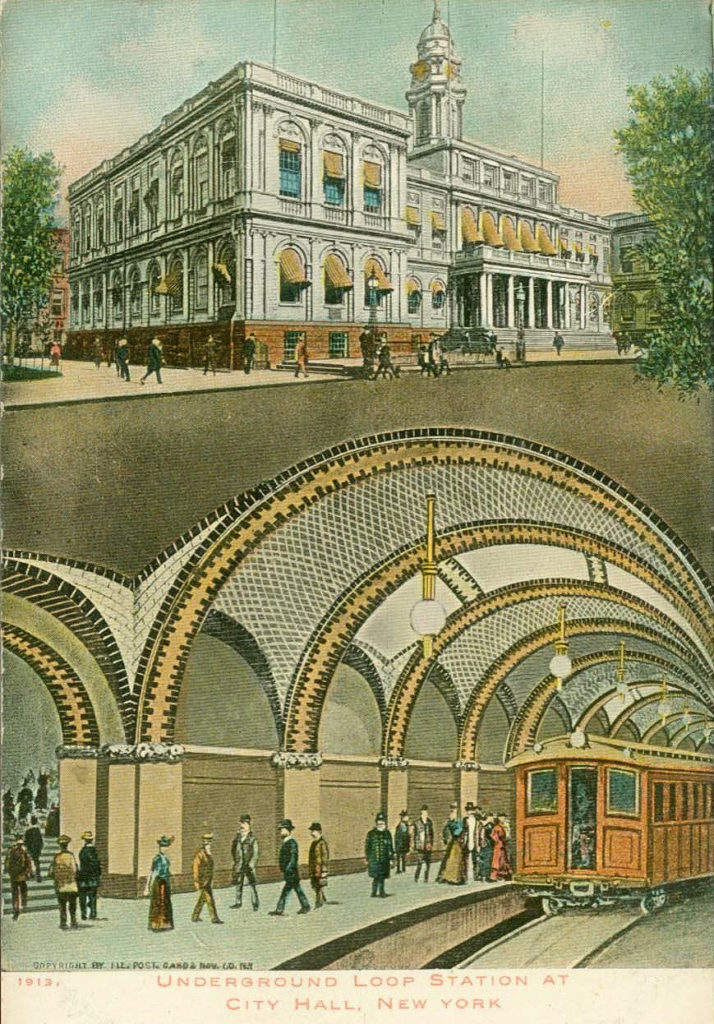 The set, as I'm sure comes as a surprise to no one, is a faithful reproduction of the station you see above. Amazingly, they've managed to give a sense of the entire station in just one stretch of set, a few hundred feet long. The curving tunnel is lined with a pattern of green and beige bricks, and elegant chandeliers hang from the ceiling.
As we watch, construction workers are installing the arched window panes into the ceiling, and the air smells like wood and glue. Since they're working, we can't venture very far into this set, and soon we're on our way out again, but as I'm walking out, I notice that several of the back panels of the brick archways lining the station are labeled with warnings: "Rigged for Breakaway." If I had to bet, I'd guess that City Hall Station is going to be the site of an explosive beast encounter – perhaps even the climax of the film.
I'd hoped that we might get a chance to see some actual filming take place, but a large group of journalists clearly isn't good for focus on set, since we spend the rest of our day sitting in a room waiting on interviews with the cast. We spoke with Eddie Redmayne, Katherine Waterston, Alison Sudol, Colin Farrell, and Ezra Miller, and believe me – you're not going to want to miss what we've learned! Links to all of those interviews are available here.
Read Part 1 of our Set Visit Report here!
Additional fact-checking provided by Felicia Grady and Sophie Reid.