"Fantastic Beasts" Set Visit Interview: Producer David Heyman
When you think of the Harry Potter films, there are a lot of names that come to mind – J.K. Rowling, Daniel Radcliffe, Rupert Grint, and Emma Watson probably topping the list. But while Rowling created the world, and our Harry, Ron, and Hermione trio imbued it with life onscreen, it is another person who is responsible for ushering Harry Potter to the big screen, and that person is David Heyman.
Harry Potter and the Philosopher's Stone hadn't even been published yet when it landed on Heyman's desk, but thanks to an assistant who read and loved it, Heyman was soon entranced. We know what happened from there, and with Fantastic Beasts and Where to Find Them, Heyman is ready to take us back into Rowling's magical world.
Press:
I was wondering if you could first talk a little bit about bringing David Yates in as the director; was he always in your mind as [the person] you guys were thinking of?
David Heyman:
Yeah, I mean, David knows this universe very well, and so there's a shorthand and ease in terms of bringing him up to speed. And we felt that was important given that we were going to go straight in and move forward. Also, someone who would have a really good relationship with Jo, which he's built up over the last four films. That was important to us, too. And he's great. And the other thing is, I think this film has a lot of colors; it's got darkness. It's got fun and humor. It's got adventure. It's got sort of tender character moments, and it's funny. It's very funny at times, and I think that David is really good at a wide variety of things and can handle them deftly and also in a way that feels truthful. So it's not humor just for gags. It comes from a place of character, and that was really important to us. So I think he's very deft with the broad spectrum. And one of the things I love about this film is that it has so many different colors. It's not just a dark film, or it's not just a difficult name, or it's not just this or that. It's got a rich palette of things. I think he's right. He's hugely talented, and I think he brings a lot to each of us.
Press:
Well, the books and the movie famously grew up with the characters and matured. But [in] this film, you're beginning with already adult characters and with the history of the films behind you. Entry point wise, does it feel tonally where we left off with the Harry Potter series?
David Heyman:
I can tell you it means we don't have to face one of the great challenges that we [had] to face on the Potters, which is having the kids for three and a half hours [because of child labor laws]. I promise you that wasn't factored in to Jo Rowling's reason for having adults. But we do come in with Newt – he's an adult. Like a lot of Jo's central characters – and I think all four are like this in some ways – he's an outsider. He doesn't sit comfortably within the universe, as it were, or within his universe. He's probably more comfortable with the creatures than he is with people.
I think you can find elements of outsider-dom, as it were, with each of the characters in this and with Harry, Ron, [and] Hermione, who find in each other, and with their colleagues and friends, a community. And that's something that comes with this. I would not say this film is as dark as the last Potter. So I don't think we're picking up there, in its term. I think it's a lot more humor than there was in the last couple of Potters. But I think there's this similar emotional potency and character richness. So we're not following characters go from 11 to 17. We're not seeing them grow up in that way, but each of the characters goes on a journey. And I think that in terms of its audience, it has the potential to appeal to young adults alike.
Press:
Can you talk about how you cast Eddie and Katherine and Alison and Dan – the big quartet now?
David Heyman:
Sure. So we began with Eddie Redmayne, and he said yes. He was our first and only choice. We wanted someone who could play that outsider quality, who was immediately sympathetic and appealing. Who was one of the great gifts of this film. I suppose [what was] like the Potters to a degree was that you don't have to cast a movie star in the lead part. Eddie is a movie star, but he's never been in anything of this scale, really, carrying it. And that's really exciting to us, but he's immediately empathetic. You can believe that he's a major zoologist, that he's kind of quirky, kind of off-center. But he has a deep-seated intelligence, which Eddie… Eddie is super smart; he's immediately appealing. He's got a grasp over comedy and drama. You feel a lot for him, and I think he's a perfect lead. He's also someone who can exist at any time. I think he sits very comfortably in the 1920s. Lord knows he played enough period characters. But I also think that he has a certain modern appeal, too, so he's got [it] all. I mean, well, you don't cast someone for their silhouette, but he's got a wonderful, wonderful silhouette. That tall, thin… and he's great, so we began with him.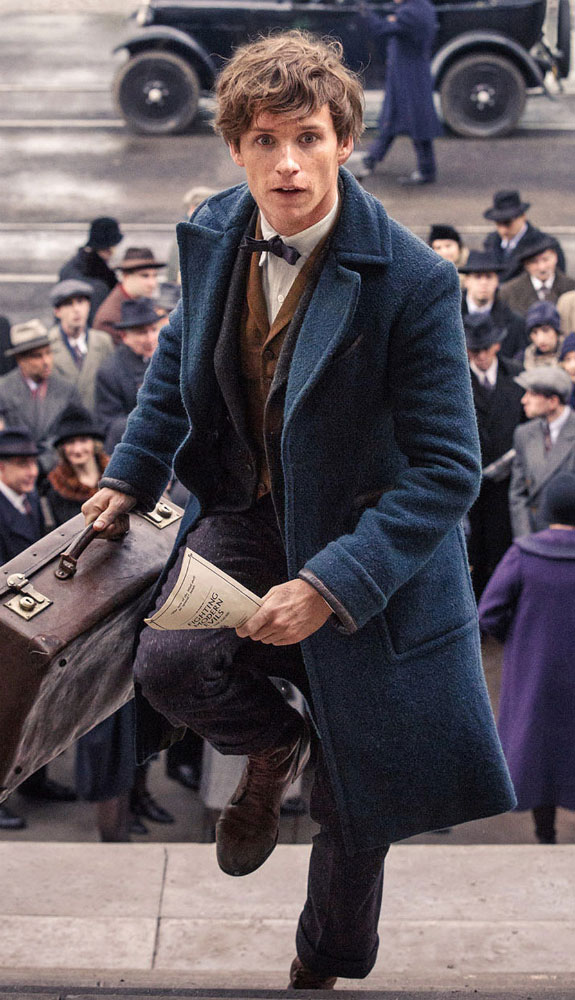 Then we went through the process of casting the others, and that wasn't as linear a process. We ended up doing a series of screen tests and pairings with different people. And it was a long search. It took a while because we wanted to get it just right. And Eddie was brilliant in that process; he was screen tested with the others, ever generous. He quite liked it in a way because, I think, you can try things out. But at the same time, he was such a compassionate person. He'd been on the other side. He didn't have to audition for this; he got the part. He had the fear, I think, when he was going through that process, that we were auditioning him, really. We weren't. And he was very sympathetic to those on the other side, in [the] sense that it's quite nerve wracking being a part of a process like this. You know that many aren't going to get it, and you want to treat them as kindly and with as much respect as he did and we did. So he was involved in each of the cast auditions. We did them in America, and we did them here.
We ended up with Katherine, Alison, and Dan, and all three play outsiders beautifully. All three are outside – the characters they play are outsiders. Katherine – again, in intelligence – when she smiles, the whole world lights up. And she goes on a journey of becoming increasingly comfortable. She's someone who, as a character in the film, has been a little bit on the outside, on the fringes. You can really see her trying to do the right thing and having a deep-seated intelligence.
If you look at Alison, she's luminescent. The camera loves her, and you can see why someone like Dan would be smitten with her. I think that she is alive – those eyes. She has a real inner and outer beauty, and I think that just comes across fantastically. And she has an ethereal quality, which was important for the part.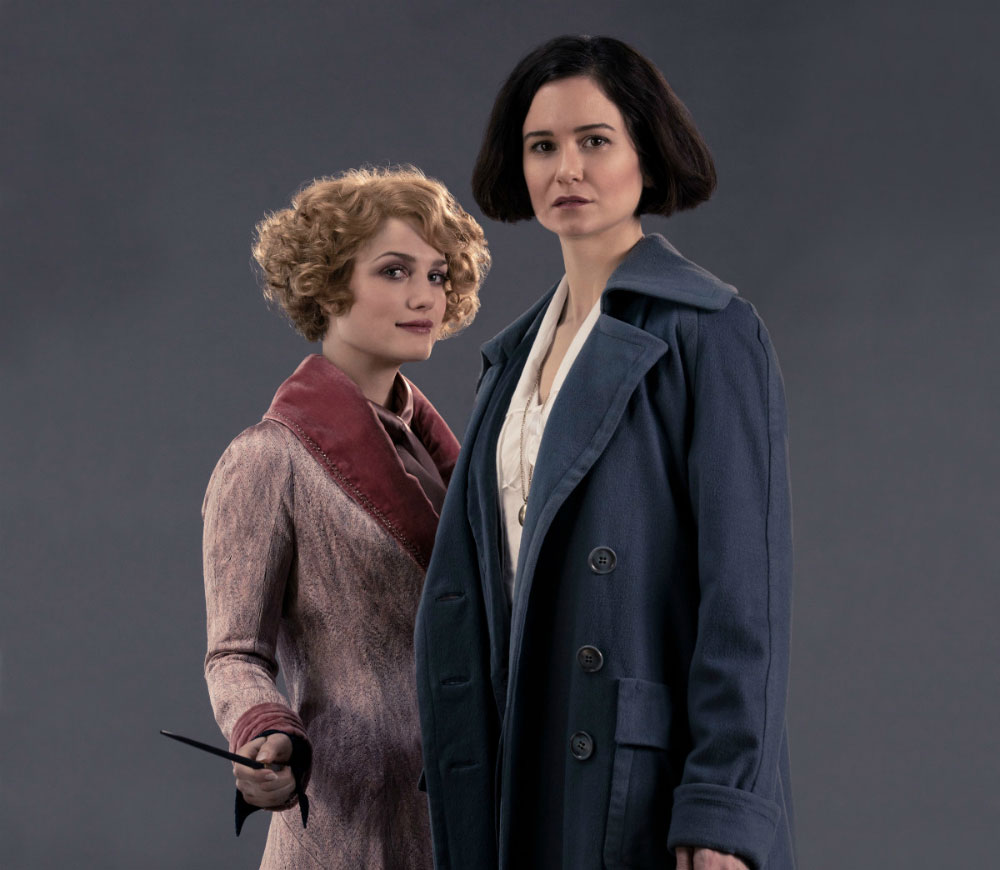 Then you look at Dan, who's the real outsider. He's a No-Maj entering this world. And he's a No-Maj who wants to be an enthusiast. I get emails from Dan every couple of weeks saying, "I'm pinching myself, I'm so excited to be here. Thank you." I think he is loving being part of this universe. And he is a great comedian, and that was important for us. But at the same time, he can do the drama. He's a Tony Award–winning actor. It's funny – when we first met him, he was playing a very different character. Black gloves, like a 1970s biker in a way. He was in long hair, curly, and now fits so perfectly in the 1920s wearing those suits. He's great, and really funny at the same time; you feel that humor and all that. But deep down, there's an enthusiastic side about life, but also within sort of a depth and a truth to his performance.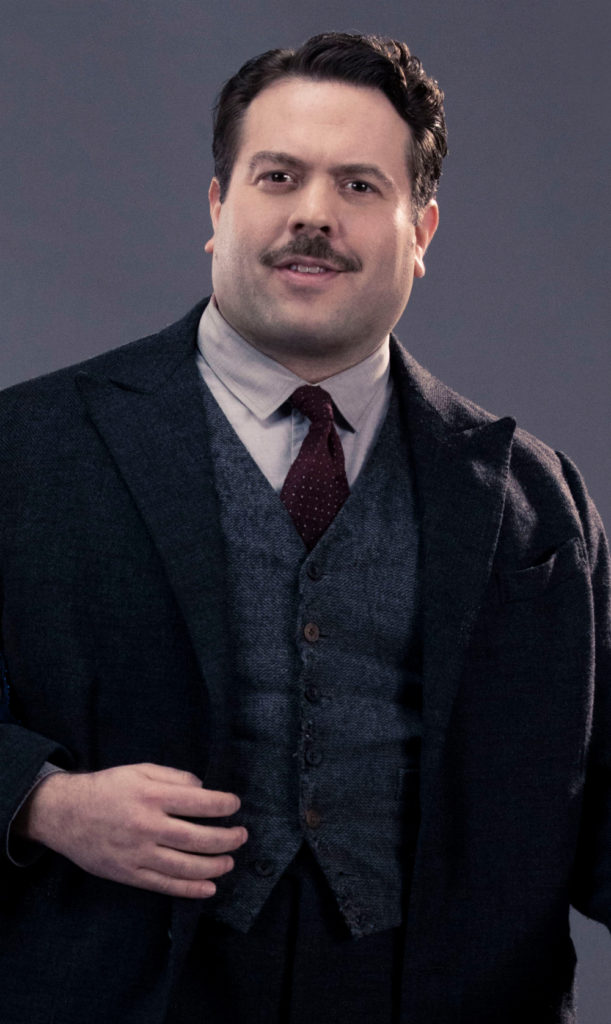 Press:
Talk about the development process of this. How [early] on did conversations begin of wanting to make another film and then honing in and deciding on doing this as an idea?
David Heyman:
Jo wrote the script – simple as that. She didn't need to go back to this world for any other reason than she wanted to. She's passionate about her world. The amazing thing about Jo is, she knows this world inside and out. I'm told that during the making of the Potters that sometimes we'd go to her for something obscure like the Black family tree in the fifth film. We had to make it real, so we had three or four lines in the book of the characters or three or four names in the book. In the film, we had to show the whole thing.
So we emailed her, and half an hour later, an email came back going back six generations. We were hunting names, connecting birthdays, death days. Who was married to whom. It was a job. So it was just sort of incredible – the depth of knowledge of this one. And I think it's one of the reasons the books work as well as they do; what you read is but the surface of her knowledge of this universe. It's incredibly well thought through. It's not random. And all of the connective tissue is well considered.
When it came time for this, after we finished the films, there was an excitement about embarking on new challenges and also a deep melancholy that the family that we had been was all going our separate ways. It's such a privilege and such fun to exist in Jo's wizarding world. I mean, it's fantastic! Just constantly creating, inventing, imagining; and what I like about it all being so thought through is, it's not just fun for fun's sake. There's actually a method to it all and a reason behind it all. So we were thinking about what to do, and Lionel Wigram – who was one of the producers on this and who was the executive [to whom] I first sent Harry Potter way back in the beginning of 1997 – Lionel whom I've known since I was 13 years old, 14 years old – he was thinking about what we could do, and he had the idea of maybe doing a documentary about Newt.
Ultimately, I think Jo got word of that notion as… I mean, we wouldn't have done it without Jo's permission (also, not sure we could've) but most certainly wouldn't have done even if we could've. I mean, that's the thing: amazingly, during the early part of the process on Potter, everybody thinks she had files sitting at home. Absolutely not. In the beginning, she had no contractual [rights to decide what went on in the films], but you wanted to support her; we'd have been fools to do otherwise. And frankly, as a producer, one of my central roles is a guardian of sorts. I feel on the films I've worked on, which were based on books, there's a real sense of it being an author's creation. And though, of course, you're making something different and separate, you want to respect the author's vision or the reason why you got involved.
So Lionel had this idea. Jo got wind of it. She said, "Well, funny enough, I'd been thinking about something already." And she had this whole idea in some form. I mean, it's changed and developed over the course of the year and a half, two years, that [it's] been going on. But she knows how each part connects with her universe. She knows the history of magic before we were with Newt Scamander. She knows the history of the school where Queenie and Tina may have gone. She has all this in her head. She knows creatures – their history, where they're from, and on. She's knows who Newt's family is, she knows Queenie and Tina's family, she has it all figured out in some way. So when she started, she showed us the script and went, "Whew. Mm. Thank you."
Press:
So speaking to that a bit, the source material for this is obviously very different than for Potter. You have Jo's script, and you have the book that she wrote. But unlike in Harry Potter, where she describes Hogwarts perfectly [and] everyone sees themselves there, there's a bit more room to play with the elements she provides. How that has been?
David Heyman:
It's been great. She's a great partner, and actually, even on the first Harry Potter film, even though she didn't have the final say, when she came, she's so helpful. She looked at the wands [and] felt they were a little elaborate, [so] we made them a little less elaborate. And so with this one, there was one thing that she felt was a little too elaborate. And sure, there's a lot of what we tried to do with the creatures, for example, give them… I mean, for the most part they're quite rooted. Maybe, possibly, we think Occamy is the most extraordinary. But in a way, you look at Pickett or [the] Demiguise or the Niffler or the Erumpent: they feel rooted in creatures that exist. And we wanted to not create fantasies so much, even though they're fantastical; there's this sort of language that was developed in film for creatures that is a sort of fantasy language.
Obviously, different directors and different films employ it differently, but you can see [that] what we're trying to do – I hope – is try [to] ground them a little more. It's not the most sophisticated magic. I mean, there is sophisticated magic, but it's not… it wants to feel grounded. A lot of the environments want to feel a combination of modern… I think MACUSA, very classical, but with American 1920s modernity. That's a combination I know Stuart [Craig] described [as] sort of Siena Cathedral marble, for example, or something like that. It's got a classical feel with a modernity that's emerging at that time in the world. You look at the basement: it's classical, it's… you look at the same thing in Potter. There's classicism about it, and that's very much a part of Jo's vision.
Most certainly one of the challenges is, you don't have the security of the book. If you have those books, and they've been big hits, it's both a challenge [and] a gift. You'd say, "Ah, yeah, quotes the book so…" We don't have that. But we do have Jo. And that sort of tireless imagination is a gift. And she's always there if we need to consult her, and she's been absolutely brilliant about that.
Press:
You have the Fantastic Beasts book, the encyclopedia, and there are a lot of creatures in that, and Jo knows all the details about them, but… how did you choose the first five or seven that were revealed, and how are you using the book?
David Heyman:
For the script? Well, it's a combination. The book helps us with some of the creatures and most certainly who they are, where they're from, some of the qualities that they embody. Jo has added a few. But Newt wrote this book. So not Jo. It's Newt. Jo wrote about Newt. So it's connected to Newt and the book that he's written and the adventure that he's on, writing rather the book.
Press:
The first seven that are being used are inside Fantastic Beasts?
David Heyman:
Which ones?
Press:
[Nifflers], merpeople, Lethifolds, Augurey, Bowtruckles, Crup, and Ashwinder. And I was just wondering if there was a particular process that you went through in choosing any of the first ones ever to be featured?
David Heyman:
None.
Press:
No process at all?
David Heyman:
Jo wrote the script. And that really was it. I mean, that's really the basis of it. [Since] Jo wrote the script, a lot of these creatures and beasts were in there and part of the story. And then there would be a couple that we would… we're looking for some variety. So that informed some of the decisions and certain needs we have of the creatures.
But most of it is what Jo has written in the screenplay. It's one of these… it's funny, it's sometimes a producer's… it's both a gift and a nightmare. You get a script, and the writer writes, "and an army of thousands came over the mountain." And you go, "Oh my God, a thousand extras. What're we going to do?" And then sometimes you cut it down to an army of three. But they were using the creatures that are in Jo's script. And then when we're not… when we're augmenting, it's more to round out the environment. And to give a broader canvas so that we're trying to be varied. I mean, you've got some that fly, some that are more insect, some that are gray; from a design aspect, you're just trying to aesthetically broaden it in terms of qualities. Give a broader picture.
Press:
The main characters from Harry Potter have become such important role models for fans. I think especially Hermione, with young girls, has become such an icon. Was it important to you as you were crafting these new characters to continue that tradition?
David Heyman:
Just speaking personally: I look at the films that I've produced. I mean, it's funny. I don't know that I looked at this or was aware of this until I'd made several films; then I look back. It's that Steve Jobs thing: You can write history looking back because you can't write it looking forward. So it's not something I was thinking of, but now [that] I do think about it, I think I'm very interested, and I think that Jo is interested in outsiders. Because in some way, I think everybody in this room knows how [that feels no matter] how many friends or how many lovers or how many marriages [you have]. You feel at times like an outsider. We all do.
I think that's universally relatable and [an] inspiring model as you see those characters struggle and manage to deal with the circumstances and situations they find themselves in. I think you have strong woman characters, you have strong male characters, you look at the themes of doing the right thing, of community, of the grayness of the world. There's no such thing as absolute good or absolute [evil]. It's also the choices you make [that] inform a lot of Jo's work. And I think those themes – many of the themes that you see in Potter – will find expression here. It's slightly different, as you said. We're not dealing with people going through their teenage years to young adulthood. We're not dealing with that. But many of the themes remain.
Read the rest of our Set Visit coverage here.
This interview has been edited for clarity. Additional formatting provided by Catherine Lai.