"Fantastic Beasts" Set Visit Report – Part 1: Entering New York's Wizarding World
Passing through security to get into Leavesden Studios is like crossing a border, since calls are made and your identity checked and re-checked before you're allowed through. It's no wonder – beyond this inconspicuous guard stand lies the stronghold of secrets literally millions of fans are desperate to know, for only a few yards away, just out of sight, are the sets where Fantastic Beasts and Where to Find Them is being filmed.
The first sets they take us to are the streets of 1926 New York, and even as I have long bemoaned the fact that not a single shot of this movie (as the long-awaited turn of J.K. Rowling's imagination to the United States) is being filmed in America, I have to admit that it would have been almost impossible to film these scenes on actual New York City streets. The buildings of the Lower East Side, where we're told our No-Maj hero Jacob Kowalski (Dan Fogler) lives, are plastered with early twentieth-century broadsides advertising shows and events, and 1920s goods and labels can be spied in windows and doors. This level of period detail could not have been forced into four-hour blocks of night shoots on the streets of Manhattan while crowds of people tried to crane their necks around street blockades to see what's going on. I can accept that now.
The brick-laid pavement is solid beneath our eager feet, its muddied and pitted stones seeming ancient and well used, but our guide reminds us that only a few months before, this was nothing but an empty field. If you walk up to the sturdy-looking hotels and storefronts, a sharp rap of the knuckles will dispel the illusion – the resulting sound is not the heavy clod of marble or concrete, but a deep empty echo. There is no other way to tell that the buildings we walk between are only playacting at being real, no other suggestion that in just a few weeks they'll be gone, doubtlessly packed into the vaults at Leavesden until they're needed again.
The shop windows are filled with Christmas dressing – nutcrackers and rocking horses, bows and baubles of red and green celebrating the winter season – and as I look around in awe, I can't remember if we already knew that the movie was set in December. I frantically write down everything I see, feeling as though I'm back in school again, trying to catch details that might be on a test. We aren't allowed cameras or recorders, and the only devices I have on which to document this experience are my memory and my small blue notebook.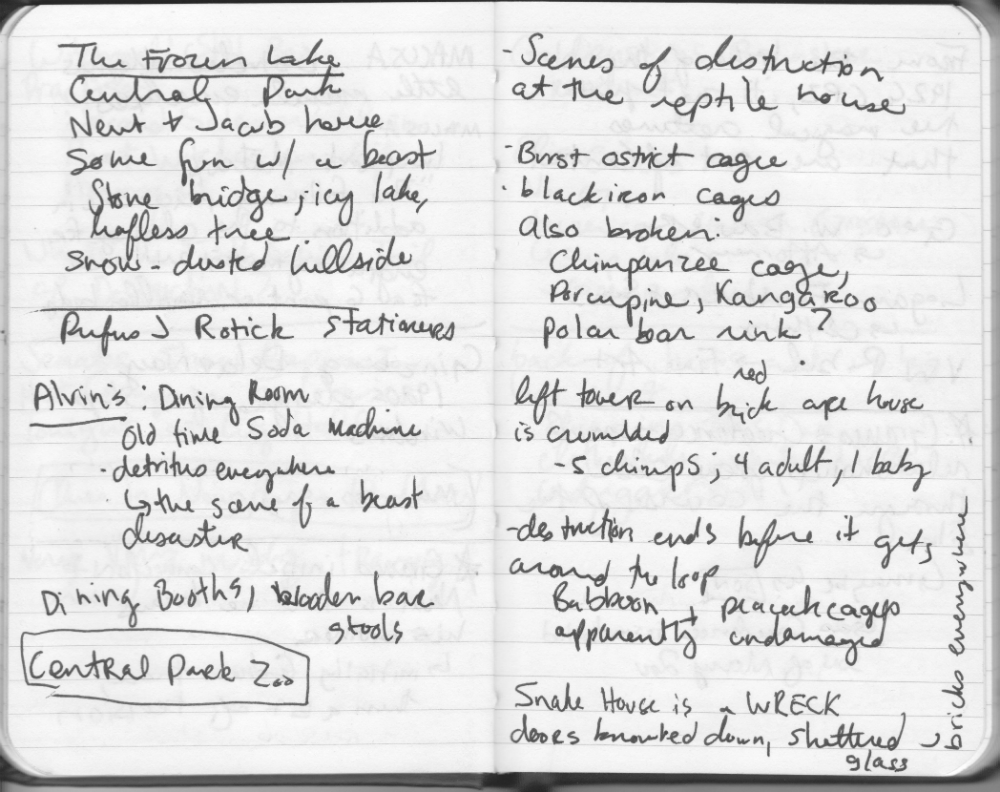 Though we are strictly embargoed, pledged not to reveal anything we learn until given the green light from the studio, a veil of secrecy hangs over everything. We are told very little outright that fans do not already know – instead, we are detectives, poring over the clues that we have been permitted to glimpse. Are there hidden messages in the storefronts? Could Mrs. Boswell, palmist, be an actual witch? What about the proprietor of an office that boasts of Painless Dentistry? The bicycle shop? The Fine Confectionary? We are told that the shops are changed out during shooting, that these few streets will be transformed into a whole sprawling city. Surely some of them are relevant to the magical world we're going to see in Fantastic Beasts, the rest just tools to evoke the atmosphere of 1926 New York – but we have no way of knowing which is which.
Besides streets re-creating the Lower East Side, we are shown sections of the Diamond District, all luxury shops and fancy hotels where our guide hints a beast might cause some havoc, and even the block of brownstones on which Tina (Katherine Waterston) and Queenie Goldstein (Alison Sudol) reside. They live at No. 679 W. 24th Street, above an Italian grocery.
We don't go inside, but I can see delicate lace curtains lining the windows, and I am left with the bizarre feeling of observing a place that means almost nothing to me now but is likely to become iconic in the coming years. It is a feeling that follows me all through our day on set. Fantastic Beasts is a whole new frontier, full of possibility and a story and characters that I haven't learned to love yet. But I know I will. After all these years of loving Harry Potter, I'm wired that way.
The first set we see that divulges any true hints at what the plot of Fantastic Beasts holds is the interior of the District Office of Koek & Holman Co., Accountants, on 6th Avenue, the first building we've been allowed to step inside. It's immediately apparent that despite its mundane outward appearance, this office has ties to the magical world, as evidenced by the MACUSA (Magical Congress of the United States of America) memos scattered across the two desks stuffed inside the small room. I make a note of everything in sight, crammed between ten other journalists all trying to do the same thing. The clock reads 12:09, and a New York Gazetteer, dated for a Monday in December 1926, reveals the events that have been troubling the city around the time of Newt's arrival.
"MANHOLES BURST FROM THE STREETS IN FREAK INCIDENT, EXPERTS STUNNED," reads the front page in bold letters – surely a catastrophe caused by some of Newt's escaped beasts? More headlines deepen the mystery: "Scenes of Destruction on City Streets: Street Workers Want Pay Rise After Manhole Madness," "Witchcraft Still Being Practised: Second Salemers Claim That Witches Are Rife Among Us," "What's the Truth Behind Trail of Destruction?" and finally, the last I can record before relinquishing my spot to another eager reporter, "Senator Shaw Prepares to Host Campaign Fund-raiser Tonight at City Hall."
Clearly there's a lot to unpack in just these few sentences. I would guess that the manhole incident, occupying as much newspaper space as it does, is likely the cause of all of the MACUSA restricted memos scattered around the office – Newt's magic has caused something to go horribly wrong, and No-Majs are taking notice. The Second Salemers group will be familiar to fans from character information released about Mary Lou (Samantha Morton), the leader of this strongly anti-magic group and adopted mother of the mysterious Credence (Ezra Miller).
The notice about Senator Shaw is a bit more enigmatic since his name has yet to be mentioned in any information released about the film, but later in the day, when given a chance to look around a room filled with concept art, I see his face on a campaign poster – he's running for re-election. I'm willing to bet that his City Hall fundraiser is the event we saw being filmed in Liverpool in October of 2015, a theory supported by the revelation from production designer Stuart Craig during our visit that the Liverpool building St. George's Hall, where filming took place, is indeed the set for City Hall. Will one of Newt's beasts make an appearance at the fundraiser as well? I wouldn't be surprised.
[Note: In the months since the set visit, we've learned that there are two Henry Shaws: Junior and Senior. Henry Shaw, Sr. is played by Jon Voight. We've seen him and the fundraiser for his son's campaign in a trailer. I've included some images below.]
After we reluctantly departed the accountants' office, we were led to a sparse set of a frozen Central Park lake. There's not much revealing here – just a peaceful scene of a stone bridge, icy lake, and leafless trees, with snow dusting the small hillside, but we're told that it's the location of some fun with Newt, Jacob, and an escaped beast.
We soon move on, back to the New York streets for a quick stop inside Alvin's Dining Room, an old-time diner recreated with excruciating detail, down to the soda machine, wooden bar stools, and impossibly low prices. It's clear that something unusual has happened here, though, since detritus covers the booths and floor of the diner – the scene of another beast attack? It may in fact be this very scene described by the Pottermore Correspondent a few weeks after I made my visit. Only time will tell.
Read Part 2 of our Set Visit right here!
Additional fact-checking provided by Felicia Grady and Sophie Reid. 
Did you know that MuggleNet is 99% volunteer-run? With your monthly pledge of $5, you can provide monetary support to our volunteers while becoming eligible for exclusive swag giveaways!