Lockhart Unlocked: New Image by Jim Kay!
There's not long to go now until Bloomsbury UK (and Scholastic in the US) release the second illustrated Harry Potter book, and we can't wait. In the lead-up to the release of Harry Potter and the Chamber of Secrets, illustrated by Jim Kay, Bloomsbury has revealed another sneak peak of an image from the book.
Revealing the image bit by bit, the campaign to Unlock Lockhart saw Twitter users sharing a blurred image of Gilderoy Lockhart in order to help reveal the full image. The image was finally unlocked, and you can see it in full below.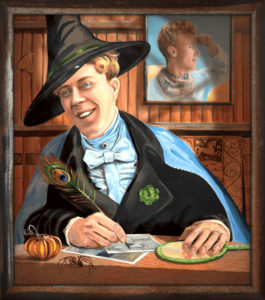 As we've come to expect from Jim Kay, the carefully placed items in the portrait nod toward Lockhart's character – such as the peacock feather quill and a mirror, both reflecting Lockhart's vanity and self-importance, as well as a spider and ink well – and a portrait of a younger Lockhart sitting behind the man himself!
Make sure you pre-order your copy of Chamber of Secrets today, before it is released on October 4. Find out more about Bloomsbury UK's pre-order offers here.
What do you think of the Lockhart image? What else do you see in the image? What other images are you hoping to see in the book? Let us know in the comments!