UPDATED: Eddie Redmayne to Debut Sneak Peek of "Fantastic Beasts" at EW PopFest!
MuggleNet staff members take their jobs Siriusly, even though most positions are unpaid and on a volunteer basis. Besides the obvious reasons for coveting these positions (loving all things Potter, over-the-top fandom experiences you couldn't dream up, and the amazing friendships formed over the last 17 years), we often know things that are happening before they happen.
No, we don't have any Seers on staff (at least, that we know of!), but we do work very hard to bring fans of the wizarding world the news as quickly as possible. This sometimes means we hear or see rumors first and reach out for confirmation from those in the know.
Earlier this month, we happened to stumble upon an article that was almost immediately deleted from a well-known news site before we could fully put the pieces together.
Entertainment Weekly, which has had a special partnership with Warner Bros. regarding all things Fantastic Beasts and Where to Find Them, accidentally published a piece on their October event, PopFest.
The event itself is not under any secret wizarding statute and in fact, has its own web page full of special guests and coordinating events. What's NOT on the page is the tidbit regarding a certain ginger-haired actor who may possibly be in attendance. See our screenshot below: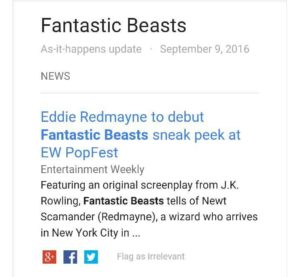 We've reached out to our contacts at Warner Bros. for confirmation and further details but have not yet received any confirmation.
At this point, we are still awaiting further details to be released and consider this rumor to be potentially true. It's absolutely possible, considering the relationship between Entertainment Weekly and Warner Bros. thus far, that Eddie could appear and debut a sneak peek of Fantastic Beasts. The likelihood of this happening grows exponentially when also taking into account that the film is due for release in November, it will certainly have a red carpet premiere ahead of the worldwide release, and PopFest takes place in Los Angeles on October 29-30.
It all seems like perfect timing to us.
Keep checking back for all the latest Fantastic Beasts news, and let us know if you'll be attending PopFest this October!
What new footage do you think could appear at PopFest, if this rumor turns out to be true? Leave your best guesses below!
—
UPDATED September 17, 2016:
It's true! Entertainment Weekly has officially published an article to confirm that Eddie Redmayne will, indeed, make an appearance at PopFest! They write,
EW PopFest just got even more fantastic. In addition to special screenings, signings and previews at the two-day event, Eddie Redmayne will take the stage to reveal an exclusive sneak peek of the Harry Potter prequel Fantastic Beasts and Where to Find Them.
Plus, they add, Redmayne will take part in a Q&A session ahead of the preview screening, which will be held on October 30.
EW PopFest will be held on October 29 and October 30 at the Reef in Downtown Los Angeles. You can find more information about the event, including ticketing information, here.
Are you hoping to see Eddie Redmayne in person? Tell us in the comments below!