Eddie Redmayne to Star in Children in Need Sketch
With just weeks to go until Fantastic Beasts and Where to Find Them is released in theaters, BBC has just announced that we'll be getting another little clip from Newt Scamander – although this one will be in aid of charity and sure to put some smiles on our faces.
The annual Children in Need charity fundraiser takes place this year on November 18, the day that Fantastic Beasts is released worldwide. As part of the festivities, a special Fantastic Beasts sketch, starring Eddie Redmayne and filmed on the set earlier this year, will be shown.
BBC reports that the sketch was
recorded on the set of Eddie's new film, Fantastic Beasts [a]nd Where [t]o Find Them and will see the much[-]loved actor doing his bit to raise money for Children in Need. It will feature other special cameos from the world of showbiz.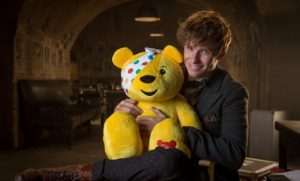 Eddie Redmayne commented on taking part in the sketch.
I have such fond memories of Children in Need. Growing up, I loved watching all the special sketches and performances, and of course, Sir Terry Wogan's inimitable presenting.  It is a charity very close to my heart, so you can only imagine how chuffed I was to be asked to do a special sketch for this year. I can't wait for you all to see what we have in store.
Children in Need will take place on Friday, November 18 on BBC1, beginning at 7:30 p.m. GMT. More details about the charity and how to support the cause, as well as the appeal show itself, can be found here.
Whom would you like to see cameo alongside Eddie in the sketch? Let us know your thoughts in the comments!