"Empire Magazine" Releases Special "Fantastic Beasts" Moving Cover
Today, Empire Magazine released a special edition of the magazine with a moving cover to celebrate Fantastic Beasts and Where to Find Them. The special edition was limited to 5,000 copies, which were only available in Sainsbury's supermarkets. The cover of the magazine, styled to look like the New York Ghost, can be seen below. It's full of details – including the date (Monday, December 6, 1926) and price (0.03 Dragots), as well as various headlines and advertisements – the book of the week, for example, is The Flap of the Cape by Abigail R. Cankus.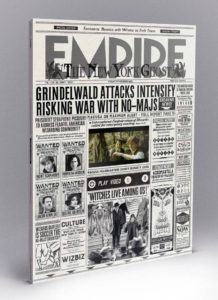 Although we knew most of the information already – such as Credence's last name – a few interesting things stood out to us from the magazine feature, thanks to comments from David Yates and Eddie Redmayne.
The Thunderbird is called Frank, and David Yates describes the animal as
 an ancient, regal creature who creates weather when he flies.
Eddie revealed that he auditioned to play the young Tom Riddle in Chamber of Secrets.
I properly failed and didn't get a call back. Over the years I always hoped I might be cast as a member of the Weasley family – I'm colour blind, but I've always been told there's a tinge of red to my hair – but unfortunately not. A lot of my friends, like Domhnall Gleeson and Rob Pattinson, got their Harry Potter moment, but I never got mine.
Finally, the article seems to confirm that Paris is the setting for the second Fantastic Beasts movie:
What we do know is that the already[-]underway sequel will travel to Paris.
On the second script, Yates adds that
it's quite ambitious. Stuart is unflappable and indefatigable, but when he saw the script for Beasts 2, he said, 'Let me just think about it for a minute…'
In other news, Eddie spoke to Pottermore about his favorite beasts.
It's really difficult because I fall in love with different ones every day. Pickett [the Bowtruckle] is my favourite. Pickett I adore because he's clingy, and he's got attachment issues, but I also love that he's so spindly and stick-insecty. You almost can't see his face, but he reacts through his movement.
Did you manage to get one of the special editions of Empire Magazine? Let us know what you think of the moving cover in the comments below!