"Fantastic Beasts" Roundup: The One with the Magazine Covers!
There's under a month to go now until November 18, and here at MuggleNet we all wish we had a magical way of speeding up time so that we can see Fantastic Beasts and Where to Find Them right away. But that's not possible, and so instead we'll content ourselves with the latest news from the wizarding world.
First up, for those of you who are IMAX fans, it's good news. Warner Bros. and IMAX have partnered up for another 12 films, including the second Fantastic Beasts and Where to Find Them film.
This extension includes titles from some of the industry's most acclaimed filmmakers, such as our friends Christopher Nolan, Steven Spielberg, David Ellison, David Heyman and David Yates. The WB/Imax pairing has yielded billions of dollars in box office and has become synonymous with blockbuster entertainment around the globe.
You can learn more details here.
Empire magazine revealed two special covers. Firstly, a limited edition general release cover with a magical moving front cover. Empire's editor-in-chief said,
We love to innovate and constantly push the envelope creatively. Our friends at Warner Bros. Pictures were the perfect partner for our most ambitious idea yet – making the cover move. Our readers are going to be desperate to get their hands on a copy and see the new world of Fantastic Beasts And Where To Find Them brought to life.
One video will feature a behind-the-scenes tour, and the other will feature the latest trailer. The magazine will be released exclusively in Sainsbury's on October 27 in the UK, and 5,000 copies will be available.
Empire also revealed a special subscriber's cover, featuring the Thunderbird. Check it out below.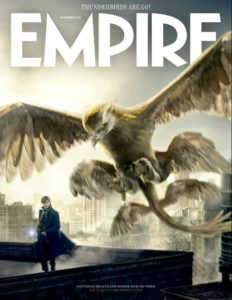 —
UPDATE
Empire magazine also revealed the cover for its standard edition, plus a glimpse inside the magazine. Check it out below.
—
Univers Harry Potter, a French fansite, features a glimpse at some of the objects from the film spotted during Paris Comic-Con.
#FantasticBeasts : Some Fantastic Beasts objects have been exposed during Paris Comic Con : Newt notebook, Occamy silver egg &eruptment musk pic.twitter.com/tEIBvnQz8E

— Univers Harry Potter (@UHP) October 23, 2016
The site also features some new images, including this moment between Queenie and Jacob, as well as some other shots we haven't seen before.
#FantasticBeasts : Touching moment between Queenie & Jacob pic.twitter.com/P4jp0AAA6W

— Univers Harry Potter (@UHP) October 20, 2016
#FantasticBeasts : news pics pic.twitter.com/YCKdu4Xxxk

— Univers Harry Potter (@UHP) October 15, 2016
#FantasticBeasts pic.twitter.com/LBQnNnjOM1

— Univers Harry Potter (@UHP) October 15, 2016
In other news: 
SFX Magazine has a special Fantastic Beasts spread, featuring an interview with David Yates and more.
A new TV trailer spot was released.
Cineworld announced that special wand training booths would be present at cinemas around the UK. Find the dates here.
Of course, the big announcement since our last roundup is the five-film reveal. More details here.
Tickets in the US are now on sale.
An interactive mobile game was announced.
And finally, SpeakBeasty released their latest episode, with all the news from New York Comic-Con and the Worldwide Fan Event! Catch up here.
Have you booked your movie tickets yet? Are you counting down the days until the release? Let us know in the comments!