Role Call: Come On In! The Ocean's Eight!
This week's Casting News sees a lot of our favorite Harry Potter alum starring in some phenomenal roles, supporting some great causes, and signing on for some highly anticipated films. It is a jam-packed week with news from stars like Helena Bonham Carter, Robbie Coltrane, Timothy Spall, David Tennant, and so many more! So strap in for this week's Role Call!
In Robbie Coltrane's (Hagrid) upcoming television show, Robbie Coltrane's Critical Evidence, he examines some of the most chilling crimes in the UK's history. Watch an exclusive clip of the show here, but be warned as it contains extremely disturbing descriptions of violence. Even with his comedic background, Coltrane is anything but a comedian in this upcoming show, but that doesn't mean he isn't prepared.
Forensic science is advancing all the time, cold cases can heat up and the tiniest piece of evidence can prove critical…My father was a police surgeon and I've always been fascinated by crime, forensics and the art of the detective. This series gets to the heart of that and I'm thrilled to be working on it.
Robbie Coltrane starts cracking the most heinous, mystifying cases in Robbie Coltrane's Critical Evidence starting tonight, October 9, at 10:00 p.m. on Crime + Investigation.
Has anyone else been waiting for an all-female version of the Ocean's movies? Well, the one and only Helena Bonham Carter (Bellatrix Lestrange) is teaming up with some of the most powerful women in the industry for a female-driven spin-off called Ocean's Eight. Joining Bonham Carter in the team of eight will be Sandra Bullock, Cate Blanchett, Anne Hathaway, Rihanna, Mindy Kaling, Awkwafina, and Sarah Paulson. WHAT A ROCK STAR CAST!
Ocean's Eight will be produced by Ocean's Eleven director Steven Soderbergh and directed and co-written by Gary Ross, who directed The Hunger Games. The film is expected to be released sometime in 2018, when we will see one of the biggest girl power moments since A League of Their Own.
John Hurt (Ollivander) appears in the upcoming film Jackie, which profiles Jackie Kennedy's experiences after the assassination of her husband, President John F. Kennedy. In the film, which puts Natalie Portman as the phenomenal lead, John Hurt stars as the priest. Jackie will be released in theaters starting December 2, when viewers will really get to see a real glimpse at the beauty of Jackie Kennedy.
The cast of A United Kingdom took to the red carpet last week for the opening of the BFI London Film Festival. The film family joined together on the red carpet alongside Tom Felton (Draco Malfoy), who is one of the leading men in the film.
As reported a few weeks ago, Jason Isaacs (Lucius Malfoy) has joined the cast of Mumbai Hotel, and now, shooting for the film has begun! Isaacs arrived in Mumbai on October 6 and will be shooting there for the next two weeks.
Jon Campling, who played the hand-raising, train-stopping Death Eater in Harry Potter and the Deathly Hallows – Part 1, will star as Merlin in Story Pocket Theatre's production of King Arthur. In Campling's own words from his Facebook page:
I'm having a bloody ball. Specially now I'm passed the utterly terrifying part lol
And you can totally tell in the pictures from the production that he is absolutely loving it. Never has anyone looked so in their element.
Meet the other cast members from the production, and if you are interested in seeing the production, visit the Story Pocket Theatre's website! Keep up the good work, Jon!
Jim Broadbent's (Horace Slughorn) graphic novel, Dull Margaret, is on the Frankfurt Book Fair hotlist. I, at least, had no idea Jim Broadbent was involved in a graphic novel! Apparently, his graphic novel originally started out as a film script, but after scrapping that idea, he contacted Welsh illustrator Dix, who is best known for his comics in the Guardian. The full UK agents' hotlist was featured in the print edition of The Bookseller magazine on October 7.
David Tennant (Barty Crouch Jr.), along with thousands of others, is raising awareness for brain tumors in children by donning an "itisanobrainer" bandana. He and Olivia Colman looked sportingly adorable as they supported the cause. If you wish to see the other celebrities taking their turn with the bandana, or if you want to show your own support, visit itisanobrainer.com.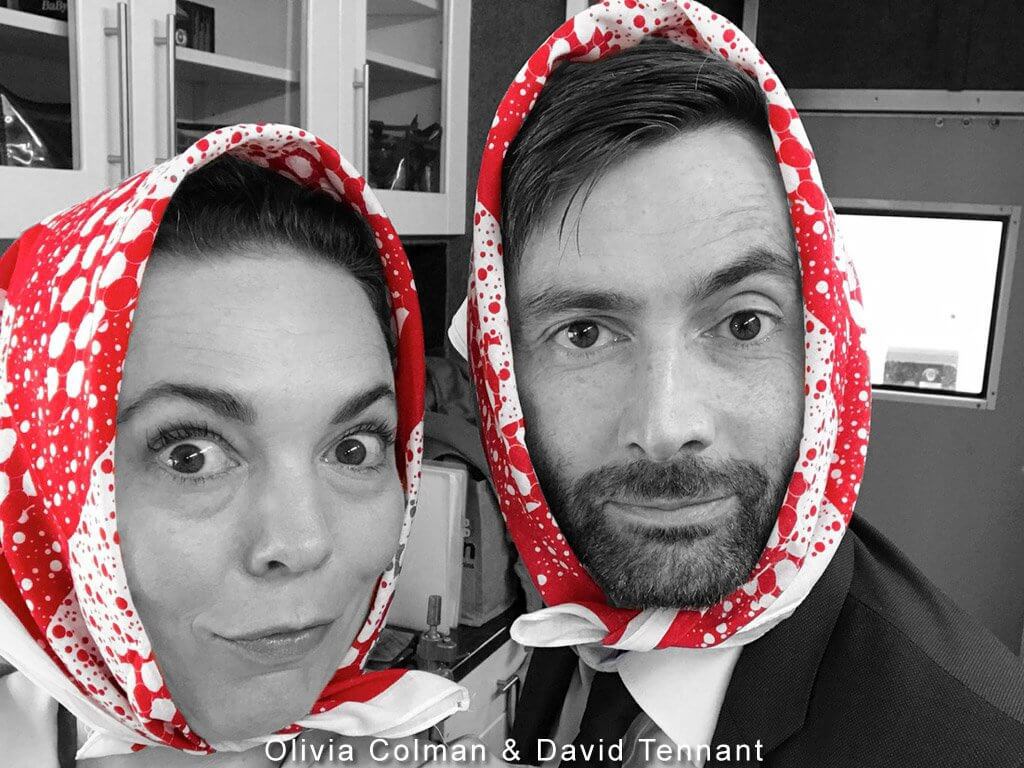 How many of you have seen Timothy Spall's (Peter Pettigrew) newest film, Denial? Currently in theaters, the film focuses on a libel case where Holocaust denier David Irving accuses the writer of Denying the Holocaust, Deborah Lipstadt, of hurting his reputation and career as a historian. Playing the Holocaust denier is Timothy Spall, who heard of the case in the '90s but didn't know the complexity of it then. When asked about the difficulty in playing Irving, a clearly horrible, insensitive human being, Spall had this to say:
It doesn't matter whether it's hard or not — it's your job. Your job as an actor, whether you're playing the most popular person on the planet or you're playing someone who holds controversial or even very disturbing views, is not to play the consequences of those actions. You jettison any feelings of that.
Explaining this further, Spall also stresses the importance of empathy when it comes to acting – something that can be seen in all of his roles.
It's not about sympathy. It's about empathy. People quite often don't know the difference, but for an actor empathy is to play it from somebody's point of view. It's immaterial whether you sympathize with them, because that's another thing…we don't go around knowing what the consequences of our actions are, we just go around being ourselves.
Denial is currently in select theaters. Everyone should go out and see this immediately because Timothy Spall is an acting marvel.
That's a wrap on this week's Role Call! Are you excited for Ocean's Eight? Will you be tuning in to Robbie Coltrane's Critical Evidence? Let us know in the comments below, and we will see you next week!