Eight Items Wizard Parents Take for Granted
I love my children, with every fiber of my being and every inch of my soul and almost as much as I love Harry Potter. (Just kidding! Haha… that's impossible.) But let me say, it's not easy raising a ragtag herd of scabby knees and runny noses. That's why I admire Molly Weasley so much. She is serious #MomGoals, and when I see how she handles all her children, I have hope that raising mine might not be as hard as I'd like to think.
And then there's Emily. By far my most bull-headed, hyper, clingy, picky, and mentally draining little.
Even Mrs. Weasley had magic to help corral her wildest offspring, and as I stroll down memory lane on Emily's eighth birthday, I imagine how much easier raising this exhausting girl would be with all that magic at my disposal. I mean, so many useful parenting tools were just not used to their full potential! So I have found eight magical objects or spells (in honor of her eight years of torment life) that would have made raising Emily a piece of Cauldron Cake.
1. Omnioculars
Finally, I could rewind and see who really "started it," or prove to her that I told her to "clean her room," not "ride a broom." And when she's actually doing something truly adorable, I can slow it down to enjoy those precious moments at my leisure.
2. Legilimency and Extendable Ears
I never know what this kid is thinking. Why elbow noodles in her mac and cheese are yummy, but shell noodles are poisonous? With Legilimency, I could dive into that cute little head of hers and find out what's really going on. Add Extendable Ears to the mix, and I could be one step ahead of her scheming. More than five minutes' warning would give me more time to concoct fresh, new excuses for not letting ten friends stay the night.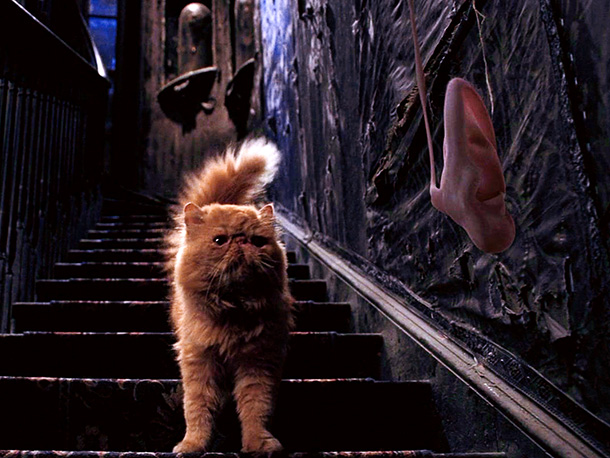 3. Muffliato Charm, Tongue-Tying Curse, and Silencing Charm, a.k.a. the Holy Trinity
I can't tell you how many times this kid has overheard discussions about birthdays, launched full-on assaults of questions at me, and managed to throw me under the Knight Bus by repeating things she shouldn't. Private conversations, peaceful nights, and complete inability to repeat things I've said? Sign me up!
4. Beater's Bat (Just kidding…)
4. Magical Developing Potion
Every so often, there are moments that are truly magical. As exhausting as Emily is, she's also fun, creative, and hilarious. These are the moments I want to capture beyond the ability of Muggle technology. Still images just aren't enough when she's jumping on a trampoline with the dogs, doing the "Octopus Dance," or singing the cat to sleep.
5. Marauder's Map
Playgrounds, carnivals, Wal-Mart? Where couldn't this thing come in handy? Especially when your cranky eight-year-old hides in the clothing racks because you won't buy her a 13th pair of shoes. Best hide-and-seek cheat sheet, ever!
6. Scouring Charm

Kids are messy. I resigned myself to that fact after my first two. Of course, that was before I walked into the bathroom at 3:00 a.m. and found a two-year-old shoving the entire contents of our fridge down the toilet. I'm still convinced there's raw chicken stuck in the pipes.
7. Mobilicorpus
Emily is a tenacious creature. When she doesn't want to move, she doesn't. Period. Instead of wasting a half hour trying to get her off her rump, a simple Mobilicorpus charm would get her up and out the door quickly and effortlessly.
8. Calming Draught
Of all the things I would find useful for this kid, this tops the list. Emily is a teenager trapped in a little girl's body. The attitude is quick, and the tantrums are legendary. (Just ask all four sitters she's run off.) Her emotions are so up and down you'd think she's a one-woman soap opera. One sip of this and I could spare what brain cells she's left me.
Mommy's "one-to-grow-on" bonus:
Firewhisky or elf-made wine. Not for her. For me. Parenting is rough.
What other magical items would make great baby shower gifts? What spell would've set you straight as a kid? Do you know the number for a good exorcist? Let me know in the comments!