Wrock Spotlight: The Parselmouths
This month's Wrock Spotlight is dedicated to the first female wizard rock band, the Parselmouths! The Parselmouths is a group of everyone's favorite singing Slytherin girls, and even though they stopped making music several years ago, the band remains one of the most popular in the Potter fandom. And one month ago at LeakyCon, much to the surprise and elation of fans (and the tiny deaths inside for those of us who couldn't witness it), the Parselmouths played a reunion show.
The Parselmouths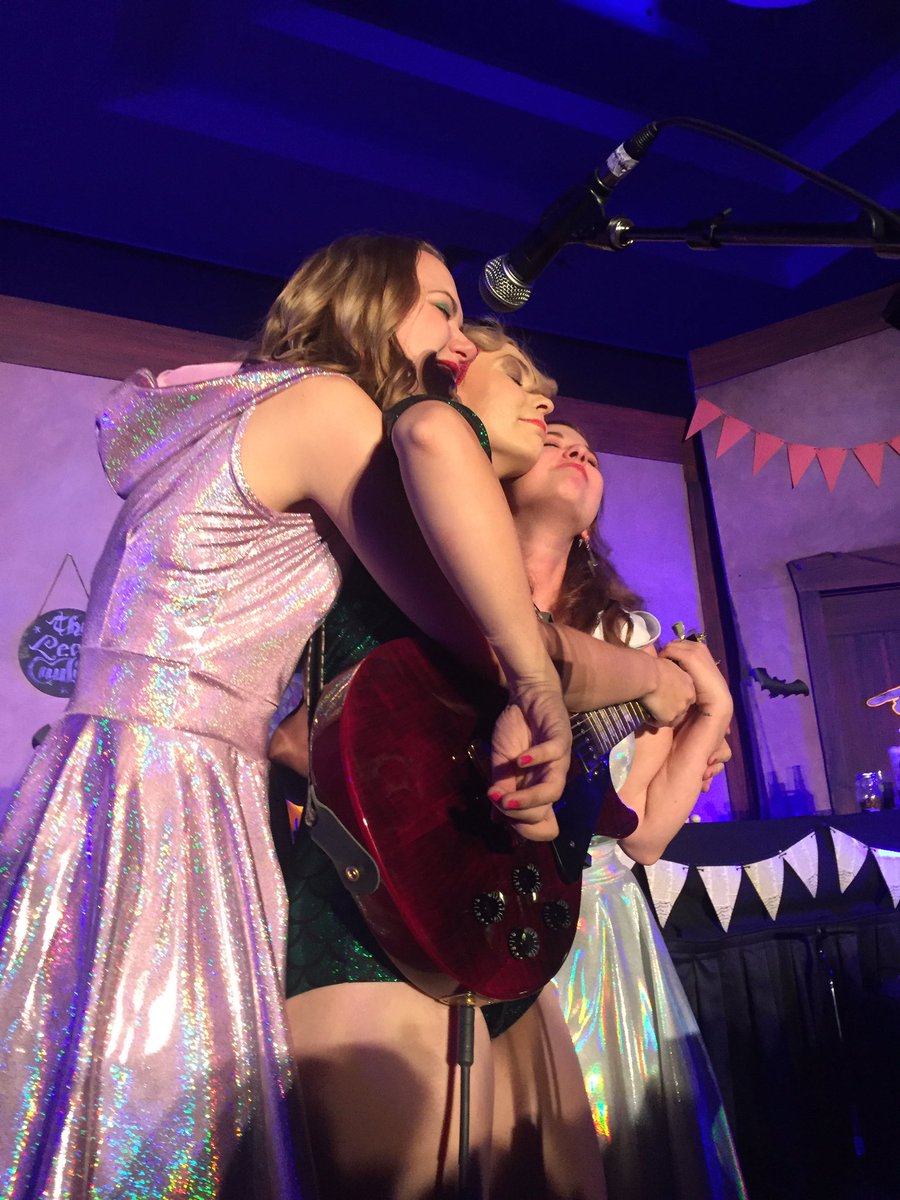 But let's rewind first. According to band member Kristina Horner, the Parselmouths started in 2004 after she and her friend Elle saw Harry and the Potters play in Seattle and thought, "Well, if there's a boy band about a Gryffindor, there should probably be a girl band about Slytherins." Thus, the Parselmouths was formed, singing delightfully evil songs making fun of Hermione and fangirling over Voldemort.
Twelve years later, just when we thought we'd never see a performance from the Parselmouths again, we got one (or at least YouTube videos for those of us still dead inside who couldn't witness it). Putting together the reunion was no small task. Kristina described it as a "strange mix of feeling totally overwhelmed by the amount of work it was and remembering why we gave it up in the first place." Despite the fact that "Wizard rock feels like another life" for her now, "The reunion show was a pretty magical step back into the past." On her blog, she stated, "I cannot explain how it felt to be on stage again. I'd forgotten the chemistry we have when we perform. How well people know the lyrics to our songs. How much energy courses through you at a place like LeakyCon, onstage […] it just felt so real, and so right, and I'm so happy it went as well as it did."
Kristina has now gone on to have a successful YouTube channel. She creates amazing cosplays, writes novels for NaNoWriMo every year, and even made her own storytelling card game, among many other cool accomplishments. When asked how wizard rock influenced her other work, she replied, "Harry Potter is what lead me to online roleplaying, fan fiction, wizard rock, and eventually YouTube. The crazy thing is that while Harry Potter definitely isn't the focal point anymore, I'm still writing, I'm still making videos, and I even went on to build a community/social media-based career that I can only imagine was influenced by how much time I spent online as a teen, in various communities, learning different social sites, and really deeply understanding the concept of fandom."
Of course, I had to ask her what she thinks of all the new wizarding world content we've gotten in 2016. She voiced an opinion that I think many fans can relate to. Having already said their goodbyes to Harry Potter, the new content doesn't feel the same for a lot of people, Kristina included. For her, "This new content has a new place in my life, and I am getting reacquainted with an old friend, like in the sense that we've both changed, and we're figuring out how we fit in each other's lives again." We are all different people than we were 12 years ago, and for many, the new content is just extra fluff, or as Kristina put it, "frosting."
But as the Parselmouths say, "This is never gonna end. It really can't end, 'cause we made too damn many friends." For Kristina and many others, Harry Potter and wizard rock were the gateways to life-long friendships, passions, and even careers. Wherever we Potterheads are, we're still wrocking out; we still know the words. As the song says, "The Boy Who Lives still lives on inside our hearts."