Review: Fantastic New York City Tour by OnLocation Tours
The following is an honest review of "Fantastic New York City Tour, inspired by Fantastic Beasts and Where to Find Them and 1920's New York City."
—
It's Saturday morning and I'm standing outside the Knickerbocker Hotel, honestly not sure if I'm in the right location since I see no one else around aside from another tourist double decker bus getting ready to leave. Rest assured, a few minutes later, the most enthusiastic and kind-hearted tour guide I've ever met arrives. Her name is Molly, and we love Molly.
In my confirmation email, I was given instructions that I would be embarking on a 2.5–3-hour walking tour of New York City and seeing the sights that inspired locations seen in Fantastic Beasts and Where to Find Them. For those who have visited Manhattan, three hours of walking is a lot, so I was sure to wear my best sneakers. To my surprise, we ended up on a small coach bus and there would be minimal walking except getting off the bus to go to a spot and back.
Yay for me who was dreading three hours of walking, nay for me who ate cheesecake for dessert the night before thinking I'd be walking it off today.
The tour itself was a delight and fun two and a half hours of Potter conversation. Sadly, not everyone in my group had seen the film, so we were unable to discuss certain plot points and characters, but we continued on happily. While traveling from spot to spot, Molly played clips from the film and small featurettes for us to watch that matched with what we had seen previously. The volume didn't work well on our bus, but I didn't mind since I've seen the film an unnecessary amount of times. If we were not watching a clip, we played trivia where Molly handed out an array of prizes. I'm not certain if the prizes will stay the same each tour, so I won't list them here, but I was happy to end up with an "I Want to Be a Wizard" T-shirt, and another fan earned herself a Newt Scamander wand.
Molly went back and forth between discussing wizarding world history in New York City and general NYC history of the 1920s, a delight for myself since I learned new things about the city I spend five days a week in. She even offered the most comprehensive retelling of the formation of Ilvermorny I've ever heard. My favorite moment was when she told us a story about Harry Houdini, a magician we have discussed on SpeakBeasty, and how he taught American soldiers how to escape different handcuffs before they went off to fight overseas in World War I.
Here are some of the sights you'll see on this tour, but I won't tell you where to find them (a-ha!) so as to not spoil your journey.
Tina and Queenie's apartment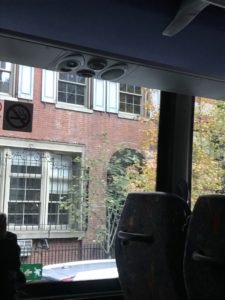 Steen's National Bank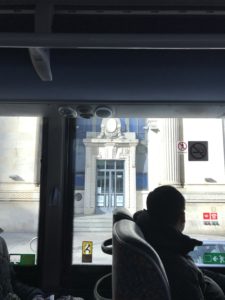 MACUSA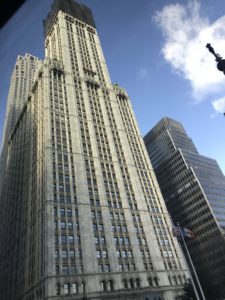 Jacob's apartment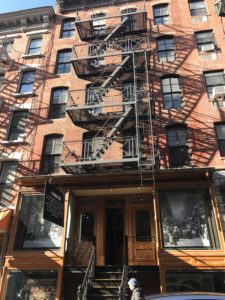 The Blind Pig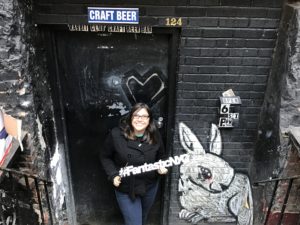 City Hall Subway Station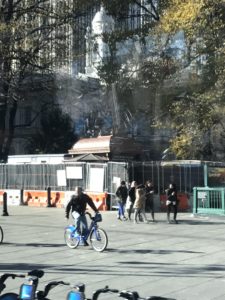 I give this tour a solid 8 out of 10 and recommend it to any Potter fan who has a knack for history. It was exciting to see locations I've walked past daily (I was outside "the Blind Pig" the night before and had no idea!) and know J.K. Rowling and her team had been in the same spot before.
Thanks for a fun morning, Molly, and helping me find the 1 train after! To purchase tickets, follow the link here.