Giveaway: Win a Subscription to Loot For Her from Loot Wear!
2017 is turning out to be a very good year for MuggleNet readers!
For our second giveaway of the year, we've partnered with the folks over at Loot Wear to give you a shot at winning one of three one-month subscriptions to Loot For Her. Loot For Her features apparel and accessories just for women, with sizes up to 3x, and includes free shipping. No Niffler is required to get your hands on these crates!
January's featured item is a Fantastic Beasts gold foil scarf, so you definitely do not want to miss out on this great giveaway!
Additionally, if you just can't live without getting your hands on the Fantastic Beasts Loot For Her box, Loot Wear is offering a special MuggleNet discount so that you can purchase the January box with the gold scarf at 10% off. Simply visit the website, pick your subscription, and enter our magic code in the "Have a Coupon Code?" box before 9 p.m. PST on January 19 to take advantage of the discount.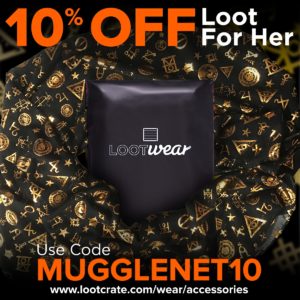 This giveaway is open worldwide to readers 18+ and will run through 11:59 p.m. on January 18.
Please note that in order to take advantage of the 10% discount AND receive the Fantastic Beasts scarf, you must purchase your subscription by 9 p.m. PST on January 19.
What are you waiting for? You should be mad for this contest like an Erumpent chasing Jacob Kowalski, who's just been doused in Erumpent musk! Go, enter, and win!