Giveaway: Win a Copy of "Stranger Than Fanfiction" by Chris Colfer Plus a Google Chromecast Ultra!
Have you been looking for a new book to read? A story that really takes you places? Look no further than the latest book by Glee star and New York Times best-selling author Chris Colfer, Stranger Than Fanfiction!
In Colfer's new book, readers are taken on a surprising journey that shows us that celebrities are simply people like the rest of us and that true friendship cannot be broken, even if that friend happens to be a television star. Here's a quick look at the book!
Cash Carter is the young, world famous lead actor of the hit television show Wiz Kids. When four fans jokingly invite him on a cross-country road trip, they are shocked that he actually takes them up on it. Chased by paparazzi and hounded by reporters, this unlikely crew takes off on a journey of a lifetime – but along the way they discover that the star they love has deep secrets he's been keeping. What they come to learn about the life of the mysterious person they thought they knew will teach them about the power of empathy and the unbreakable bond of true friendship.
While the book is available for purchase starting today, March 13, MuggleNet has partnered with Little, Brown & Co to bring you an awesome prize pack that provides one winner a copy of Colfer's novel plus a Google Chromecast Ultra!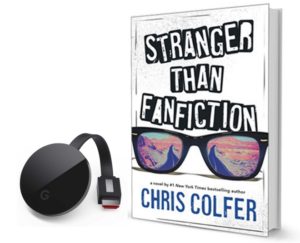 The contest is open to US residents only and will run from March 13 to midnight on March 26. A winner will be chosen at random and will be notified via email. A response is required within 24 hours or another winner may be chosen.
Make sure to get your entries in now by using our Rafflecopter widget below! There are many ways to enter, so don't delay!
A copy of Stranger Than Fanfiction has been provided by Little, Brown & Co. for review.