Harry Potter Day
He'll be famous – a legend – I wouldn't be surprised if today was known as Harry Potter day in the future – there will be books written about Harry – every child in our world will know his name!
Today is March 26, a day when one may create their own holiday. While I myself have no idea what holiday I would create, I can't help but think of that quote from Professor McGonagall in the first chapter of our favorite story. What would be different if the Ministry of Magic did turn that tragic Halloween into Harry Potter Day? I imagine a wizarding world that never forgot about Voldemort. They never forgot the visceral realness of the terror that he inflicted on their community. Sure, maybe Harry would be a little bit more of a celebrity (picture an 11-year-old Harry realizing that most of his fellow students have lightning bolts painted on their foreheads on October 31), but I also think that by keeping that memory of Voldemort and the sacrifice of the Potters so prominent, perhaps many more witches and wizards would be less inclined to believe Fudge and the Daily Prophet when the second rise of Voldemort occurred.
I picture that everyone in the wizarding world on Harry Potter Day would attend local parades and reenactments of the events of that night. There would be parties and feasts after the community events all over Britain.
Children would paint lightning bolt scars on their foreheads and fight over who gets to play the Boy Who Lived in their local community reenactments. Adults would wear their robes out in the Muggle world on Harry Potter Day, remembering the first time they walked as themselves in broad daylight. They would laugh and joke about attending "workplace Halloween parties" when Muggles would look at them. They would attend their community reenactments as the first event of the evening before adjourning to their multiple Harry Potter Day parties and feasts.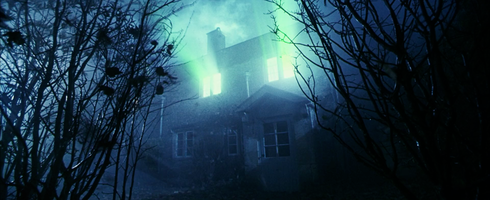 While I think that the decorations would be humble, I like thinking that the homes having parties would have jack-o'-lanterns that scream to warn when anyone approaches the house, mimicking when Voldemort approached the Potters' home in Godric's Hollow. Any Muggle children that happen to go trick-or-treating on that night would love the jack-o'-lanterns and the mini pumpkin pies and lightning-shaped shortbread cookies.
Some of the most anticipated events would be the parades and the firework displays. There would be parades all over wizarding Britain and a large fireworks display in Diagon Alley, but by far, the largest would be in Godric's Hollow. The parade would go from the entrance of the village to the house where the Potters gave their lives to stop Voldemort. Hundreds would walk what would come to be known as Memorial Way, ending at the Potters' destroyed house where they watch an elaborate reenactment of the suspected events of that awful night. When the actor playing Voldemort is defeated in a burst of green light, the enormous fireworks festival would begin. As soon as the bangs and sparks fade away, the crowd would raise their wands and stand in memory of the fallen.
At midnight, all of those still at Harry Potter Day parties the nation over would raise their wands and remain silent to remember and honor the fallen. It remains unspoken that while everyone honors the Potters' sacrifice, their thoughts will drift and private moments are dedicated to everyone who fell during Voldemort's war. Then as one, they would put down their wands, take their drinks, toast, and lift their voices to say –
To Harry Potter – the Boy Who Lived!