Review & Giveaway: Potter Pocket Journals Will Complete You!
From the moment I found out I was going to review the Potter pocket journals, I was super excited. Writing is my thing. I have notebooks all over my room that are filled with poems, story ideas, character biographies, and stories I've started to tell. Getting my hands on Potter-themed journals? It's a no-brainer!
When the package that contained my review product arrived, I felt like a kid at Christmas. The box was slightly heavy, and when I finally wrestled through the packing tape to the merchandise inside, it was an even better moment than I had imagined. Knowing that we are also giving away some of these journals to our readers made me happy as well. More on the giveaway will come later.
Insight Editions generously sent us its entire Potter collection to review, and let me tell you – these journals are GORGEOUS. Not only did they include the large versions of the journals sporting the four House crests, but they also sent every Potter pocket journal they had, and the Deathly Hallows stationery set.
Each journal I received was individually packaged, so I was able to unwrap each one and take a peek inside. I started with my own Hogwarts House, Slytherin, and opened the pocket journal.
Whether it's the pocket journal or the full-sized journal, all are hardcover and lay flat – which is important when you're trying to get that story idea down in a legible manner! I have also found that simply looking at the product on the Insight Editions website doesn't truly do these journals justice. The description on the website states that the journal comes with a ribbon placeholder and an elastic closure, but you can't actually see those on the images on the site. Each cover is also textured, and while it is a hardcover, the softness of the mottled, leather-like material on each journal makes it feel extremely expensive.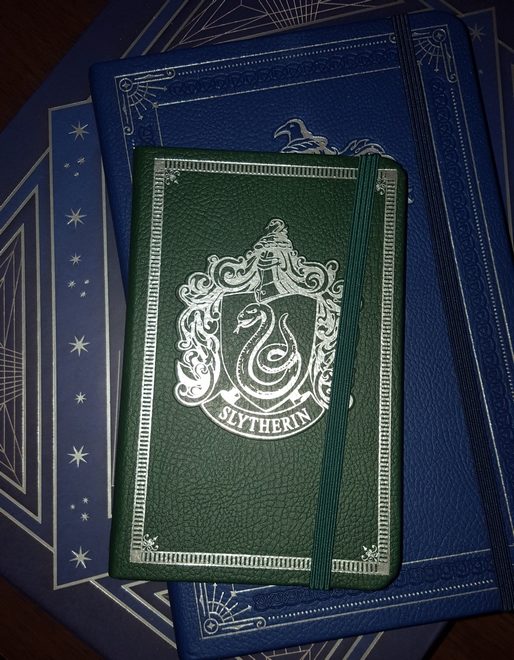 With 192 pages in each journal, there is sufficient room to jot down short stories, poems, or whatever your mind can conjure! All pages are lined, and each House-themed journal also contains a secret informational page at the front, which unfolds to detail famous wizards and witches who are from that House. The Slytherin pocket journal, for example, has a few sentences on Severus Snape, Draco Malfoy, Bellatrix Lestrange, and Tom Riddle. In the back of each journal is also a well-attached and perfectly folded pocket, where you could store notes, receipts, or perhaps your Hogwarts Express ticket.
In addition to the House-themed journals, the latest edition to the Potter collection from Insight Editions includes a J.K. Rowling's Wizarding World travel journal. This addition to the collection had me gasping with delight when I realized the treasures hidden within! This journal is designed much the same in regard to function, but the design of the cover differentiates it from the rest. Where the House journals were simply a leather-like texture, the travel journal is scored and marked with the logo for Platform 9 3/4.
Inside the travel journal are a few features not seen in the others. In the front is a scene depiction of Hagrid and Fang, waiting for all the students to arrive at Hogsmeade Station. Another secret fold-out reveals a ticket from Platform 9 3/4, a Hogsmeade Station Timetable and Fares brochure, and some brief information on magical travel and what the journal is for – to record your travels across the world and document any magical creatures you might encounter along the way!
In the back of the travel journal is another pocket, only this time it already contains something for you! Nestled into the pocket are three Knight Bus tickets and a MACUSA ID card, to ensure you get where you need to be. Take a look!
Finally, we get to my favorite part of the review package from Insight Editions. A collector's edition, the Deathly Hallows stationery set is stunning. The box the set comes in is extremely sturdy, and opening it to reveal the items contained within gave me all the fandom feels.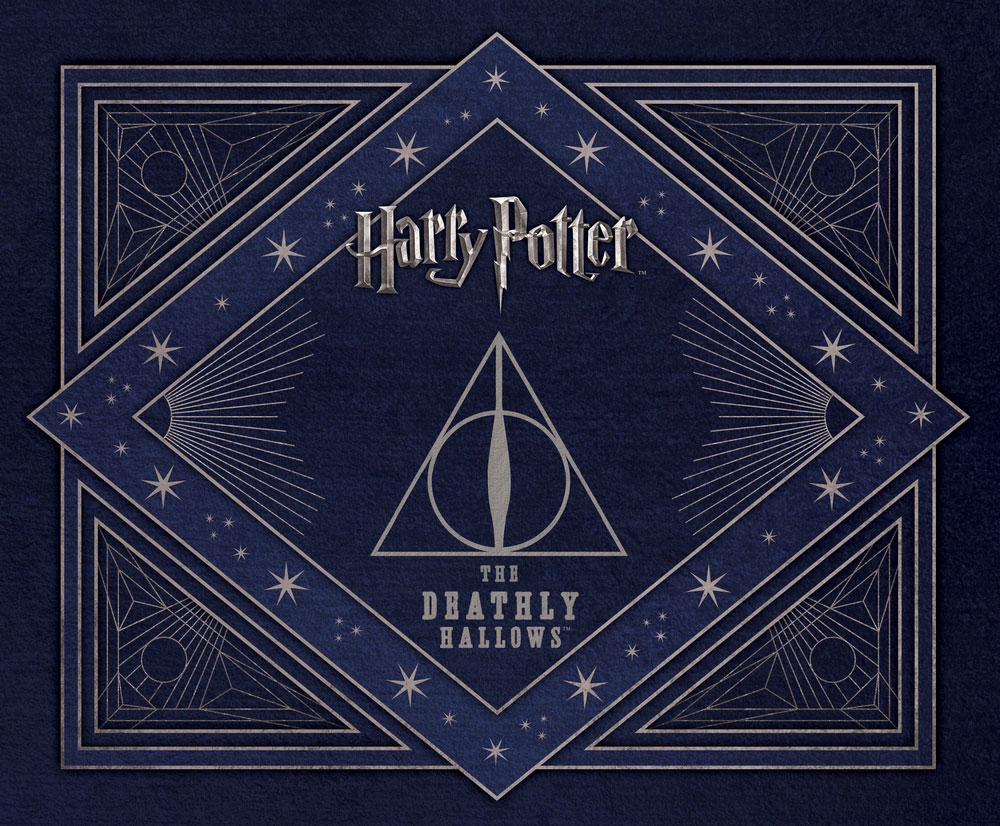 Inside the box are a Deathly Hallows symbol paper weight, two sticks of sealing wax, a wax stamp, a full-size Deathly Hallows journal, stationery paper, and envelopes. I have never in my life used a wax stamp, but I can't wait to learn to use this one!
Perhaps my favorite piece of the entire set is the Deathly Hallows journal, because on the inside, the "Tale of the Three Brothers" is depicted from the film.
You'll now need to excuse me for a bit – having all of these journals and the stationery in my hands is making me feel like I need to start writing my next novel. But before you go, make sure you check out our giveaway from Insight Editions! You can win one of four beautiful combo packs, which feature the items reviewed above. The giveaway is open to US residents only, and the contest is good through 11:59 p.m. on April 17! Enter now!