US Quidditch Cup 10 MuggleNet Recap!
This year, the tenth US Quidditch Cup was hosted in Kissimmee, Florida, on April 8 and April 9! Two full days of Muggle Quidditch! Sixty teams came from across the United States to compete in the sport they all love for the honor of being named the US Champion! MuggleNet staff members Haley and Lauren L. were on the scene and although new to the sport before this weekend, got to learn so much about the rules, the method of play, and the love of this sport.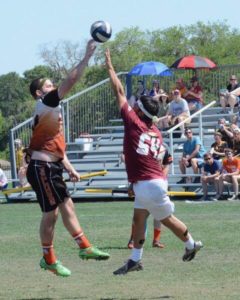 We learned a lot about Muggle Quidditch this weekend. We didn't know that each of the players' positions would be denoted by colored headbands – green for Keepers, purple for Beaters, white for Chasers, and yellow for Seekers. Watching Bludgers in action was a treat! And before this weekend, we didn't know that Muggle Quidditch is a full-contact sport! If you have the Quaffle, you can get tackled! Now, imagine our amusement at seeing our first Muggle Snitch! Muggle Snitches are played by impartial third parties, denoted on the field by their bright yellow shorts and shirt and often colorful cleats.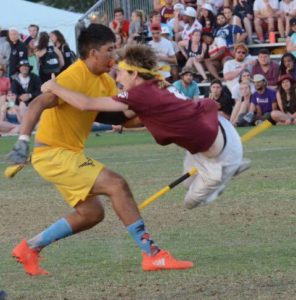 The first day was a day of Pool Playing, to determine who would make it to the final brackets for the championship. Out of 60 teams and a full day of Quidditch playing, only 36 teams were chosen to compete for the championship! Many spectators were more than happy to dress up in their favorite cosplays and Hogwarts uniforms! We saw Dumbledore, Madam Hooch, and Luna Lovegood making their rounds to the games.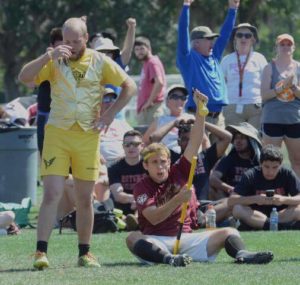 The Elite Eight slowly became the Final Four: Bear-Sharks, Mizzou Club, Texas Cavalry, and Texas State! Texas Calvary beat Mizzou Club, and Texas State won in its game against the Bear-Sharks, leaving two Texas teams to battle it out for the honor of being Quidditch Champion!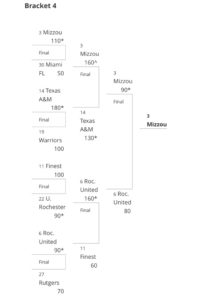 Scores with an * beside them denote which team caught the Snitch. Just like in fictional Quidditch, that also counts heavily in the assessment of the teams. We also learned that there can't be two teams from the same region in one bracket.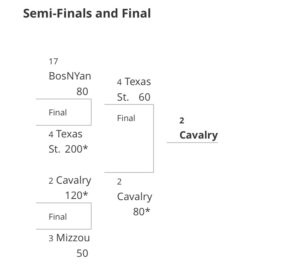 The final Quidditch match was refereed by the Best Referees of the tournament, and the Snitch was the Snitch voted Most Popular of the tournament. The final match of the day was a nail-biter, with the score being tied practically the entire game! In the end, Calvary won by catching the Snitch and snagging the crucial 30 points to win the cup! The final score was 80* to 60. Calvary, as well as everyone who attended the weekend, left with high spirits and great memories of the fantastic event!