MISTI-Con 2017: We Can't Wait to Go Back!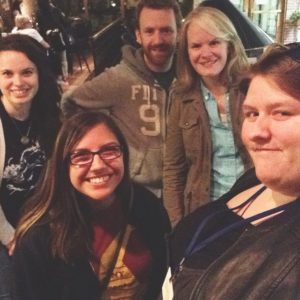 MISTI-Con is less than two weeks away! MISTI-Con is a biannual Harry Potter convention based in New Hampshire. MuggleNet will be back once again this year! In 2015, the MuggleNet staff had a blast meeting cosplayers, talking to talent, dancing, and spending time as one big Potter family. As we gear up for another weekend of discussion, dancing, magic, and fun, let's talk about all the events that we are excited for at MISTI-Con 2017!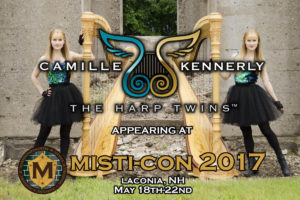 The Opening Feast – Ft. the Harp Twins
During the first night of the convention, MISTI-Con welcomes back all attendees with an opening feast, just like Hogwarts! Whether this is your first time at the con or you have been waiting two years to come back, this is a great homecoming event. You will be able to dine outside in the main tent overlooking the beautiful Lake Winnipesaukee. The full menu for the night can be found here. While you eat, enjoy the magically talented duo, the Harp Twins!
'20s-Themed; Speakeasy Show: "The Kneazle's Meow"
This evening event is said to be full of duplicitousness and debauchery. The show will feature magician Neal Lugo, burlesque performer Paige Literati, vocalist Christine Evans, and special guest emcee Lawrence Neals. The party will be held Friday, May 9 from 9 p.m. to 11 p.m. 18+ only. It's sure to be the bee's knees, the cat's pajamas, and the Kneazle's meow, all rolled into one!
(Pre-sale tickets for this event are sold out, but there will be a limited number of day-of tickets available at the convention.)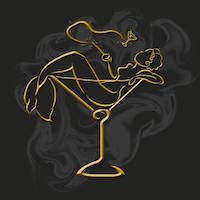 Panels
If there is one thing that we love here at MuggleNet, it's taking about Harry Potter. All weekend, from Thursday to Sunday, there will be panel discussions and programming covering every aspect of the fandom. Panels like You're a Father, Harry! – A Critical Discussion of Parenting Depicted in Harry Potter and Cursed Child from the Perspective of Parents and Caregivers, What's a Slytherdor? – The Truth About Hybrid Houses, Bewitching Belly Dancing, and The Rising of the Goddess Diana: Epic Journeys from the Females Perspective. The full schedule can be found here!
Be sure not to miss any of MuggleNet's panels happening all weekend:
Not for Prophet Live Podcast: Current Events and Harry Potter (Friday, 3:00 p.m. – 3:45 p.m.)
GNOME's Trivia: Gruellingly Nauseating and Onerous MuggleNet Exercises (Saturday, 9:00 p.m. – 10:00 p.m.)
Open the Newt Case with SpeakBeasty! (Sunday,10:00 a.m. – 10:45 a.m.)
Whose Side Are You on Anyway? (Sunday, 2:00 p.m. – 2:45 p.m.)
Wizard Game Shows
The wizarding game show Whose Wand Is It Anyway? is back again! Also this year, MISTI-Con is debuting some all-new game shows, including Godric's Hollow-wood Squares and Hogwarts Lip-Sync Battle. If you're going to hit up this crazy fun event, be sure to bring a team, your A game, and all the Harry Potter knowledge you have!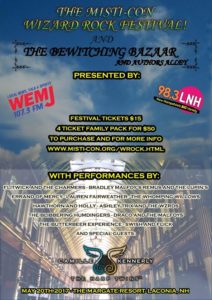 Bewitching Bazaar and Wizard Rock Festival
This is the must-be-at event of the weekend! All day Saturday from 11 a.m. to 4 p.m. in an event tent, outside there will be 50 different crafters, artists, and vendors ready to put on a spectacle. That very same night, a lineup of wizard rock bands will be performing, including some fan favorites: Swish and Flick, the Whomping Willows, and Draco and the Malfoys.
(Tickets for this events are open to the public, not only con-goers! Tickets are $15 per person and $50 for a family 4 pack!)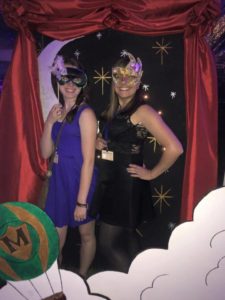 Masquerade Yule Ball/ Dance Party – Ft. DJ Swish
MISTI-Con will close with its biggest party, where the event tent is transfigured into a huge party where the Yule Ball will commence! When you get there, you can expect photo backdrops, a dessert and chocolate fountain spread, Harry Potter-themed cocktails, and music by DJ Swish! This party is the perfect end to a magical weekend!
Late registration started May 5, 2017, so get your tickets now! We hope to see you there!