Be the First to See the New Illustrated "Prisoner of Azkaban" with Bloomsbury!
Bloomsbury has been celebrating the 20th anniversary of the publication of Harry Potter and the Philosopher's Stone with record-breaking events, special House editions of Harry Potter and the Philosopher's Stone, and Wizarding Wednesdays weekly giveaways for Ireland- and UK-based fans, which will run all month, with the last giveaway on August 2.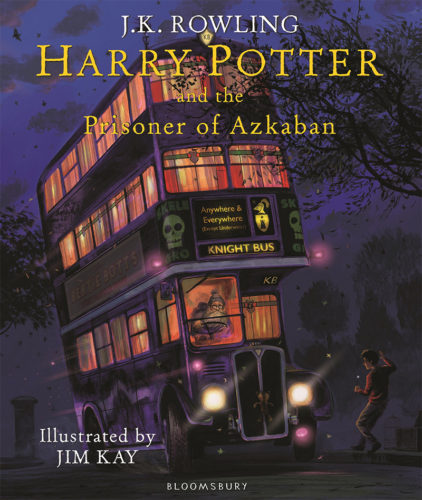 Bloomsbury continues its Wizarding Wednesdays competition this week with a very exciting grand prize: The winner gets an early look at the Harry Potter and the Prisoner of Azkaban illustrated edition, featuring Jim Kay's gorgeous illustrations! If being the first person to see this highly anticipated book isn't enough, this prize includes a copy of the book, dinner, and a stay at the luxurious St. Pancras Hotel in London!
Even if you don't score this unbelievable prize package, there are lots of other great prizes to win. You might take home an audiobook bundle, a DVD or Blu-uay box set, a character wand box from the Noble Collection, a Rubie's deluxe robe and House scarf, a copy of the Harry Potter and the Philosopher's Stone illustrated edition and Harry Potter and the Chamber of Secrets illustrated edition, or a goody bag overflowing with magical swag, including books, posters, jewelry, and more!
This week's prizes will be drawn on Wednesday, July 12. Head over to Bloomsbury's Wizarding Wednesdays page to enter, and tell your friends and followers about it with the hashtag #WizardingWednesdays. If you've already entered the competition in a previous week, you're already entered for every week's drawing; if you haven't submitted your entry yet, do it now for chances to win not only this week's Prisoner of Azkaban prize package but also all of the upcoming prizes! Prizes in future weeks include tickets to the premiere of the next Fantastic Beasts movie, tickets to see Cursed Child in London and meet cast members, and a tour of the House of MinaLima with Potter and Beasts graphic designers Miraphora Mina and Eduardo Lima – you won't want to miss out!
Which prizes do you most hope to win?
If you win some of this fantastic Harry Potter swag, you may want to show it off at MuggleNet Live! 2017: Nineteen Years Later! If you lose, Diagon Alley is the perfect place to find a wand or some robes! See you September 1!