Muggle Quidditch Guide Flies into "Entertainment Weekly"!
In honor of Harry's birthday, Entertainment Weekly created a guide to Muggle quidditch with help from US Quidditch. You can access this guide online now, and it will be on newsstands on Monday, July 31.
No need to be an expert on the new sport – the guide offers the basic rules, as well as the equipment needed. It's perfect for a quick pick-up game in the backyard, the equipment being simple items such as hula hoops and everyday sports balls.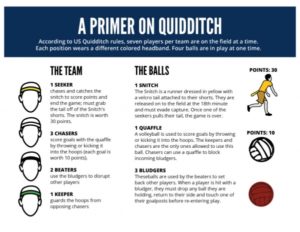 So whether you're on a quidditch team already or you've never picked up a broom before, be sure to check out this guide to celebrate Harry Potter's birthday by playing his favorite sport!
While you're planning your Harry Potter parties, join us for the ultimate Potter party in Diagon Alley on September 1 for MuggleNet Live! 2017: Nineteen Years Later. Tickets are still available!