Castium Revelio: Here We Are Now, Entertain Us!
In this week's edition of Casting News, we do our best to keep occupied as we count down to MuggleNet Live (25 days away, you guys!) and drinking all the butterbeer humanly possible. To that end, we check out what the cast members of Fantastic Beasts are up to and also check in on some Potter favorites. From country and western singers to late-night talk show hosts, our cast members can do anything they put their minds to!
Imelda Staunton (Dolores Umbridge) is currently in rehearsals for the musical Follies, by Stephen Sondheim, at the National Theatre in London. Set in 1971 New York City, the former talent of Follies at the Weismann Theater gather to reminisce about their glory days just as the theater is set to be demolished. Photos from the rehearsals of Follies show Imelda and the rest of the cast deep in character. Follies runs from August 22 through January 3.
This week, we saw Ezra Miller (Credence Barebone, Fantastic Beasts) open up and geek out over his new Flash action figure released as part of the merchandise for the upcoming film Justice League. A new poster was also released via a fan-art contest on Twitter. Take a look here.
Your chance to join the League at the premiere screening is here. Upload fan art w/ #JLFanArtContest to enter! Rules https://t.co/0hWLwOjKA6 pic.twitter.com/pXdECWKnMo

— Justice League Movie (@justiceleaguewb) July 26, 2017
Jude Law (young Albus Dumbledore, Fantastic Beasts) is all set to star in a fundraising event at the Lyric Hammersmith Theatre in London, raising money for the START program, which helps to educate, train, and employ vulnerable people. Law will star in six mini-plays written by writers from the START program at Lyric Fest this September 24. To learn more about Lyric Fest or to purchase tickets, check out the website here.
If you are a Hulu subscriber and fan of Samantha Morton (Mary Lou Barebone, Fantastic Beasts), then you have something to cheer about! Morton's series Harlots has been renewed for a second season. While the title sounds bawdy, the series is actually more akin to Peaky Blinders, following a family of women who just happen to be building an empire through a brothel business. Season 2 is set to debut in 2018.
Premiering this week on the Audience Network is a new series, Mr. Mercedes. An adaptation of Stephen King's horror novel, the series stars Brendan Gleeson (Alastor "Mad-Eye" Moody) as former detective Bill Hodges, who is called back into the line of duty to catch the Mercedes Killer. The first episode of the series was screened earlier this week, with Gleeson in attendance.
Embed from Getty Images
Here's what he had to say, cryptically, we might add, about the series.
I don't think we have to go into the supernatural to find horror and terror. What it's about is something that could be in every one of us.
A new trailer for the somehow popular Sharkando film franchise was released this week, and we were quite surprised to see a familiar face! It appears that Dan Fogler (Jacob Kowalski, Fantastic Beasts) has joined the cast of the upcoming Sharknado 5: Global Swarming. Take a look!
Ralph Fiennes cannot stay away from the stage! The actor who chillingly brought He Who Must Not Be Named to life in the Harry Potter films is adding yet another theatrical production to his project list, according to the Daily Mail. Fiennes is set to tackle another Shakespeare classic, Antony and Cleopatra, next year at the National Theatre's Olivier stage. While no deal has yet been inked, the production has the potential to reach a wider audience via NT Live streaming.
Spotted out and about, Julie Walters (Molly Weasley) was caught filming in Glasgow for her new film Country Music. Walters plays Jessie, an ex-prisoner who wants to turn her life around by becoming a country singer after being released from prison.
Who managed to spot our VIP guest today? Incase you missed it, check out these behind the scene shots of THE Julie Walters in action!?????? pic.twitter.com/NWvcN5UqVt

— Silverburn (@shopsilverburn) July 27, 2017
A new role was announced for Louis Cordice (Blaise Zabini) this week. Louis will be starring in Micheal – The Michael Watson Story. The announcement was made on Instagram.
Domhnall Gleeson's (Bill Weasley) horror film mother! released a teaser trailer this week, which you can see below! The full trailer is expected to be released on August 8, and the film follows a couple whose "relationship is tested when uninvited guests arrive at their home, disrupting their tranquil existence."
Gleeson also had a second, less thriller-esque, trailer hit the airwaves this week, and it will probably bring a tear to your eye. Starring as A. A. Milne, the author who created Winnie the Pooh, Gleeson charms alongside his pint-sized co-star in the upcoming film Goodbye Christopher Robin. Kelly Macdonald (the Grey Lady) also stars in the film as Olive, Christopher's nanny. Here's the synopsis:
A rare glimpse into the relationship between beloved children's author A. A. Milne (Domhnall Gleeson) and his son Christopher Robin, whose toys inspired the magical world of Winnie the Pooh. Along with his mother Daphne (Margot Robbie), and his nanny Olive (Kelly Macdonald), Christopher Robin and his family are swept up in the international success of the books; the enchanting tales bringing hope and comfort to England after the First World War. But with the eyes of the world on Christopher Robin, what will the cost be to the family?
Take a gander at the trailer and the new movie poster here!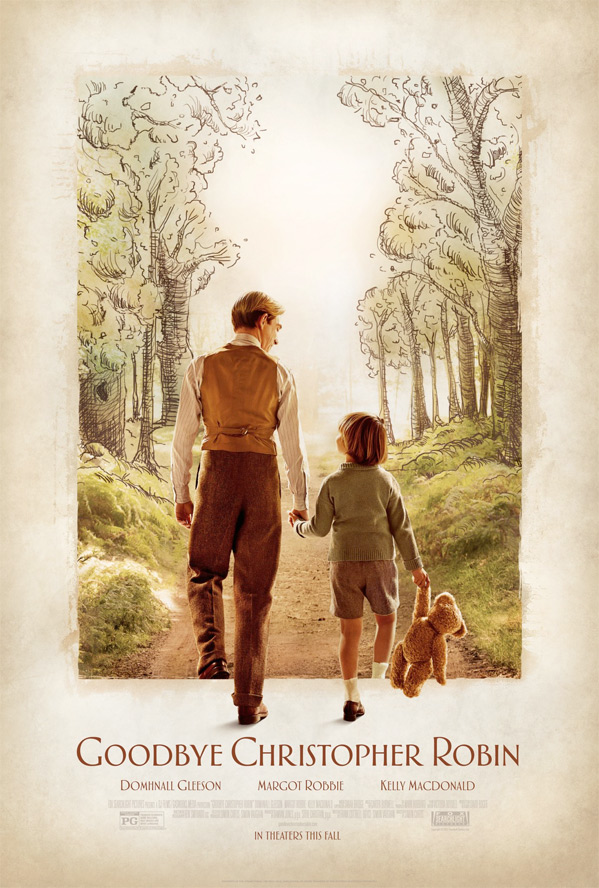 While we might still be waiting to find out exactly how important Newt's brother Theseus is to the Fantastic Beasts franchise, we can get to know the actor who will be playing him. Callum Turner (Theseus Scamander, Fantastic Beasts) stars in The Only Living Boy In New York, debuting in theaters on August 11, and we have the first trailer and a summary of the film's plot here!
Thomas Webb (Turner), the son of a publisher and his artistic wife, has just graduated from college and is trying to find his place in the world. Moving from his parents' Upper West Side apartment to the Lower East Side, he befriends his neighbor W.F. (Bridges), a shambling alcoholic writer who dispenses worldly wisdom alongside healthy shots of whiskey. Thomas' world begins to shift when he discovers that his long-married father (Brosnan) is having an affair with a seductive younger woman (Beckinsale). Determined to break up the relationship, Thomas ends up sleeping with his father's mistress, launching a chain of events that will change everything he thinks he knows about himself and his family.
Steve Kloves (screenwriter for the Potter series) is set to executive produce a new television series about morning news shows, which will star Jennifer Aniston and Reese Witherspoon. No deal has been reached for the series, but it is currently being shopped around to premium cable outlets and streaming services. We will follow this story and keep you updated as news becomes available.
Speaking of talk shows, Emma Thompson (Sybill Trelawney) is set to star in Late Night, a film written by and also starring actress Mindy Kaling, about a late-night talk show host (Thompson) who puts her job in jeopardy by hiring a female writer. No word on production has come down at this point, but we'll bring you more information as it is released.
That wraps this week's Casting News! It's wonderful to see the different projects our favorite actors are working on outside of the wizarding world. Let us know which project discussed in this edition has gotten you excited!
Don't forget to get your tickets to hang out with the staff of MuggleNet and our very special guests this September 1 at Universal Orlando's Diagon Alley as we host MuggleNet Live! 2017:  Nineteen Years Later! We're nearly sold out so go get your tickets now!