Castium Revelio: Puppy Love and Prehistoric Hijinks!
In this week's Casting News, we check in with some of our favorite actors from the wizarding world, including Eddie Redmayne, Katie Leung, and the adorkable Ezra Miller! Check out the magic our alumni perform for the big and small screens!
We previously brought you the news that Eddie Redmayne (Newt Scamander) was lending his voice to a stop-motion film titled Early Man. This week, a new trailer introduces Eddie's character, Dug, along with his tribe, which happens to include the voice talents of Potter cast members Timothy Spall (Peter Pettigrew) as Chief Bobnar and Mark Williams (Arthur Weasley) as Barry! Check out the new trailer below!
Actress Katie Leung (Cho Chang) appears to be eating well, at least in her next project! Her new short film, The Feast, is slated to make the rounds in upcoming film festivals after enjoying a private screening this month. Based on a short story by L.P. Lee, The Feast follows Leung as Hayley, who is invited to dine with an aristocrat at his mansion and leaves the dinner a changed person. Here's the synopsis from the film's website:
In a dystopian reality, one wealthy Count presides over an impoverished community.

Each month, one person from the community is invited to dine with him at a lavish feast in his majestic mansion. One by one, they come, consumed by their hunger to alleviate their desolate situation. The feast is glorious. But each time, the guests return home, silent, guilty, changed – and no one knows why.

This month, it's Hayley's turn – hard-headed and fiercely self-possessed, she's determined not to fall into the Count's trap – but can she satiate her hunger without sacrificing what he's intent on taking?
Take a look at a still from the film here and pay attention to all the food and decor – it's all real and provided by Spyros Parrissis, a restaurateur in Brixton.
It was definitely full on in terms of food production, as everything on the table was real food, but working with Michelle and Gaëlle felt so easy and natural. I felt I knew exactly what they needed for 'The Feast' and I loved envisaging, planning and producing for the project.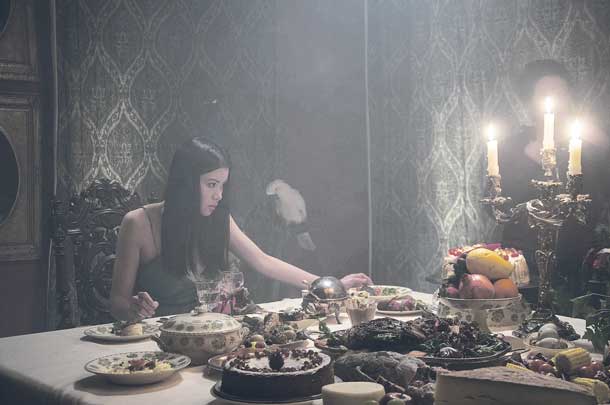 To learn more about Katie's new film and keep up with the latest news on the project, check out the website here!
Katie's other film is a bit more action-packed, as she stars alongside martial arts guru Jackie Chan in The Foreigner. A new, extended scene clip and final trailer were released this week, which you can view below.
Many staff members at MuggleNet have a wee bit of a crush on Benedict Cumberbatch, so when we found out that Fantastic Beasts and Potter cast members were starring alongside Benedict in a few projects, we kind of lost it! The Current War will star Benedict as Thomas Edison along with Katherine Waterston (Tina Goldstein) as Marguerite Westinghouse, the wife of Thomas Edison's rival, George Westinghouse (played by Michael Shannon), as they compete with each other to invent sustainable electricity. The Current War premiered last week at the Toronto International Film Festival and can be seen in select theaters starting Thanksgiving weekend. Here's the trailer!
Also starring alongside Benedict in a BBC One drama called The Child in Time is Kelly Macdonald (the Grey Lady). The drama focuses on parents whose child has gone missing and the struggle they endure as they desperately seek to get her back. Here's the trailer.
Speaking of the Toronto International Film Festival, a number of Potter and Beasts cast members made appearances to support and promote their projects. Emma Thompson (Sybill Trelawney) appeared, supporting The Children Act, and spoke to Variety about the film and how it helps the viewer take a hard look at the differences between humanism and the rule of law.
There's a very particular version of religion involved, and I'm not sure that what Fiona is bringing to bear is necessarily humanism. She's someone who is interested in the rule of law. It's a very particular form of power and knowledge and expertise. That's what I was exploring. The dichotomy was more about what it is to be human and what it is to exercise the law.
Here's a brief summary of the film:
Judge Fiona Maye (Emma Thompson) [is] a workaholic whose equilibrium is shattered when her husband tells her he wants to have an affair. At the same time, she must decide whether or not to allow a young Jehovah's Witness named Adam to adhere to the tenets of his religion and refuse a life-saving medical procedure.
Thompson also posed with some four-legged friends for Entertainment Weekly's coverage of the festival, as did Colin Farrell (Percival Graves), who was promoting his film The Killing of a Sacred Deer. Take a look at the adorable photos below!
In addition, Thompson, Farrell, and Miranda Richardson (Rita Skeeter), who was promoting her film Stronger, were captured by EW as part of their festival portraits.
While we are still waiting for this November's premiere of Justice League, a new photo of Ezra Miller (Credence Barebone) as Barry Allen has surfaced. Take a look!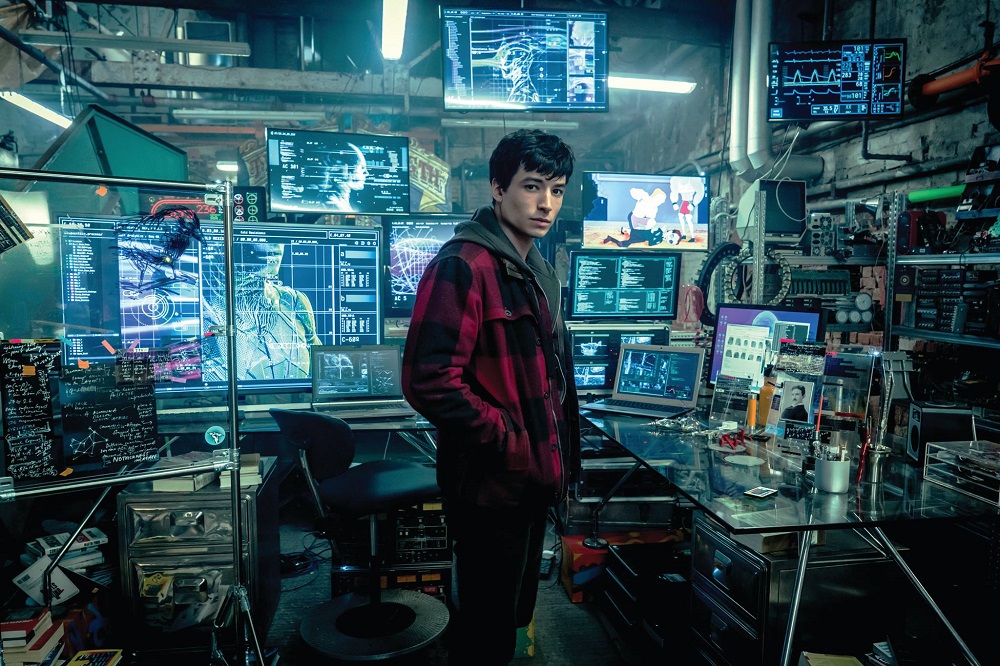 This brings us, sadly, to Tom Felton's (Draco Malfoy) role as Julian Albert on the television version of The Flash. While we still are holding out a tiny bit of hope that Tom will return and make our dreams come true by finally igniting the chemistry between Julian and Caitlin Snow (a.k.a. Killer Frost), it appears that his return may be at least one season away. In a new interview with Danielle Panabaker, who portrays Caitlin, the actress let us in on what it means to leave Julian behind this season.
Here's the one thing I will say about Caitlin's relationship with Julian last year – I think he was more into her than she was into him. She was dealing with so much personal stuff, so much turmoil, as she was learning about her powers. So I think it's a loss for the show and for Team Flash, but I don't know that Caitlin feels Julian's absence as deeply as she felt, for example, [her late fiancé] Ronnie's absence.
With that being said, the folks behind the new season's story arc aren't quite letting Felton's character go completely. Todd Helbing, current showrunner, says that his absence will definitely be explained.
You'll see pretty quickly — there's a reason why he's no longer with the team. There's always the chance that we can see anybody on this show return. We've had a lot of characters come and go for various reasons, and I don't think this will be any different.
Here's hoping we see Tom on the show again!
Now let's shift the focus over to Tom's film father, Jason Isaacs (Lucius Malfoy). You've no doubt seen the promo material for his new television series Star Trek: Discovery. We have new photos, plus a bit of a complaint about the series, which is due to premiere on September 24. First, the photos! While a full set of 13 photos was released, our obsession is Isaacs. You can see his photo below, as Captain Gabriel Lorca, and the rest of the cast photos here.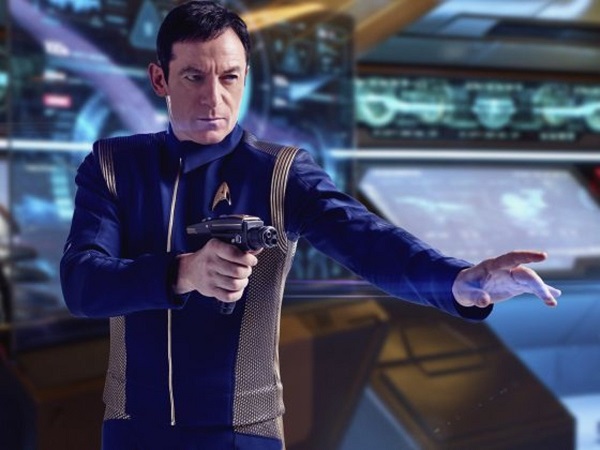 We're really excited for Isaacs and all that it could mean for his career, but we're a bit perturbed that the show is only airing the first episode and then moving the rest of the show to CBS's pay-to-view streaming service. Listen, CBS. We already pay for cable and other streaming services like Netflix and Hulu. As much as we love ourselves some Jason Isaacs, that won't get us to sign up for your streaming network. It's a shame that this is how they are airing the series because it looks amazing.
Speaking of Netflix … Jude Law (Albus Dumbledore, Fantastic Beasts) and Dan Fogler (Jacob Kowalski) have a couple of projects on the popular streaming service! Last month, we wrote about Dan's new project, Guardian Brothers, and we have now discovered that it is available for viewing! Law has also joined the voice cast of an animated series for Netflix, called Neo Yokio. The series recently released a trailer, which you can see here.
The series will consist of six episodes and will star Law as Charles, the main character's faithful butler. Look for Neo Yokio on Netflix on September 22!
It was also announced this week that Law has joined the cast of Woody Allen's latest project, which does not yet have a title. Next to nothing is known about the project, other than the cast announcements, which you can find in full here.
You may not be ready to accept it, but Christmas is practically around the corner. Stores have already started to advertise and put out seasonal decor, so it comes as no surprise that Christmas films are starting to make the rounds on social media and television. This Christmas, we will get to enjoy the comedic prowess of Miriam Margoyles (Pomona Sprout), who will be starring in a new adaptation of the classic tale of Ebenezer Scrooge. Take a look at the trailer for The Man Who Invented Christmas, due out on November 22!
We previously brought you the trailer for Johnny Depp (Gellert Grindelwald, Fantastic Beasts) and Sir Kenneth Branagh's (Gilderoy Lockhart) Murder on the Orient Express, but now we have new photos! Released this week were some colorful posters featuring the characters from the film. Take a peek!
An interactive website was also tweeted, which when visited hints at clues being "everywhere." Check out the site for yourself and see how many clues you can find!
Branagh is also getting ready to film his adaptation of the book series Artemis Fowl, with casting calls being announced early last week. Disney also set a release date for the film, helmed by Branagh, which will tentatively debut to audiences on August 9, 2019. No title has yet been set for the film.
Also along the murder mystery genre, a new trailer for Bill Nighy's (Rufus Scrimgeour) The Limehouse Golem was released this week, along with an interview with the star of the film. Take a look what Nighy had to say about his latest project, which sadly had originally cast Alan Rickman (Severus Snape) in the role before his sudden passing. The Limehouse Golem is now available for viewing in theaters as well as via Video on Demand and Digital HD.
I've always wanted to be a detective. I get a bang out of saying, 'I am Detective Superintendent John Kildare of Scotland Yard,' every time I say it.
Nighy tells Entertainment Weekly about his character, saying,
He is an isolated figure in a corrupt police force — isolated by his honesty, and decency, because he's sort of the last honest man, honest policeman left. And he and his constable George Flood, played by the estimable Danny Mays, we search 1880 London, amidst the fog, for clues concerning a terrible murder case, which has been given to him largely to discredit him. Because his corrupt superiors have handed him a poisoned chalice, hoping that he'll fail, because they view the case as unsolvable.
Watch the trailer below!
Warwick Davis (Griphook/Filius Flitwick) will be voicing an animated character for a new series! The series is an adaptation of a book series called Moomins, created by artist Tove Jansson, which previously aired in 124 different territories. The new version of the series, which will have two seasons of 13 episodes air in the spring of 2019, will star Davis as the voice of Sniff, a creature adopted by the Moomin family.
Finally, Toby Jones (voice of Dobby) and Zoë Wanamaker (Rolanda Hooch) will star in Harold Pinter's The Birthday Party, which will be produced by the company of Cursed Child producer Sonia Friedman. The play is set to begin previews January 9, with the official debut not long after on January 18. Toby will portray the lead male character, Stanley Webber, while Wanamaker will portray boarding house owner Meg. To learn more about the play or to purchase tickets, visit the website here.
That wraps this week's MuggleNet Casting News! Let us know which project is currently on your to-watch list by commenting or tweeting!