Castium Revelio: Get Your Ears on with Rupert Grint!
In this week's Casting News, we get our first look at Crash Pad, starring Domhnall Gleeson, Noma Dumezweni continues to carry Hermione's bookish ways into her next role, and Rupert Grint tackles animal selfies for a great cause! All that and more in this week's Castium Revelio!
Crash Pad, starring Domhnall Gleeson (Bill Weasley), has so far been a bit of a mystery. This week, we got our first look in a clip of the film in which Domhnall plays a man who thinks he's found his true love only to find out she's married. Take a peek at a disheveled Domhnall minus his adorable Irish accent! Crash Pad opens in select theaters October 27.
In addition to hopping stateside to star in Harry Potter and the Cursed Child on Broadway, Noma Dumezweni (Hermione Granger) is next slated to star in the film adaptation of The Boy Who Harnessed the Wind, based on the autobiography of William Kamkwamba, in which he saves his village by creating a wind turbine out of materials found in his village. Dumezweni will portray librarian Edith Sikelo, who helped Kamkwamba publish his story. The film has started production this week in Malawi. Here's a brief summary.
The film follows 13-year-old Kamkwamba (newcomer Maxwell Simba) who is thrown out of the school he loves when his family can no longer afford the fees. Sneaking back into the school library, he finds a way, using the bones of the bicycle belonging to his father, Trywell (Ejiofor), to build a windmill that saves his village from famine. The emotional journey of a father and his exceptional son at its heart, William's tale captures the incredible determination of a boy whose inquisitive mind overcame every obstacle in his path. Key themes from the film aim to raise awareness around environmental sustainability and the power of education.
Sir Kenneth Branagh (Gilderoy Lockhart) appeared on Jimmy Kimmel this week to talk about his new adaptation of Agatha Christie's Murder on the Orient Express. In the clip below, Branagh talks about working with Johnny Depp (Gellert Grindelwald, Fantastic Beasts) for the film.
Additionally, the much-lauded actor/director will receive two awards in Poland next month at the 25th annual Camerimage Festival. After the opening ceremony in Bydgoszcz on November 11, his new film Murder on the Orient Express will debut. Branagh is set to receive the Krzysztof Kieslowski Award, which is awarded yearly to an actor or actress that contributes to the art of filmmaking, as well as the Cinematographer-Director Duo award. Here's the statement from the festival regarding Branagh's awards:
The projects in which Kenneth Branagh stars or works on as a director/screenwriter are not only interesting and memorable, but also a wonder to look at. He was always keenly aware of the role of the image in film storytelling, and as a director always tried to work with great cinematographers who he knew could enhance his already strong artistic vision.
Branagh also attended a ceremony on the Walk of Fame this week, where he imprinted his hands and feet at the TCL Chinese Theater on Hollywood Boulevard.
Rupert Grint (Ron Weasley) has been promoting his new series Snatch in the UK as the series has finally been released for UK viewers this week. The entire cast of the series donned pairs of Pudsey ears to help raise awareness and funds for Children in Need, promoting the Get Your Ears On campaign, which will help promote next month's fundraiser. You can learn more about the 2017 Children In Need fundraiser and get ideas for your own fundraiser here!
Jack Thorne's (Harry Potter and the Cursed Child) latest screenplay finally has a trailer! Wonder, starring Julia Roberts and pint-sized talent Jacob Tremblay, follows fifth-grader August, a boy who has facial differences and faces exclusion not only from his school but also within his own family. Take a look at the emotional trailer below. Wonder hits theaters December 1.
A new image of Ezra Miller (Credence Barebone, Fantastic Beasts) as Barry Allen (a.k.a. the Flash) in Justice League was released this week, and things look a bit intense! Take a peek!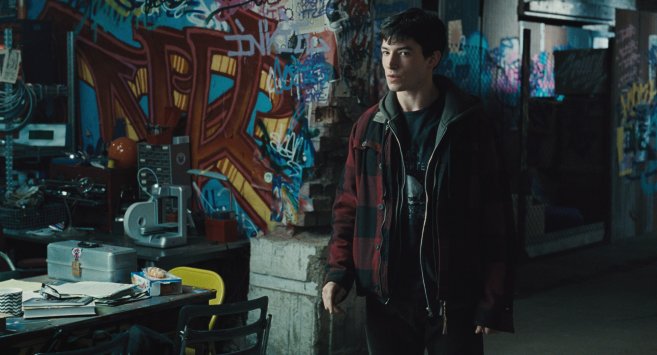 Congratulations to Jason Isaacs (Lucius Malfoy), whose new streaming series on CBS All Access, Star Trek: Discovery, has been picked up for a second season. The renewal comes after the series broke the record for most CBS All Access new subscribers in a single day.
Here's something we didn't expect. Hero Fiennes-Tiffin (young Tom Riddle, Half-Blood Prince) has gone from playing absolute evil to the new face of Erdem x H&M! Check out this fantastic launch trailer, The Secret Life of Flowers, in which Hero falls in love with a girl he meets at a countryside manor. Be still, our Slytherin hearts!
For even more of Hero, check out this "making of" video!
David Bradley (Argus Filch) reveals that he is up to keeping his title as a Time Lord. In a recent interview during the MCM Comic Con, the actor told Radio Times,
If they asked me, yes, I'd bite their hand off. I think it would be fun. So far, I'm very happy to have been involved in both ['Doctor Who' and 'An Adventure in Space of Time']. It's quite something, you never expect in your career – something you watched when you were young and never imagined you'd be involved in something so iconic. As I say, it's a late treat! If someone wanted to do that, I'd be very interested, yeah. Of course.
Also revealed at MCM this week is a role for Jim Broadbent (Horace Slughorn) in a new radio program. As the 40th anniversary of Hitchhiker's Guide to the Galaxy hits, a new radio series based on the sixth novel is being produced. Broadbent is no stranger to the series, as he will reprise his original role from the first radio program as the philosopher Vroomfondel. You can listen to a clip of the series here!
That wraps up Casting News for the past week! Let us know which projects you're excited for and what you'd like to see alumni do next!