The Yule Ball Arrives at the Studio Tour This Christmas
There's not long to go – one month, to be precise – until Warner Bros. Studio Tour London – The Making of Harry Potter opens it's doors to its Christmas-themed feature. As reported before, visitors will be able to experience the sets decorated for the festive period.
Today, the Studio Tour revealed some more details about what visitors can expect. As well as being able to see the Gryffindor dorm and common room decorated for Christmas, the Great Hall will undergo a special transformation for the first time, visiting the magic of the Yule Ball that takes place during Harry's fourth year.
For the first time ever, the Great Hall stage will be decorated as it was for the iconic Yule Ball. As seen in Harry Potter and the Goblet of Fire, the celebration of the Triwizard Tournament saw every detail of the Great Hall covered in shimmering silver, dripping icicles and sparkling snow. Visitors to the Studio Tour will get a taster of this incredible set dress as the top section of the Great Hall will be transformed with snow-covered Christmas trees, icicles and an orchestra of magical instruments. Conducted by Professor Flitwick, the orchestra is made up of musical instruments painted by the [p]rop-[m]aking department to match the silver of the Yule Ball.
Not only that, but a special sculpture made to reflect Brighton's Royal Pavillon will also sit in the middle of the Hall, and the tables will be set for a magical Christmas feast.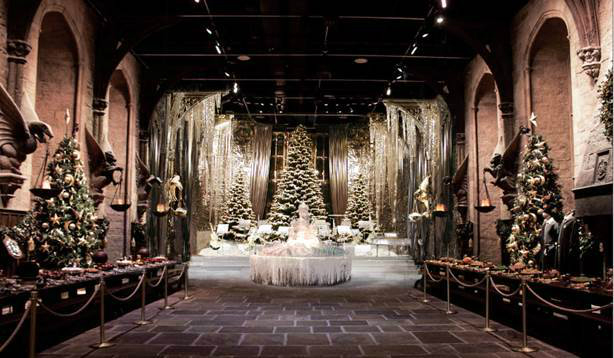 Visitors will also be able to see the Hogwarts model dusted in snow and find out how snow was created for the films. The Hogwarts in the Snow feature will run from November 18 to January 28, 2018. All extra features are included in ticket prices, and tickets must be booked online. Find out more about Hogwarts in the Snow in the press release below.
Have you got your tickets yet?