Castium Revelio: Weasleys for the Win!
This week, we take a look at some special effects that help Ezra become Barry Allen's alter ego, the Flash; find David Bradley in a cuddly mood; and in what we feel is an amazing suggestion for the storyline of an upcoming Fantastic Beasts film, find out exactly how the Phelps twins might make an appearance… if they were asked, that is! All of that and more in MuggleNet's Castium Revelio!
A release date has been set for the second half of Season 1 of Star Trek: Discovery, starring Jason Isaacs (Lucius Malfoy). Those who subscribe to CBS All Access can start watching chapter two on January 7 with the newest episode, "Despite Yourself." The remaining six episodes after chapter two will be available to stream once a week through the season's end.
If you haven't yet seen Sir Kenneth Branagh's (Gilderoy Lockhart) new take on an Agatha Christie classic, you may want to avoid the clip below. In the clip, Branagh talks about the changes he made for Murder on the Orient Express and why he made them. Take a look!
Another behind-the-scenes look at Ezra Miller (Credence Barebone) in Justice League is here! The featurette shows some of the special effects used to help tell the story of Ezra's character, Barry Allen, a.k.a. the Flash. Check it out below!
We previously showed you some entertaining photos of Rupert Grint posing with the cast of his series Snatch in support of Children in Need, and now we can bring you a photo of David Bradley (Argus Filch), just in time for the holidays! While filming the Doctor Who Christmas special, Bradley posed with Peter Capaldi and Pearl Mackie alongside Pudsey the Bear, the mascot for Children in Need.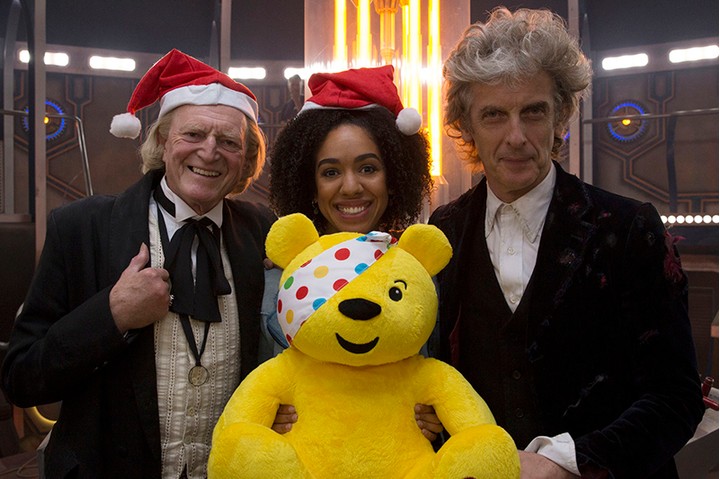 In addition to the photo, a special Doctor Who clip from the episode "Twice Upon A Time" is slated to air as part of the Children in Need live broadcast on November 17 on BBC1.
Jack Thorne (Harry Potter and the Cursed Child) is set to bring a new beast to life on Broadway soon. It was announced this week that the legendary King Kong would be receiving the stage treatment with Thorne leading the charge. This adaptation is set to start shows October 5 next year, with official shows beginning November 8.
Newly named Dame Julie Walters (Molly Weasley) has yet another film premiering November 16. Film Stars Don't Die in Liverpool stars Walters as a woman who helps an aging film star (Annette Bening) through cancer. The film also puts her back on film with her previous Billy Elliot co-star, Jamie Bell, of whom she had nothing but good things to say.
He was only 11 when he did Billy Elliot and he's turned into such a brilliant man and a brilliant actor.
Check out the trailer here!
Congrats to Gary Oldman (Sirius Black), who next February 2 will be honored for his contributions to the film industry at the 33rd Annual Santa Barbara Film Festival. The actor, who is barely recognizable as an aged Winston Churchill in Darkest Hour, will receive the Maltin Modern Master Award, the highest award presented to anyone at the festival.
Imelda Staunton (Dolores Umbridge) already has plans for after her run with Follies has finished on January 2. The play is aired this week for international viewers via NT Live, but the actress is already thinking about settling down a bit after her long run on the stage.
I love the theater, but I get a real thrill doing filming. And I've done enough theatre now that I think people are sick of the sight of me. So I shall very quietly just bugger off for a bit and concentrate, hopefully, on a bit of film and telly for a while.
We look forward to seeing what Staunton will tackle next!
Finally, with the announcement of the title of the second Fantastic Beasts film, we find some familiar faces making suggestions about how they can take part in the upcoming films. While appearing in Madrid, Spain, for the Harry Potter Exhibition, James and Oliver Phelps (Fred and George Weasley) were asked, if they could have a role in the upcoming film, what would their role be? Check out their completely Weasley-esque response!
That wraps this week in MuggleNet Casting News! Check back next week, when we hopefully have a bit more Fantastic Beasts news to share with you!