Giveaway: "Harry Potter: A History of Magic" Out Soon on DVD
A very special documentary aired courtesy of BBC and the British Library a couple of weeks ago, celebrating 30 years of Harry Potter magic and the opening of the special British Library exhibition. The documentary featured highlights from the exhibition and the archives, J.K. Rowling, Harry Potter actors, and much more. Soon, the documentary is being released on DVD so that you can own your very own copy. Here's some more about it.
Celebrating the 20th anniversary of the first Harry Potter book, this documentary visits the real-life magical history behind J.K. Rowling's beloved classics. With footage from the British Library's exhibition, and exclusive access to a priceless collection of artefacts, take a tour around the mesmerising journey creating this global phenomenon. Includes interviews with J.K. Rowling herself as she examines the most exciting items on display and opens her private archive to reveal drawings and drafts that have been hidden away for years. And as opening night arrives, famous fans marvel at this fascinating trove of delights, like Harry Potter seeing Diagon Alley for the first time.

Featuring J.K. Rowling Narrator Imelda Staunton
Check out the cover art below!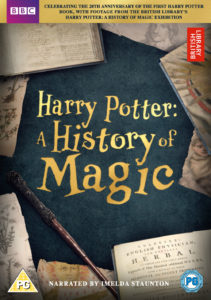 The DVD will be released in the UK on November 27. Want to get your hands on it? Then for you lucky UK viewers (unfortunately, the DVD only works in Region 2) – now's your chance. Find out how to enter our giveaway below (if you can't wait, then you can order it here).
This contest is open to UK residents only. All other entries outside of the UK will be disqualified. The contest period starts November 21 and ends at 11:59 p.m. on November 27. The winner of our contest will be contacted via email after the contest period ends. If a response is not received within 24 hours, another winner may be chosen. Good luck!