Review: Christmas in the Wizarding World Pop-Up Shop
by Madeline Thatcher
Happy (almost) Christmas, MuggleNet! I'm Madeline, guest reviewing the Christmas in the Wizarding World pop-up shop, which gives Salt Lake City, Utah, residents the chance to explore the magic of Harry Potter. The pop-up is designed like a blend of Diagon Alley and Hogsmeade, and it's a total delight. Guests enter through a stone archway and find themselves immediately in the world of Harry Potter, complete with a wand shop, Quidditch pitch, and quite a few trinkets to buy!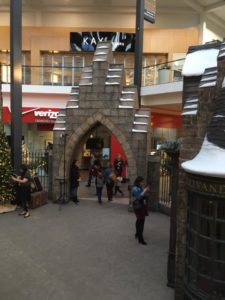 My companions and I headed straight for Ollivanders. An apprentice greeted us at the door and took time to find wands for the three of us, all from the new Fantastic Beasts collection. The apprentice asked us if we'd mind helping him create a little Christmas magic. We all agreed, and the apprentice went to try a few of the wands. After a few attempts, Christmas music rang out and a flurry of snow descended from the ceiling!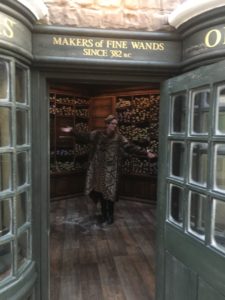 Quidditch was up next, and we headed over to a tiny pitch set up in one corner. While I fancy myself a Seeker, I tried my hand at shooting a few Quaffles and made a few goals! If only I'd tried out for quidditch instead of soccer – but I'm sure James and Ginny would still have been proud.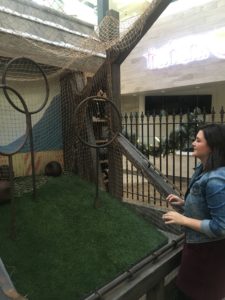 And now, for the presents!
For the Chudley Cannons fan in your life…
Wishing you could cheer your House team on to victory? Find a selection of exciting Quidditch-themed apparel and accessories, including a T-shirt that tells everyone which position you play ($28). Bring pumpkin juice to watch your team practice in this beverage container ($30), and carry the number of your favorite player alongside those Ford Anglia keys with these jersey key chains ($10).
For your friend who just wants to head back to Hogwarts…
Find your House robes ($110) and start your studies using a quill and ink set ($40). Feel like modern technology is more your style? Choose a wand with a secret pen hidden under the cap, and make magic the Muggle way ($5), and don't forget to jot down notes in this notebook reminding you to turn on the light ($18). Sport casual wear celebrating your favorite alma mater with comfy hoodies ($49) or bundle up for snowball fights before the Yule Ball in your House scarf ($25).
For that person who can never find a suitcase big enough…
If family gets to be too much over the holidays, find yourself a Niffler, who's sure to keep you busy ($42). Same goes for this furry Demiguise, who's just as soft and pesky ($42). Stay warm as you head out to capture escaped Erumpents with Newt's Hufflepuff scarf ($25), or put a tiny Pickett on your wrist to keep you company ($10).
For ringing in the holidays like Hagrid…
Want to celebrate Christmas with the usual Hogwarts flair but don't have a Hagrid to chop down a dozen pines for you? Settle for these lovely metal Christmas ornaments, featuring designs like the Sorting Hat and the Hogwarts crest ($19.50). A Christmas present that's sure to look nice both wrapped and unwrapped are these 3D Wrebbit puzzles, featuring all sorts of landscapes and structures from the wizarding world. The biggest and most impressive is the castle itself ($58).
For yourself, because everyone deserves a good snack…
Take yourself on a trip to Honeydukes – no need to use the secret passage this time! Find stacks of Bertie Bott's Every Flavor Beans ($10.95) and rows of Chocolate Frogs ($10.95) – be sure to check with Ron to see if he wants to trade cards. Stop by the Three Broomsticks and drink some hot butterbeer out of a mug that looks like Hedwig ($25). And if you'd like to wear your sweets and eat them too, pick up a pin that showcases your favorite Honeydukes classic ($8).
If you're near Salt Lake City and are looking to experience the magic of Harry Potter for yourself, or find holiday cheer for all the Potterheads in your life, be sure to make a stop at the Christmas in the Wizarding World pop-up shop, held at the Shops at South Town in Sandy, Utah. The experience will run daily while the mall is open until January 31.