"Empire" Releases New Photo of Newt and Tina!
We are anxiously awaiting the second installment of the Fantastic Beasts series, and the tiny hints we are getting from various news outlets are likely to send us to St. Mungo's!
Another new photo was released today from Fantastic Beasts: The Crimes of Grindelwald, showing Newt and Tina in what could be a dangerous situation. Take a look below!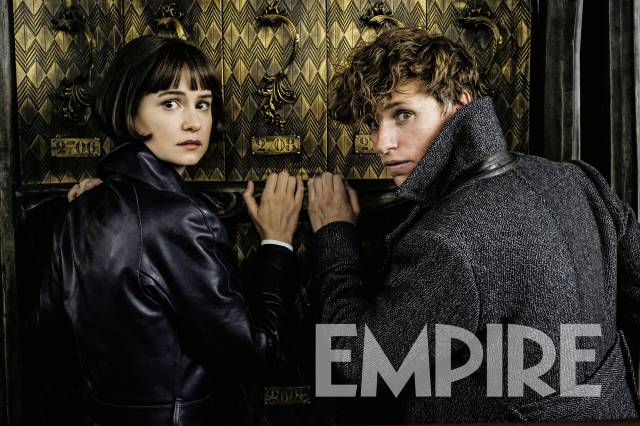 The pair has obviously been reunited since their last meeting in New York, but what significance does this photo hold? Empire released the photo in its latest edition of the magazine, showing Newt and Tina in an unknown location, looking as if they've been caught by someone or something. The background suggests possibly a bank of some sort, considering the numbered plaques. Notice the darker clothing and the sleeker hairstyle Tina is sporting. How much time has passed? A year? Are they reunited due to simple wizarding war circumstances or are they back together because of the romantic connection forged during their New York adventures? It all remains to be seen, and we can hardly stand the wait!
Here's the synopsis of the second film.
At the end of the first film, the powerful Dark wizard Gellert Grindelwald (Depp) was captured by MACUSA (Magical Congress of the United States of America), with the help of Newt Scamander (Redmayne). But making good on his threat, Grindelwald escaped custody and has set about gathering followers, most unsuspecting of his true agenda: to raise pure-blood wizards up to rule over all non-magical beings. In an effort to thwart Grindelwald's plans, Albus Dumbledore (Law) enlists his former student Newt Scamander, who agrees to help, unaware of the dangers that lie ahead. Lines are drawn as love and loyalty are tested, even among the truest friends and family, in an increasingly divided wizarding world.
How excited are you to see Fantastic Beasts: The Crimes of Grindelwald? What do you hope happens between Newt and Tina in the upcoming film? Leave us your thoughts!