Review and Giveaway: "Harry Potter" Chocolate Frog Molds from Cinereplicas!
We often get the chance to see and review Potter-related products, which we then get to share with you, our readers! Over the next few weeks, we're extremely excited to offer you a shot at winning one of five officially licensed Harry Potter Chocolate Frog molds from Cinereplicas, including eight DIY boxes!
MuggleNet staff member Zoe recently had the amazing opportunity to try making her own Chocolate Frogs using the mold and says it was definitely an adventurous experience for someone who does not use the kitchen as much as she should. Here's her review of the product along with a fun video documenting her experience!
When I first received the package, I was a bit skeptical as to how well it would work in the long term. From the outside, the plastic seems flimsy, and I worried it would be a one-time-use deal. But to my delight, when unboxing the mold, which has eight frog-shaped molds on one sheet, I found the plastic to be surprisingly durable.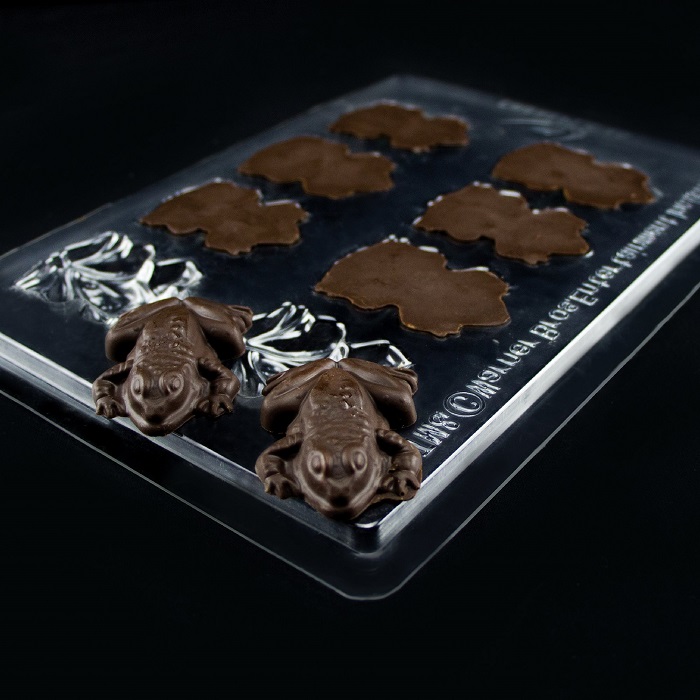 The steps for making these delicious frogs are fairly simple. Melt your chosen chocolate, pour that chocolate into the frog-shaped molds, and leave the mold in the refrigerator to set the chocolate. Of course, the logistics of chocolate molding can be a bit more complex (getting the right type, consistency, etc.), but with enough determination, anyone can make it work. According to the Internet, my method of just melting some chocolate chips in the microwave was an abysmal one, but it proves that this mold is adaptable.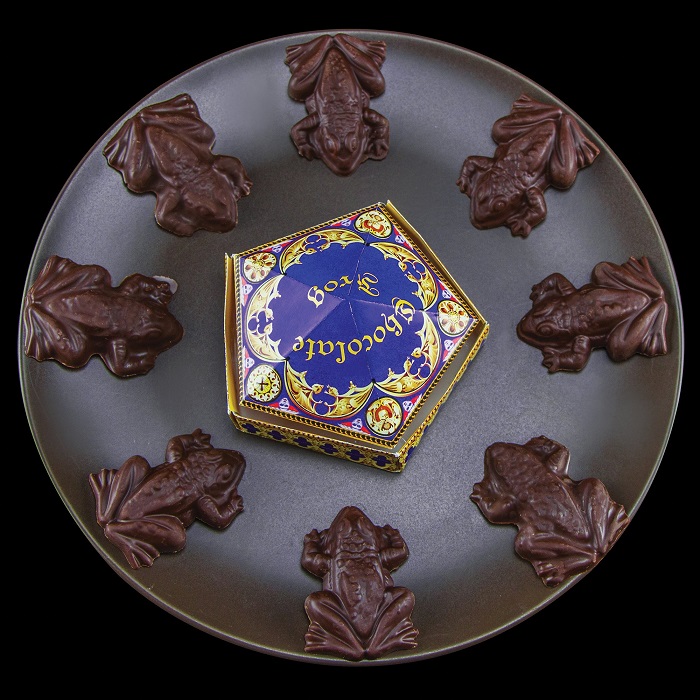 Once the frogs were set, I was easily able to remove them from their molds, as you can see in my video above. The molds did prove a little time-consuming when cleaning, due to the tiny circular impressions that give the finished frog its texture. I was able to get it clean by running hot water over the inside of the mold, which melted any remaining chocolate and allowed me to finish cleaning the mold properly.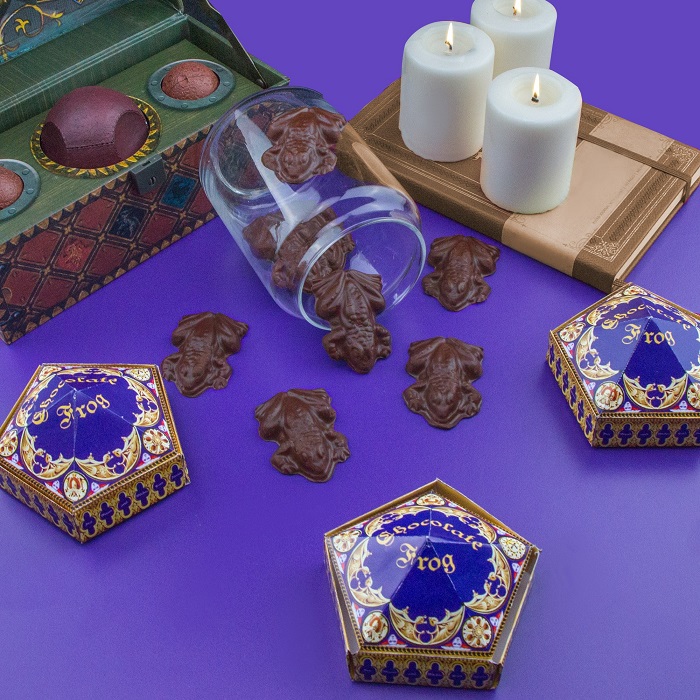 The main concern I had when attempting to review this product was the included DIY Chocolate Frog boxes. The design to cut out does not entirely come out as expected. After putting my boxes together using the instructions provided, I was informed by Cinereplicas that the instructions I had received were the first draft and will be adjusted for all future purchasers so that the instructions match the boxes. You can see from my photos below that the instructions show the yellow flaps should be on the top, rather than the decorative border.
With a little adjustment to the cutting path, though, it is quite easily manageable so that you can give the gift of a Chocolate Frog to all of your Potter-loving friends!
Now you can make your own little Chocolate Frogs! With this mold, you have the opportunity to make your frogs unique. Melt your favorite milk, white, or dark chocolate, add fillings and spices, or use Jell-O or candy melts instead of chocolate, and decorate as you like to give out to your friends as a perfect Potter-themed gift! Be fancy! Be creative! And most importantly, have fun!
If you want to win one of five Harry Potter Chocolate Frog molds from Cinereplicas, which includes eight DIY Harry Potter Chocolate Frog boxes, enter our giveaway using the Rafflecopter widget below! If you'd rather not take a shot at winning, you can purchase the mold, which comes with eight DIY Chocolate Frog boxes, by visiting the Cinereplicas site here!
This contest is open to all worldwide and will run starting today, December 22, through 11:59 p.m. on January 5. Winners will be contacted via email and will need to respond within 24 hours or another winner may be chosen. Best of luck to all who enter!