How the Weasleys Made Harry's First Christmas at Hogwarts the Best
It's fair to assume that Christmas had never been an enjoyable experience at the Dursleys', but even so, there is something very special about Harry's first Christmas at Hogwarts. Even though he's mocked by Malfoy for staying at school over the festive period, he knew that Christmas would be magical at Hogwarts no matter what. But for Harry, it's made even more special by the addition of the Weasley clan.
He didn't feel sorry for himself at all; this would probably be the best Christmas he'd ever had. Ron and his brothers were staying, too, because Mr. and Mrs. Weasley were going to Romania to visit Charlie" (SS 195).
Here are some ways they make it a magical first Christmas for Harry.
Mrs. Weasley makes him a Weasley sweater.
Despite the fact that she's only met the kid once, Mrs. Weasley welcomes Harry into the family. And Ron admits that he told her that Harry didn't expect any presents. Are these friendship goals, or what?
'I think I know who that one's from,' said Ron, turning a bit pink and pointing to a very lumpy parcel. 'My mom. I told her you didn't expect any presents and — oh, no,' he groaned, 'she's made you a Weasley sweater.'
Harry had torn open the parcel to find a thick, hand-knitted sweater in emerald green and a large box of homemade fudge" (SS 200).
The Weasley brothers accept him into their clan without question.
I mean, this kid has been subjected to lots of gossip already, but the Weasley brothers just accept him as one of their own.
'Merry Christmas!'
'Hey, look — Harry's got a Weasley sweater, too!'
Fred and George were wearing blue sweaters, one with a large yellow F on it, the other a G.
'Harry's is better than ours, though,' said Fred, holding up Harry's sweater. 'She obviously makes more of an effort if you're not family'" (SS 202).
Ron doesn't make a big deal out of the fact that the Dursleys' only gift to Harry is a 50p piece.
This mean gift helps the pair to bond even further – and shows Ron that despite the pile of money sitting in a Gringotts vault, Harry has never been given the family love that Ron gets without any question.
Ron was fascinated by the fifty pence.
'Weird!' he said, 'What a shape! This is money?'
'You can keep it,' said Harry, laughing at how pleased Ron was" (SS 200).
Ron spends his time teaching Harry wizard chess.
Ron also started teaching Harry wizard chess. This was exactly like Muggle chess except that the figures were alive, which made it a lot like directing troops in battle. Ron's set was very old and battered. Like everything else he owned, it had once belonged to someone else in his family — in this case, his grandfather" (SS 199).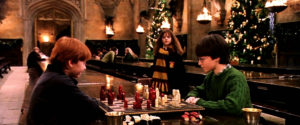 And of course, it wouldn't be Christmas without a huge, mouthwatering feast that Harry is able to enjoy with the Weasley brothers.
Harry had never in all his life had such a Christmas dinner. A hundred fat, roast turkeys; mountains of roast and boiled potatoes; platters of chipolatas; tureens of buttered peas, silver boats of thick, rich gravy and cranberry sauce — and stacks of wizard crackers every few feet along the table" (SS 203).
There's nothing for Harry to worry about.
No snakes in the walls, no worries about Sirius, Mr. Weasley, or You-Know-Who – just pure, good old fun.
Harry and the Weasleys spent a happy afternoon having a furious snowball fight on the grounds" (SS 204).
This festive season, let's raise a glass to Harry and the Weasleys – and all of those people who accept strangers into their hearts at this time of year.
We can learn a valuable lesson from the Weasley family. Even if we can't lavish gifts on someone or spend lots of money, we can still make someone feel special at this time of year through our small gestures, such as inviting someone to a meal, giving them homebaked goods, taking time to see them, donating our time to good causes, or simply being there for them. Let's make sure that this Christmas no one is left to feel alone. Share what you'll be doing this festive season to include someone who might be alone otherwise.