Castium Revelio: Rascal Rebel Rabbits and Croaking Captains!
From giant carrots hogging the limelight to evil space captains and crime bosses, MuggleNet has all the casting news you could ever hope for! Join us as we dive into the crazy world inhabited by Potter and Fantastic Beasts stars!
Domhnall Gleeson may not be looking at the end of his Star Wars career yet, but that doesn't mean he doesn't have other work to do! He's starring in the new Netflix film A Futile and Stupid Gesture as one of the founders of National Lampoon, Henry Beard. His ginger locks are dyed a dark brown for this film (or it's a wig, which is hard to tell considering the at-all-times unkempt state of his hair), which tells the story of how the magazine was created and turned into one of the most successful comedic franchises, not only giving us funny films but also launching a number of acting careers. A Futile and Stupid Gesture launched on Netflix January 26.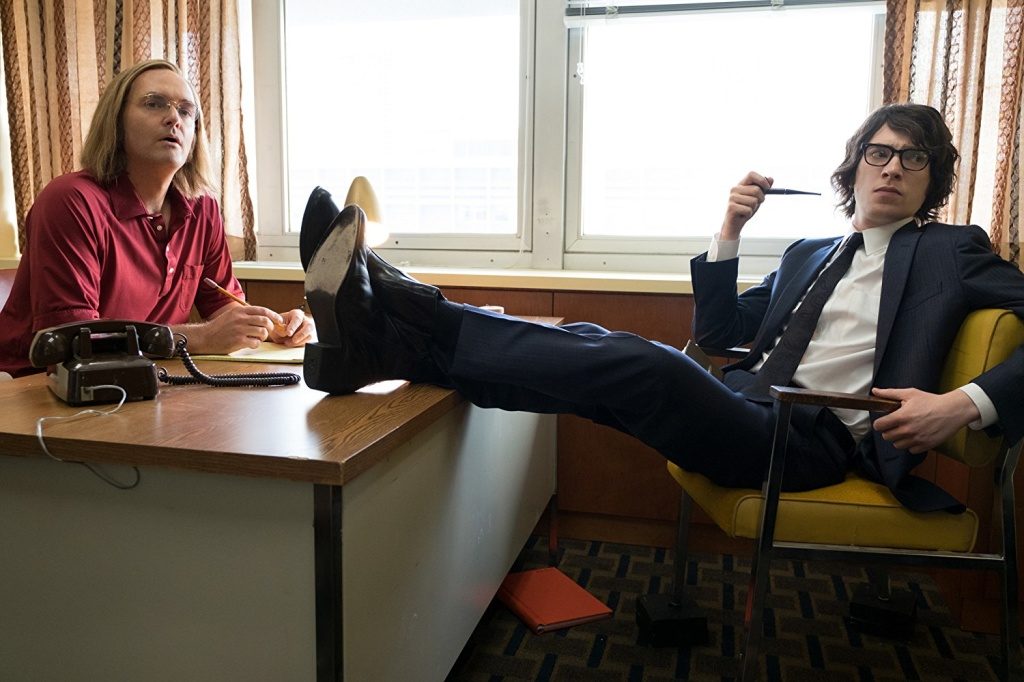 Domhnall provided details on his acting process during an interview with radio show The Frame.
As I got older and [acting] became my full-time job, I realized that for it to not just be a job, for it to continue to be something that I loved, you want it to be a challenge, something that maybe you thought you *couldn't* do. And so I think the reason that a lot of the jobs are different from each other, are different in tone and theme and character, is that you try to keep yourself excited.
He also spoke about why he decided to join the cast of the film.
I've seen David Wain's films. I liked his style, and I liked the sketches that he had done previous to that. I think with the meta thing, people can really take it too far — to the point where all they're showing is that they are smart and there is no enjoyment for the people watching the movie. They're like, 'Right, I see you're smart.' And when I read this, the anarchy and the self-knowingness of the script was hilarious. But it actually added up to something in a way I was surprised by what starts out as kind of a comedy script.
Domhnall is also currently attending appearances for his new live-action/animated film, Peter Rabbit. A new poster was released for the film, and the actor appeared on the red carpet for the premiere, as well as making a stop to visit The Late Late Show with James Corden, hosted by his Peter Rabbit costar. Take a look at the poster, a new featurette from the film, a clip from Domhnall's talk show appearance, and pictures from the premiere! Peter Rabbit debuts in theaters everywhere on February 9.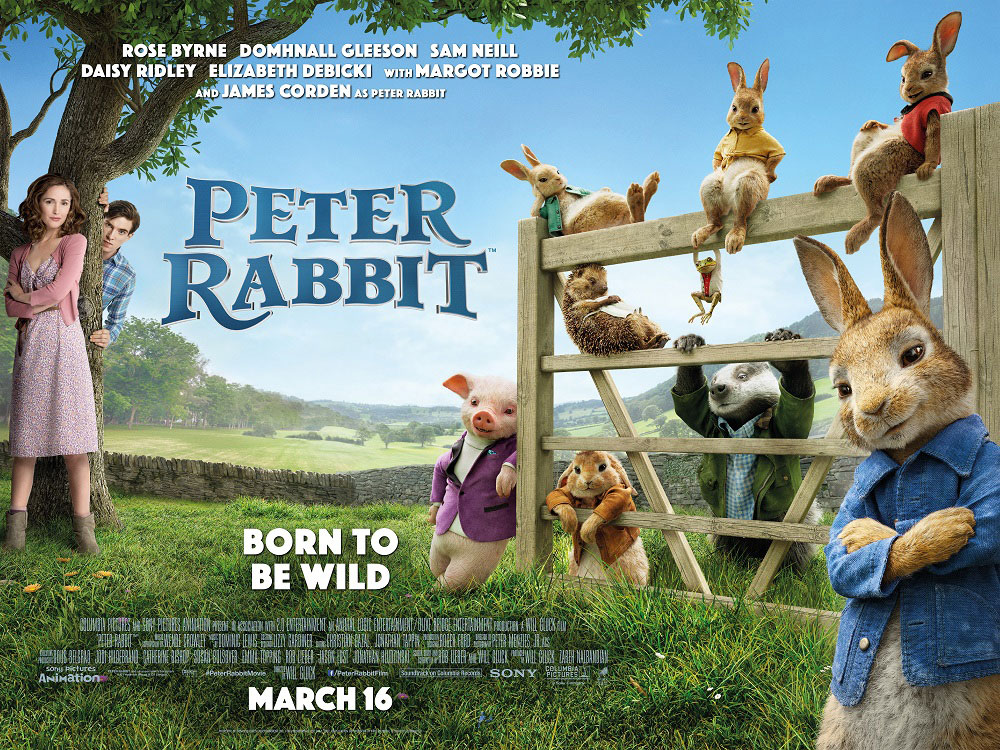 He also recently participated in a podcast where he revealed (*SPOILER ALERT*) that he was surprised his character from Star Wars hasn't yet been blown up.
I'll be honest, I was very surprised that [General Hux] survived. I kind of imagined myself getting blown up in a ship pretty early on. There's also this moment when [Kylo] Ren is on the ground, and it looks like maybe I'll finish him. It's like, what state would the franchise be in if Snoke and Ren are gone? And it's just Hux going right. Can you imagine how annoyed people would've been?
Rumor has it that the mysterious Vox Lux, starring Jude Law, has begun filming in New York effective February 1. Production had been delayed due to casting and restructuring of the company producing the film, but according to Paste magazine, the film just added Natalie Portman as the female lead with a producer's credit, alongside Law. No character has been announced for Law at this time. Here's a brief synopsis of the film, which will reportedly span a 15-year time period through the eyes of its female lead (which we can only assume is Natalie Portman, although no roles have been announced for any of the cast attached to the project). Original songs for the film will be crafted by pop artist sensation Sia.
['Vox Lux'] follows the rise of Celeste from the ashes of a major national tragedy to pop superstardom.
In other Jude Law news, production on his spy drama, The Rhythm Section, was halted late last week due to an injury Blake Lively sustained during the filming of an action sequence. Production will remain halted while she recovers. While Law has been attached to the film for some time, there is still no word on the character he is set to portray. The film is set to debut February 22, 2019, and we have the plot details below.
[Blake Lively] plays a woman on a path of self-destruction after her family dies in a plane crash — a flight she was supposed to be on. After being told by a journalist that the crash was an act of terror covered up by intelligence agencies, and then watching that journalist get killed, the woman's anger awakens a new sense of purpose and she rises to uncover the truth by adapting the identity of an assassin to track down those responsible. The new and lethal Stephanie Patrick is on a mission to fill the void between what she knows and what she is told.
For those following CBS and its All Access streaming service simply for the new Star Trek: Discovery series, the following news won't be a surprise to you. The character portrayed by Jason Isaacs, Captain Lorca, has met his end on the series. The actor discussed his character's exit after the episode aired, stating that he knew all along that this was his character's fate.
I knew for the entire run of the season that I was Mirror Lorca. The challenging thing was to work out how to fool the crew and also to honor the secret that he was carrying.
Take a look at his interview on his final fight scene of the series with ComicBook.com here, and check out the entire Star Trek: Discovery season on CBS All Access.
You may remember us mentioning that Warwick Davis produced a musical, Eugenius!, back in 2016. The musical is now prepping to hit the big-time on the London stage soon, and we just found out that another Star Wars alum has joined the project. Mark Hamill, who costarred with Davis in the Star Wars series, has lent his voice to the play to bring to life Kevin the robot! Ben Adams, one of the writers of the musical, posted a tweet this week giving fans a snippet of what is to come from Hamill. Take a listen!
Here is a clip of @nelsonchris82 and I playing it 'really cool' whilst we talk to our childhood hero @HamillHimself and listen to him recording the voice of Kevin The Robot for @eugeniusuk – dreams do come true! ?? pic.twitter.com/dRMdBah4bO

— Ben Adams (@benadamsuk) January 29, 2018
Emma Thompson is continuing to support the arts this week, reaching out to students at the Scottish Youth Theatre after funding was cut. The program will not receive any funds for the next three years, according to Glasgow Live. While a petition has already been started by parents, Thompson expressed her dismay at the decision to cut funding.
I am shocked to hear about the decision by Creative Scotland. SYT is such a vital part of Scotland's arts scene for young people. I do hope other funding organisations will step into the breach. I have always been a proud patron of SYT and will continue to support them in whatever ways I can.
Chief executive Jacky Hardcare also expressed her gratitude for those already reaching out in the wake of the cuts and gave advice to those wanting to do something to help the program.
We are committed to continuing the work we do, although the decision by Creative Scotland to reject our application presents us with some serious challenges. In the immediate future we ask all our participants to continue to attend – that's the best show of support we can ask for at this stage. Anyone who wants to offer additional support should visit our website where there are various suggestions on how you can help SYT.
To read and sign the petition, which has a goal of getting 1,000 signatures, visit the petition website here.
As for Thompson's current work schedule, we know that she was recently cast alongside Ralph Fiennes as a voice actor for a reboot of the Doctor Dolittle films. The current title is The Voyage of Doctor Dolittle, and the film is set to begin production this month, with a target debut date of April 12, 2019.
A new trailer for Mamma Mia! Here We Go Again, starring Dame Julie Walters, was released this last week. Still no sign of new scenes starring Meryl Streep, but there are plenty of funny scenes featuring Walters, which you can see below. The film is set to debut in US theaters on July 20, 2018.
If you're at all into Pokémon, you might just freak out about this casting. Joining the new film Detective Pikachu is Bill Nighy! Announced late last week, Nighy joins Ryan Reynolds in the video game adaptation, which hasn't explicitly said whether it is a live-action or an animated film. No word yet on whom Nighy will portray, human or Pokémon, but we're excited either way!
In a move we didn't really see coming, independent film The Corrupted has cast Timothy Spall as a crime boss named Clifford Cullen (no relation to Edward). Spall will star opposite Sam Claflin of Me Before You (which also starred a certain Potter actor we know and love) and Hunger Games fame. Check out the plot!
[Sam Claflin] will play an ex-con determined to win back the love and trust of his family. That's after his future was stolen from him by a crime syndicate run by Clifford Cullen (Spall), who has infiltrated the highest levels of politics, finance and police. Claflin's character finds himself caught up in a web of conspiracy and corruption centering around a land grab just before the Olympic Games in London.
Speaking of Matthew Lewis, we hear he's involved in a rather tense film called Terminal, starring opposite Margot Robbie. All we know of his involvement is that he will be playing a character named Lenny. How prominent this role is remains to be seen. Here's what we know about the film.
'Terminal' follows two assassins carrying out a sinister mission, a teacher battling a fatal illness, an enigmatic janitor, and a curious waitress leading a dangerous double life. Murderous consequences unravel in the dead of night as their lives intertwine at the hands of a mysterious criminal mastermind.
Thanks for checking out all the current and future projects awaiting the cast and crew from the wizarding world! Check back with us next week to see the latest!