Globus Mundi: Everything We Know About the Mystery Merch
A little over a week ago, we told you about some mysterious new merchandise that has popped up in Universal Orlando Resort's Wizarding World of Harry Potter theme parks. The Globus Mundi Travel Agents line is inspired by a decorative sign that has been hanging in Diagon Alley since the park opened. Now, as promised, we're bringing you an update on everything we know about Globus Mundi, which isn't much. Here is what we were able to uncover after interrogating park employees, reps from Scholastic, MinaLima, and fans.

It's a Secret
After all the answers of "I can't tell you that" accompanied by nervous glances, we knew it had to be something more than a rack of merchandise in a souvenir shop.
A New Store Is Coming to Diagon Alley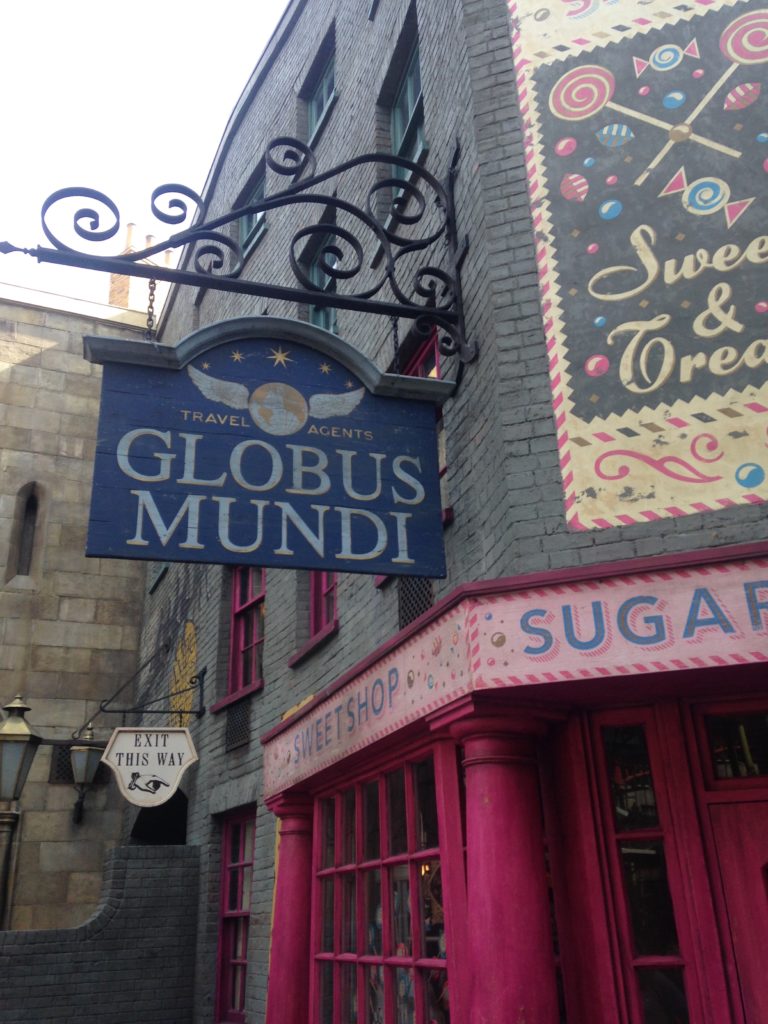 Right now, it's just a decorative sign, but according to a source inside the Celebration Expo Hall, park visitors will be able to walk into the travel store and buy their merch there. He told us the shop will open "soon." That conversation was followed by a quote right out of Hagrid's mouth: "I shouldn't have told you that."
It's Not a Clue for Future Fantastic Beasts Films
Another insider source at the park confirmed that Globus Mundi is not Fantastic Beasts related. The park is not currently allowed to sell anything to do with the Fantastic Beasts series.
It's Not a New Ride
A source tells us Globus Mundi is not getting its own ride, but the kicker is, "it's not just a store." We're intrigued. Your guess is as good as ours! Maybe it's some sort of experience like Ollivanders? Maybe you can get a magical moving passport photo taken there? Could it be something to do with a Harry Potter-themed hotel?
The Merchandise Is Sold at Both Parks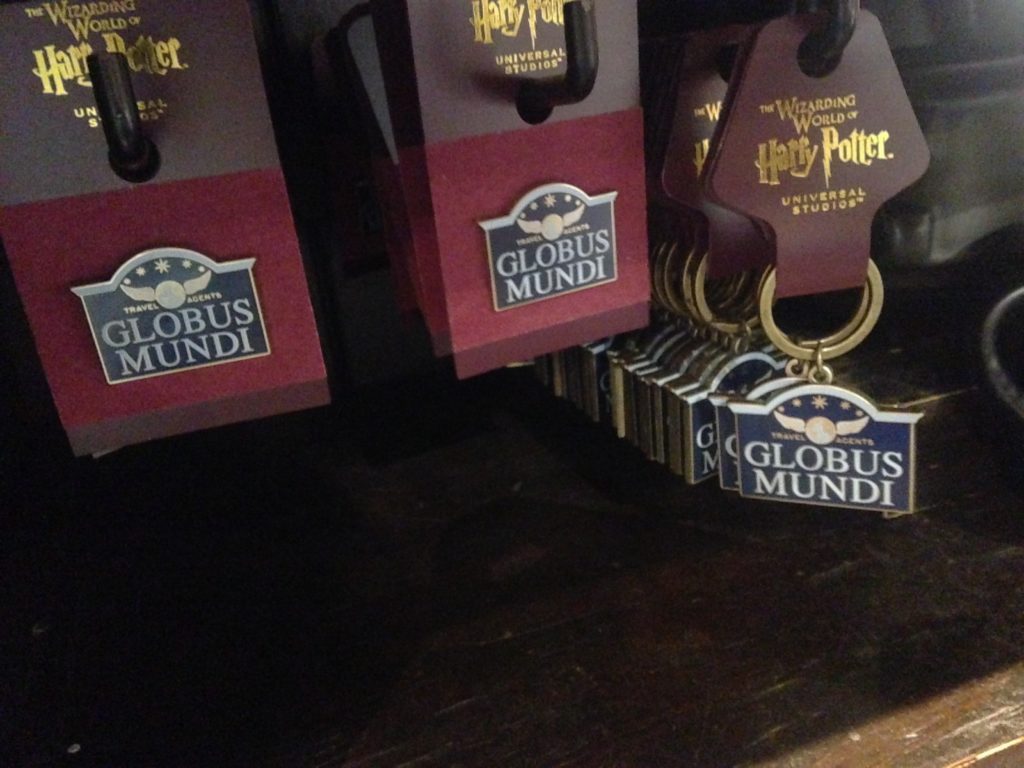 The Globus Mundi gear, including sweatshirts, T-shirts, keychains, travel mugs, pins, and luggage tags, can be found in the stores at the front of both Universal Studios Florida and Islands of Adventure. Will this shop have a Hogsmeade branch, then?
It's a Top Seller
The merchandise came into the stores in December. Store employees say it sells really well, something they seem surprised about seeing as how no one knows exactly what it is they're buying.
It's JKR Approved
All the Harry Potter merchandise sold at Universal's theme parks has the stamp of approval from J.K. Rowling herself.
MinaLima Is in the Dark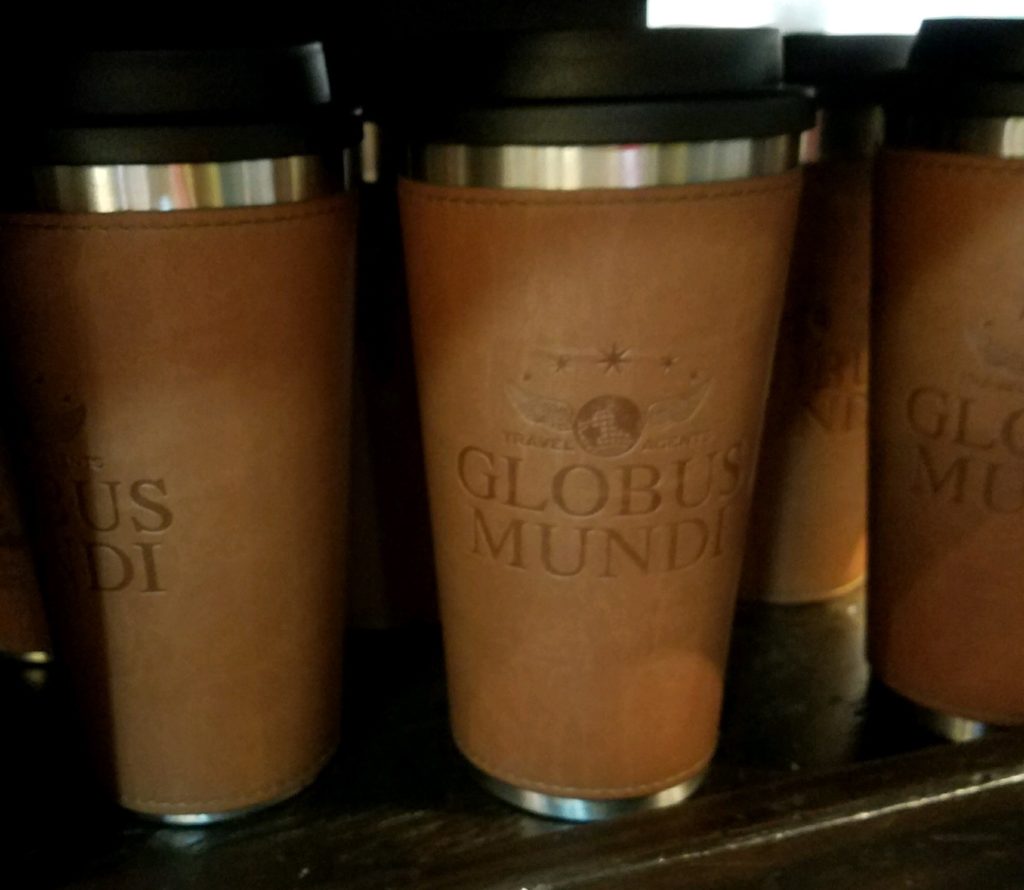 Although they designed the hanging sign, the graphic design team had yet to see their artwork placed on a thermal mug. We provided them with photographs to prove we weren't going crazy.
The Pronunciation Is Up for Debate
Fans are not able to settle on the correct way to pronounce Globus Mundi. We've heard many different pronunciations, but there's one thing all these fans agree on: it's a very confusing series of events unfolding at Universal Orlando.
We've come to the conclusion that this is a mystery worth solving. Universal staff members know something but aren't letting it leak. In our time at the park, several employees stopped us to compliment us on our Globus Mundi sweatshirts. Coincidence? We think not. Details are scarce, but one thing is certain: The MuggleNet team is on the case and eager to uncover the Globus Mundi conspiracy.
Let us know what you think this mysterious shop could mean in the comments. If you conduct your own investigation at the park, be sure to let us know your findings!